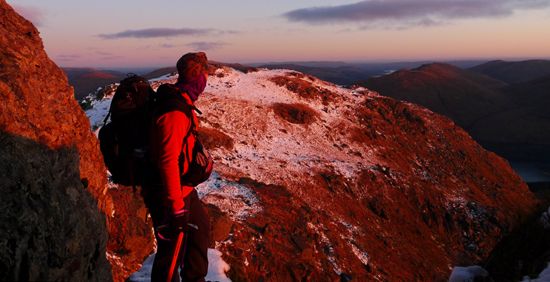 This was my first high camp for a wee while, and my first one in snow for ages, so I did think about what to carry as I wanted to cover all the options, and my arse too in case it all went horribly wrong.
I took test kit on its first trip, but there was a lot of the familiar there as well.
The Terra Nova Laser Photon Elite had it's first night in the mountains, and getting pitched onto snow was certainly starting off in some sort of fancy style.
I left the daft pegs at home and took a mixture of Y-pegs and titanium nails. The big Y's are great, you can score a channel through the snow for the guyline to run in, and bury the peg into the snow. This was totally secure, in fact I had to pull the pegs back out with my ice axe. The nails went on the corner bungees, and again were very secure in the hard snow. They pulled out a little easier due to their smaller surface area.
The tent itself went up quick and easy, it's similar to the 'comp so it felt familiar. The new guylines and line-lok adjusters make a huge difference to the set up. I adjusted them once after my evening doze, and they were secure until morning despite some strong winds in the early hours. It really was just out of the wrapper here, so I had to tie on the pole cover as well, which I managed with gloves on, well I made sure I did anyway.
The door has a two-way zip which is great, a wee buckle to hold it secure at the bottom too. The first thing you notice is that it's smaller than a 'comp. Just a bit, but all over. I found sitting up right on a NeoAir is possible if you stick your head into the porch, which luckily the angles make quite possible. The length is still enough for a six footer, with a little room for kit about my head and down the side. Two racers in here would have to be very close/understanding/tired.
I still got all my gear in the porch, I could still get in and out, cooking was fine with the door shut (hey, it was bloody freezin') although the smaller area does mean it fills with steam quicker and you have to deal with the condensation, which luckily froze pretty quick on this trip.
I had an issue free night in the Photon, but its early days as yet. Several things strike me though, it's weight and pack size are frighteningly small, seriously, you get this tent into the map pocket on a waterproof. Given that, it's going to challenge hooped bivies and tarps in a "What's the point?" way. Full protection and shelter without a weight penalty? Durability will be a big part of that story, so I'll be back to this plenty as time goes on.
The newly arrived Petzl Tikka XP²  had its first trip, and both the strong main beam and red LED were used aplenty through the night. The mainly white strap also made it really easy to find in the jumble of crap around my head in the tent. That must be why iPod earphones are white too then…
The button was easy to use with bare hands and okay with powerstretch gloves, but with my padded leather gloves it was like trying to find the sixpence in the pudding (that's a reference for all the folk my age and over). This is my winter light now, no problem.
I was taking no chances with the cold and went heavily armed with an array of PHD kit.  The Minim Down Trousers and Minimus Down Socks had just came in for test, and I was originally going to sleep with those, my Minimus Jacket and the special issue Minim 300 bag with the short zip. But thinking about it, I decided to take the tried and trusted winter sleepzone of justice: the Minim Ultra and Combi. The extra 230g of the down pants wasn't even going to be noticed.
The sleeping bags performed as always, superbly. Warm, comfortable and reliable, I can plan winter trips around their capabilities, and that's what gear should be all about. I think for higher and colder camps, I'll stick the Minim 300 on the inside and see how that does. Just how warm would that be?.
The down pants would seem to be either an expedition item or a Christmas gift for the "Man who has everything". Not so, I pulled them on soon after I got camp sorted out and immediately felt the benefit. Softshell is great on the move, but it bleeds heat quickly when you're standing still and the temperature is dropping. When I was wandering the crags with the camera I had the pants and jacket on and I remained comfortable all the time, so for photographers, stargazers and the like, insulated pants must be fantastic, but for winter campers they're a dream come true. There's an element here of allowing you to get out of the tent for longer after hours. The winter nights are long, and hanging about outside or exploring after dark can be bloody cold, so for me these are just the business. Add to that the weight and tiny pack size, and the PHD pants get a free pass into my rucksack. The don't look weird either (see below), the fit is nicely tapered with a nice high drawcorded waist to overlap with a jacket, even when bending and moving.
The Minmus Down Socks are simple elastic ankled boots, no soles, nothing fancy, just simple warmth for your feet. The pack down to zero and worked perfectly until I got into my sleeping bag. Genius.
An unexpected member of the team was the Thermarest NeoAir (it was already packed, and I didn't really think about it). Now it has no "real" insulation as such, and the floor of the Photon is the same fabric as the 'comp's flysheet, so there really wasn't helluva much between me and the snow. But surprisingly, it was okay. It only struggled when I lay flat on my back, on my side where I lie most of the time and where the contact points are minimal it was fine and my sleep was undisturbed.
I probably won't take it regularly through winter, but it's good to know that it's possible.
Last piece of joy in the bedroom was the Exped inflatable pillow which I picked up at the KORS show. Lighter and smaller packing that my old Ajungilak pillow, it works inside and outside the bag. A magic thing, now standard kit for future trips.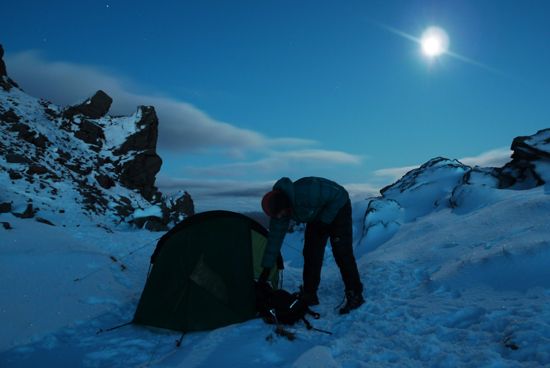 Baselayers were all Chocolate Fish Taranaki Merino. I wore full length leggings, long sleeve zip-neck and the ace in the pack, a singlet/vest. A wee vest is a great boost in winter, no bulk or weight, but it's extra help for your core and seems to keep me running at an even temperature for longer. It holds off chill and the need for extra layers for a little longer. A zip-neck is a must over it though, for there is potential for overheating there. Comfort in abundance was available all night.
On my feet were Keen Growlers and steel Kahtoolas. Bendy, light and totally capable of taking my bumbling frame up a winter mountain. I'm now bored of arguing the point about whether or not this kind of gear is appropriate for our hills. Increasing amounts of people have been proving that it is. You can wear big boots or not wear big boots (I'm about to wear big boots once again), the choice is yours to make. Anyone who says otherwise it an idiot, hasn't tried it, has tried and doesn't like and thinks that nobody else should like it either.
The Growlers are grippy on their own, and are lovely and warm. The flexibility keep my toes moving too, that adds to the warmth as well as comfort.
The Kahtoolas stiffen the Growlers up, and they feel more like a "winter boot", on steep ground the combo works well, but on mixed ground is where they excel. Frozen ground, bare rock, ice, snow, the short spikes of the Kahtoolas roll over it all, where a standard length spike would have you turning an ankle.
The straps are a pain in the tits, but nothing's perfect.
The Black Diamond Raven Ultra ice axe is light, great in the hand and does it's job. The current version has a smaller head and a lightly textured anodised shaft where mine is gloss painted. It's great kit. especially as it just feels like a tool, not a lightweight tool.
Other stuff got its first use, the Jetboil Spoon (which they gave me because I couldn't get the purple Jetboil until next spring and I was having a tantrum) which is stronger than it looks, a purple Buff which was a joy, the Raidlight Chest Pouch which is bigger than OMM's but has an incredibly faffy attachment system, and the purple MK Trail Blaze which are wonder and a joy for life. Other kit included the Brunton Flex stove which I really like, Haglöfs Omni II pants which are brilliant in winter over merino leggings and have huge thigh vents, the OMM Villain (of course), my SnowPeak mug, the much missed and discontinued Haglöfs Gemini hooded microfleece and a hundred other things.
Cuddly toy? Didn't he do well…