It was a good chance to take some new test kit out as I wasn't going too high or far, but luckily the weather turned into a proper test anyway.
Below you'll see the Inov-8 Race Pro 30, it came in with a bunch of Inov-8 kit that I'll be using. I took my cooking kit, warm jacket and bits and pieces to fill it out it out and bit and give it some weight. I'll do a proper look at it soon, but out of the box it was issue-free. The harness is great, the pockets and compression usable and effective, there's even some back padding, so while it's lights it's not had its corners cut. Poking over my left shoulder below is the bottle/bottle holder, I've used various versions of these over the years, and this one although faffy to fit is secure once on both on the pack and keeping the bottle in place, and it's easy to use.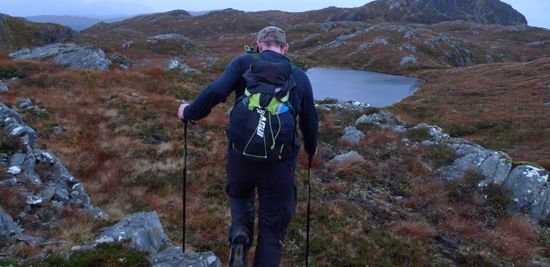 I had the Merino Buff on once it got colder and wet, and yes it's a good thing. As a semi balaclava affair under my cap and later on under my hood it was mighty fine, and over my face its wooliness was very pleasant.
I changed my socks and put dry trainers on when I got back to the motor, and the Buff was also great for drying my feet (yes, it's in the wash). I don't even care that its grey, so there you are.
On a hill for the first time were the X-Bionic Trekking Pants, and all I can say is that they were soft, comfortable and completely anonymous. I really didn't know I had them on, my landing gear never needed adjusted (until I'd been driving for 3 hours non-stop, there was some subsidence), there's no pulling, squeezing, riding up or falling down. It really is a bit like a having a protective coating applied. Time will tell how this lasts with repeated wearing and washing, but it's certainly happy times right now.
On their first trip were the Fizan Ultralite Compact poles. They adjusted to length easily enough and didn't need re-adjusted all day, the handles are comfy, and when I accidentally fell and put my whole weight on one pole there was neither slippage nor bending. The finish took a couple of minor knocks in the crags, but once again the mantra of the established UK sources that anything "lightweight" must be weak or deficient looks a little bit like a policy of the Flat Earth Society.
Two bits of waterproofing deserve a mention. The Haglöfs Gram Mitts never cease to delight me, I pushed my luck with them this time with so many falls and climbing over two deer fences. Faultless, I love them.
Next up is the Rab Demand, this has been out on a couple of rainy days now and it's shaping up well. It isn't riding up at my arse, the mobility is great and the eVent fabric is doing its job well. The slimmer cut is great for heavy rain and wind, there's no flapping and I'm sure it breathes better as the rain is shed quicker.