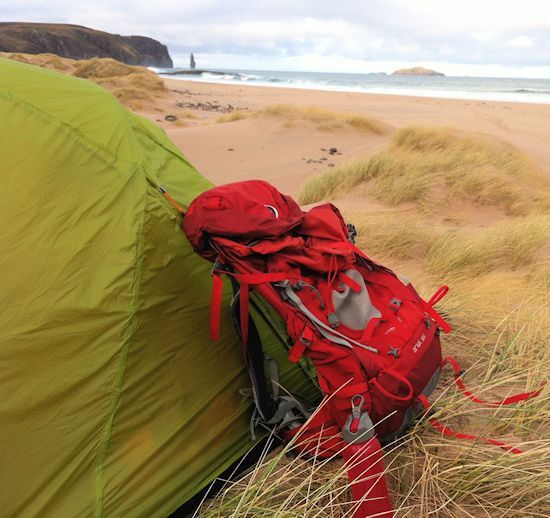 There's been a bunch of test kit that started it's life last autumn and had to take a wee holiday away from the hills with me. Sandwood was a wee refresher for some it, so some words, photies and reviews to come.
Joycee's test pack the past year has been the Osprey Ariel 55. It's got the usual endless adjustments that Osprey packs have which caused some grumbling along with the unladen weight, so we'll see what she says. Joycee spend more nights in tents during her project work last year than I did, so she knows her mind on this one.
I've been using a second generation prototype of the Vango Canyon 50 pack. It's basic, stripped down in a climbing pack way more than a lightweight backpacking way and it's a great fit on me. It's better than the first version I tried, the fixed lid works better and the back system is spot on. Weight and comfort are good, you can throw away the raincover to gain an extra wee pocket and the big mesh pockets are brilliant.
Scary cheap in the shops these are, but no, you can't get it in the purple, this is the only one.
This one photie above will have to cover many testing things, lots of which are in there but you can't see them.
The red bowl belongs to the Primus Eta Express which has been very interesting indeed. Coming back to it was a good thing as we used if for boil in the bag for the first time and it turned out to be very stable on just the sand.
It's not perfect though, there one very daft bit of design, but it's not as big and bulky as I once thought, and it's bloody quick.
My sleepkit is a Thermarest combo, an Altair down sleeping bag and a NeoAir XTherm matt. Over-specced for the 2degC on this camp, but elsewhere a work of genius. Little shades of a top bag's stability but without cold spots. Love it.
The tent disappearing below is a Force Ten Argon 200 which is the first 2-person tent I've on test for years. The extra bulk and long poles makes packing more careful than usual but there's plenty space for two to live in comfort, especially if it's the misses. Pitching is easy once you've done it once and this thing is rock solid.
A wee bookmark, more coming up.