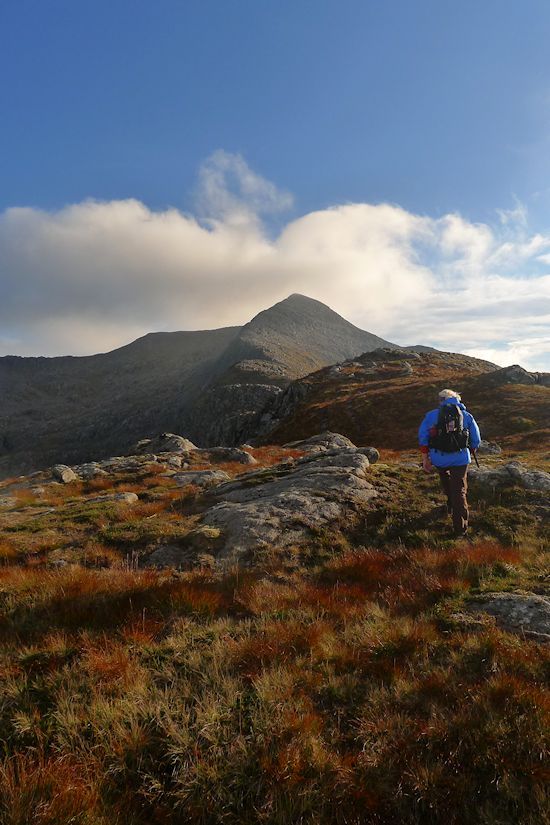 Here, been a while since I did one of these. I won't backtrack, I'll catch up with what's been going on the past few months in mini reviews and the like. Here I'll cover some of what's been used in the past week.
The Ben Starav trip had a mix of old and new. Joycee grabbed the Montane Ultra Tour 22 pack right away and stuck the Haglöfs Gram Comp Pull in there, for insulation she took the Marmot Isotherm Jacket with the new Polartec Alpha insulation in it. We've both been using that for around 9 months or so and there'll be a full review of it soon. The Gram Comp's overdue a write up as well. Joycee was on an older pair of La Sportiva Electron trail shoes and used an Alpkit Manta on the night descent.
The PHD Wafer Jacket was stowed as well but only came out at the car at the end of the day. The jacket and pants will feature on here very soon, as well as some new PHD sleeping kit.
No gear issues were reported all day.
I was in my Fjallraven Abisko trousers partly because I tore the arse on my current Fjallraven testers and haven't repaired them yet. No hardship though, the Abisko's are the best mountain pants I've got and they made another appearance at the tree planting day later in the week. The bloody things are indestructible and enduringly comfy.
My baselayer was an EDZ Merino Polo. It's a nice bit of kit, great fit and a big collar is always good. I like the buttons, I get fed up of always feeling "performance" ready and there's a casualness about the feel of buttons and the look of the polo design that says golf course when it's still totally at home in the hills. It's all about fit and fabric, features are down to personal taste and whether you believe adverts and gear reviewers that like to tell you what to do. Review of the polo soon.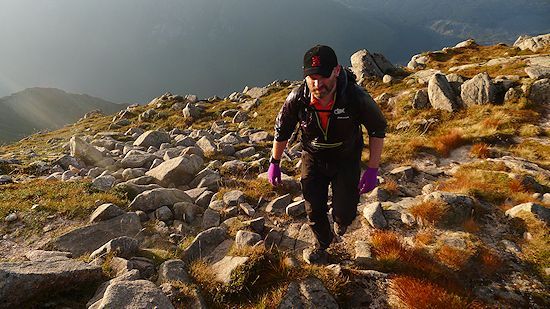 My windshirt was the Montane Slipstream GL: The Windshirt of Justice. I love this top like the brother I never had, it's getting a little worn now at the edges maybe, but no damage as such. Long may it reign.
I had Montane Minimus rain shell, top and bottom, which is now dog eared and needing reviewed, there was my Berghaus Ilam down jacket which has seen a lot of use over the past year. It's a fantastic jacket, fits me perfectly and the bright blue makes me smile.
My pack was a Casimir from The North Face. I got this in back in spring and it's been a revelation. It's an odd mix of features for 36 liters but it's so comfy and so usable that I've been taking it out again and again. I'd love to see a stripped down 25L and a same-spec 45L version, they could both be perfect. Full review soon.
I was wearing old Montrail Streaks, it's been good to have spares of this long dead model, using Mountain King Trail Blaze poles (as was Joycee now I think about it), Petzl lighting, Edelrid flask, Nathan bottle, Garmin Fenix watch (now done two 40º wash cycles in the machine in a trouser pocket with no ill effects), Wigwam socks, Julbo shades, a purple Buff, a bar of Bournville and a lovely bananana flackjack from the Green Welly in Tyndrum.
A couple of additions from the tree planting day as the return on an old Haglöfs Viper softshell which did equally well in sun and rain, it really is a killer fabric in that jacket and the recently(ish) reviewed Salomon Quest boots. I think the Gore Tex membrane's have gone, both of my feet were soaked but the boot cuffs were dry on the outside. I'm not certain though, so I'll be watching. If these boots are gubbed already I'll be really pissed off.