There were some usual suspects, some new faces and some guest appearances in my kit list at the weekend.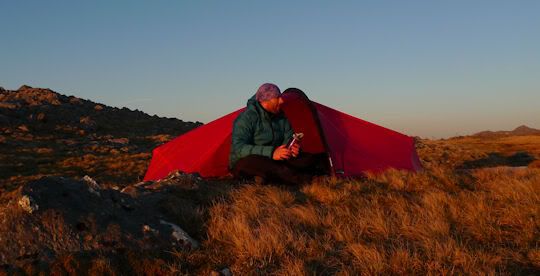 First mention has to go to my Montrail Streaks. These are just a stunningly good shoe, and despite heat which was sitting over 35°C (deadly to most Scotsmen) my feet were completely trouble free, even to the point of not wanting to stick my feet in any cold water and paddle (as is hiker tradition) that we passed as I was completely comfortable.
I used two different socks as my feet got wet a few times and I changed in the morning, Smartwool PHD's  and WigwamTrail Runner Pro's. Both excelled in the same conditions, although they're very different socks in design and materials.
PHD's deal with the devil served me well as I walked the summit in my Minimus jacket at dusk and dawn and was mighty pleased with the short zip on the Minim 300 bag. The short zip adds only a little weight but for the changeable conditions I've been using it in it's been vital.
Underneath is of course the Thermarest Neoair, now I'm still behind in hours spent on this thing, but I can already say it's the most comfortable mat I've ever slept on. It'll be a few months before it's insulative powers are really tested on cold ground (assuming the joints don't go…), but I won't be using anything else unless I absolutely have to.
Very unusually for me I wore a short sleeved merino t-shirt, but this will be an ongoing thing as I've got a couple of short sleeves on test. It worked very well and even in the cool evening air I didn't subconsciously reach for rolled up sleeves to keep the chill off. It did mean more sunblock, but them's the breaks, and a wet-wipe took most off and kept it out of the sleeping bag.
The 'comp is now invincible with the new guys, pegs and (finally) re-secured pole hood. Strong winds made no different and in the morning the guys were still so tight I managed to pluck the bass bit from Fleetwood Mac's "The Chain" on them (think about it…).
This trip is notable for being the first overnighter of the year where I didn't wear gloves or use a headtorch at any point. Interesting.