I went and put the kettle on and forgot to finish what i was saying…
I was wearing a sythetic baselayer top on Friday night. I've been wearing synthetics on and off in times recent, but I've not worn a synthetic overnight in years. When I was down in the Lakes last week I picked up some kit for Bobinson, Haglöfs' Kazoo Pants and Azer Zip Top. I got an Azer for myself as well as I got caught up in the shopping frenzy.
I'm always banging on about merino, and with good reason, but things move on and synthetics are always under development to made them less like clingfilm on the skin and less offensive to the olfactory senses of you and your companions.
The Paramo t-shirt that came for test last year worked well, but got shelved for winter, so I'll come back to that. Recently I've worn Helly Hansen Lifa again which just feels horrible on my skin when I've been sweating, featherweight Polartec Powerdry feels better to me. I wore a heavyweight Haglöfs Actives 031 occasionally late in winter and it was roasting, but stayed dry. And of course there's the X-Bionic kit. All fitted and performed well, but still had a whiff about them after use in various degrees.
The Azer was annonymous in use, as any baselayer should be. Soft, comfortable, easy to roll up sleeves, nice long neck zip. It was when I stopped to take photies or have a drink and turned round to set off again that the biggest difference between synthetic and merino became apparent, my back was icy cold and closing the gap between my back and the pack was a definite "Urk" plus shuddering  moment. But after a couple of seconds comfort was restored. It's more noticable when you're not layered up, you're just in a baselayer.
It's always been that way, as long as I can remember. Moving to merino, well, you just kinda forget.
I slept in the Azer no problem, I was perfectly comfortable and dry. Back at base though, Joycee did indeed sense something, a presence she had not felt since…* Since a few years back anyway, next day synthetic bouquet, although much diminished in its ferocity.
So recent experience suggests that sythetic has got a lot better, anti bacterial treatments, silver fibres and the rest are working, but nature's got a head start and is sitting at the trig point already, grinning away.
I'll wear sythetic for day trips and the like quite happily now, but merino is still king for days, and for days and nights.
Also, I slept in the PHD Combi on it's own for the first time. It still lofts like a bastard, it's still warm, but it's now wider inside, more like regular bags from other folk in fact.
Is it an option for folk who fancy a lightweight PHD bag without the slim fit?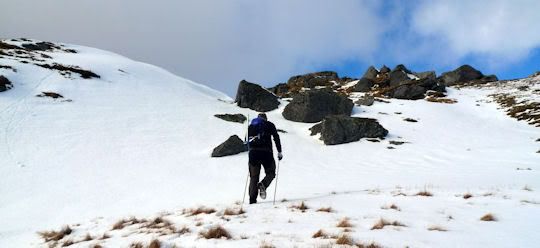 *Shame on you if you don't get that movie reference.