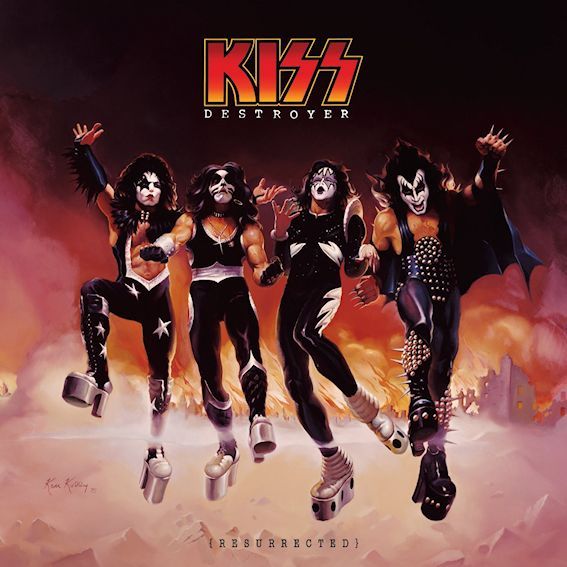 I'm never very sure about bands re-recording their own classic tunes. Live albums are great, but new studio versions are invariably soulless and mechanical, better modern production, slicker and more careful playing and a singer who is obviously much older. We originally heard youth, pressure, hunger and debt, we should leave it at that and hear something new.
KISS did an album of reversions and it's rubbish, I Love it Loud played in a light hearted fashion? Gimme a break. However, with Destroyer what's happened is a bit different, rather than redoing it, original producer Bob Ezrin's gone back to the masters and had a second go at the album mixing and and the results are unexpected.
Destroyer is KISS' best album, I'm taking no argument on that. Creatures of the Night is a belter, Alive! and Alive II are awesome, but in the studio KISS usually lacked, songs, ability and production. Destroyer was different, the songs were fantastic, wrestled into shape by Ezrin and the playing was also fantastic. It's long been said that KISS don't play much of the album but Ezrin says they do apart from the keyboards and piano which he did himself and some guitar from Dick Wagner. You can hear Wagner's playing, especially obvious is the solo on Sweet Pain, he has a fantastic style, it's all over Alice Cooper's work up to 83's DaDa and he was Ezrin's go-to man when band's weren't making the the cut due to ability of drug abuse.
The production was slick, the album has a sound all of its own but also one that is unmistakably Ezrin, something you can hear in Alice Cooper's early albums and on Pink Floyd's The Wall. Their best album too. Oh yes. I wonder if KISS were too young to meet Ezrin halfway when they were recording the album? His influence shaped the album and KISS never sounded like that again, or indeed as good.
So what did Ezrin do with the masters? I think he made a KISS album out of it. I'll explain that. You expect modern big budget production to be smooth, but what Ezrin has done is pull out the essence of the band from the '76 production and let it shine brighter. The guitars have a rougher edge, a bit like you hear on the Alive albums and on Rock and Roll Over, the bass is up in the mix and edgy sounding and I swear Peter Criss is hitting the drums harder.
It's a lovely job, it really is. The whole album sounds fresh, alive and even a bit louder. It's not perfect though, the join between Detroit Rock City and King of the Night Time World is quite different and doesn't sound quite right to me, it's a mix of a car crash and guitars, but Ezrin explains why in the notes, the masters were 16 track and you can only separate those elements so far when working on it without having to make something new. To give you a clue about that, the songs you hear me doing on here have 48 or more tracks in the masters, how times change.
There's a few big changes, one is the Dick Wagner solo in Sweet Pain, it's still there, but the Ace Frehley solo and lead licks are there too in another version of the song. It's rougher sounding, it's played by a man full of vodka, but hearing it you wonder why Ezrin felt the need to use Wagner on it in the first place. Beth gets the whole original vocal from Peter Criss, it sounds different, it's a drier production here and his voice has a lot of character in it which wasn't so obvious before.
The other change is a mistake fix, maybe not a mistake as such, it was obviously a 50/50 call and over the years they'd wished they'd gone the other way. They hint at it in the liner notes but don't give it away, I'm not giving it away either (partly in case I'm wrong), but if you know the album it's really obvious. Check the vocals side one, track one. Or it could be the odd time skip in Flaming Youth. Hmm.
In short Destroyer Resurrected is brilliant, not better than the original, just different. It's big sounding, it's got more bottom end than the original and cuts deepr at the top too. The songs are breathing deep and shouting loud.
As a package it's neat, a nice big booklet in the CD with the original unused artwork (above, original below) with the band wearing their costumes from the Alive! era where Ace's face looks abit odd. The disc is printed like it's Casablanca vinyl too, unnecessary but nice.
Highly recommended.
EDIT:
Okay, it is a glitch on Flaming Youth, don'y buy it until version 2.0 gets released. Universal are replacing discs already bought. Bummer.