It was grey, Saturday had been dreich, and after my smashing wee escape from reality during the week I just wasn't feeling like summits. The idea of ascent doesn't always appeal, and I'm not a list ticker, sometimes I just like a nice gad about in the scenery.
Bobinson had been trapped by decorating and when I suggested a nice long walk to stretch the legs and get the feet used to non-winter footwear and socks, I could hear him taking his truck keys off of their hook by the door before I'd finished the sentence.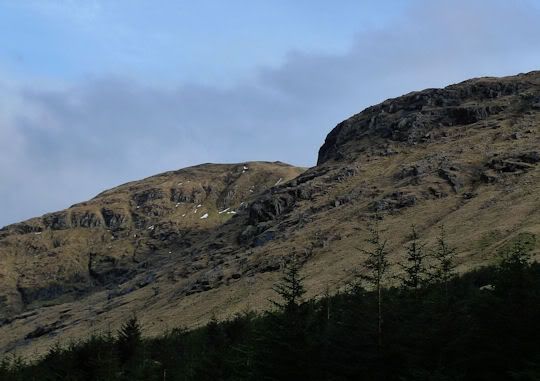 The trail we took starts in Arrochar and heads up Glen Loin, it's an 18km route on forest roads or rocky tracks that takes you around and into the heart of familiar peaks giving you views of their hidden corners and faces that remain unknown the folks on the usual summit routes. This is the great benefit of being local, time to explore.
From Succoth you take the forest road which zigzags and turns north, away from Beinn Narnain and the Cobbler and climbs onto the side of A'Chrois, which you can glimpse through the heavy forest now and again, high gullies and crags still holding some snow.
It goes uphill for ever, but there's a big break in the trees opposite the little isolated top of Dubh Chnoc where you can see very odd angles of Ben Lomond, Ben Vorlich and Beinn Chabhair. The forest is fine though, there's things living in there, there are fast flowing burns and little waterfalls, the forest bed is carpeted with soft moss and looks very inviting. But through the gap in the canopy that the track provides, there are climpses of high cliffs, streaks of snow and even flashes of blue sky in the grey. So onwards you go.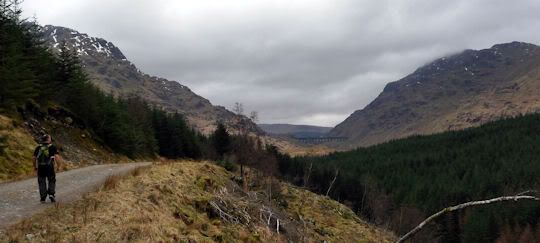 We stopped for tea at the weir on the Allt Coiregrogain, towering above us the Arrochar Alps finest. Ben Vane, Beinn Ime, Ben Vorlich, A'Chrois and Beinn Narnain making a jagged circle of the steepest hillsides, dark with bare rock, huge exposed crags, faces black with snowmelt running down them, the pale dead grass between them accentuating and sharpening every shape. My concentration flitted from feature to feature, soaking it all in, revelling in it, we might have daft wee hills in out daft wee country, but it can still be majestic.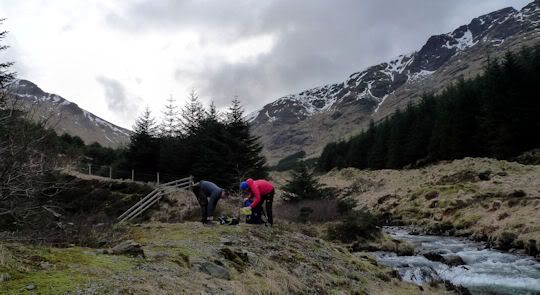 We crossed the river and headed down to Coiregrogain and here there were the signs of the hydro development at Loch Sloy. The whole area is tunnelled, the water flow carefully channeled and controlled to be used by Loch Sloy and Inveruglas to make the at electric that we all enjoy so much. Sixty years had dulled the occasional installations impact, they've worn and grown into the landscape and do not offend, just occasionally offer some odd geometric shapes into the random tumbling chaos of an average Arrochar Alp slope.
Looking back up the glen towards the bealach that joins Beinn Narnain and Ben Ime, I can't help but think that the forestry could be described as looking like the contents a tin of dark green paint that had been thrown into a bath. Not often I get these cynical moments, but you have to wonder at some of the decisions that have been made. A second though, and the annoyance was gone. Magic view.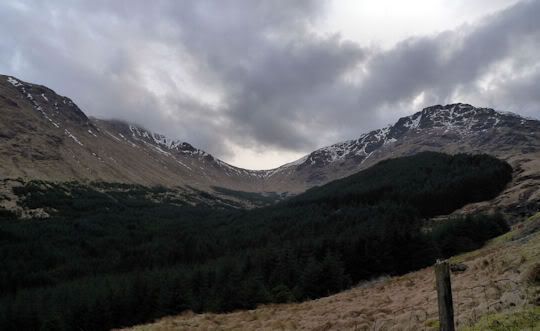 A hard right takes us back into Glen Loin and onto the Glen Loin Way. It's a narrower path on this side of the glen, with some huge climbing crags, natural woodland and electric cables over your head. It's a mountain biking challenge, and on foot still asks for some concentration.
The pylons and cables can be intrusive here, why couldn't they bury them? Would wind turbines be worse or better? These are the questions.
On the trail we found the wee shelter above, someone had spent a lot of time and effort building it, and it's far away from any road. Good effort.
The sky was darkening and the occasional patches of blue had healed up and a light drizzle drifted down, so soft it was nothing more than a cooling mist. We wandered along gazing West and picking out the line of our higher outward route as a slight hiccup in the regimented conifers.
By the time we were back at the truck it was dark, and we were in and away in seconds. I had a good workout on my feet and legs, I'll feel it in the morning probably. But it's been nice to be back in trail shoes, even if I do get wet feet now and again.
A nice wee day. No prizes won, not very photogenic, just eleven and a bit miles of deserted, banter filled trails through fantastic country.
And indeed, Macfarlane country. We'll come back to that one day.