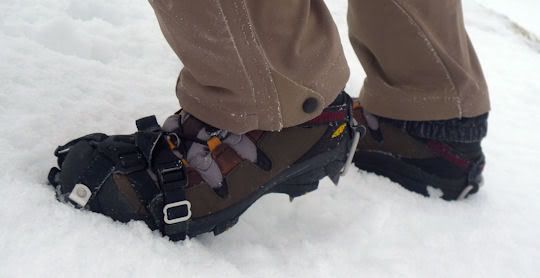 I've really taken to these Keen Growlers. They grip so much better than Targhee's, so the "winter Targhee" ambiance they give off is misleading. They're flexible, comfortable, warm with the Primaloft lining and are a great match to both the aluminium and steel Kahtoola crampons. The ankle height is high enough to match the Haglofs Omni II or Patagonia Backcountry Guide softshell pants that I wear in winter, so I don't need a separate gaiter to keep out the snow and bog. Indeed, the Growlers have a small metal D-ring at the bottom of the laces to attach the internal gaiters of such pants. That's just being a smartarse that is.
If I'm going much steeper and for longer than on Sunday, I probably would wear a stiffer boot with longer spiked crampons as wearing this flexible combo would get tiring over time on consistently steep snow. But for an average winter Munro day, these kick ass.
The Sigg oval was in my pack bottle pocket yesterday, and joy of joys, praise be, it's a revelation.
Bobinson had to screw the lid off of his Camelbak bottle as the the bite valve and straw had frozen solid, and the bottle contents were somewhat icy.
But, this pre-war accessory I took stayed relatively ice free and easy to access. The shape also means I didn't have to tilt my head right back to drink from it. Sorted, that's what I'm carrying for the rest of winter.