Keen footwear has been a constant for me for many years once I discovered the light weight and wide toe box and I've also tested a bunch of models on here over the years. For last winter I was sent the new (for last winter) Revel boot and Holly finally grew into her test pair of Alamosa's this spring which are now getting plenty outings.
This photie below says a few things about Keen, Holly wears her Alamosa's without complaint, Joycee wears her (TK Maxx sourced) big boots because she likes the look and the sole unit is an outdoor one and I've got on test shoes I've had for years. Not everything new is better. In saying that though, the Revels weren't just making up the numbers on the shoe shelf last winter.
I've tested new model Keen winter boots for the past few years and they've always been in the right performance area for me, light, flexible, waterproof with an ankle cuff that flexes. The outsoles have always been just grippy enough, but grip is probably Keen's greatest weakness and it's something that user's in the UK's wet hills are happy enough to compromise on for the benefits elsewhere.
But the Revel's seem to bite harder into the snow and the mud, don't know why, the design seems to be little different to the worn soles units of recentt winter models. Whatever, I found a little extra confidence on these soles, maybe the upper is playing a part there? The sole is supposed to firm up in low temperatures, the rubber reacts, maybe it's working better here. All good news whatever.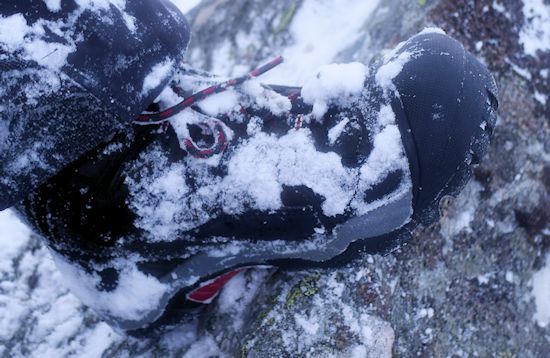 The upper is lightly insulated and waterproof. The synthetic insulation must work to some extent as I tend to wear lighter socks in Keen winter boots and the waterproof membrane also lasts well, the Revel's were still keeping me dry until a couple of weeks ago. I've seen other membrane's let go after half a dozen wears.
The upper is a mostly nubuck leather with a lot of paneling and stitching which always worries me as it's potentially vulnerable to abrasion, but the stitching is tight and despite cutting through neve and heather for months, there' no fraying and the uppers look solid.
The paneling probably aids the flexibility which is always a revelation in a winter boot, warmer and comfier feet at the cost of a little extra thought in route choice on snow by the wearer to compensate for the lack of a rigid sole. I've used these with steel and aluminium Kahtoola crampons and with Hillsound spikes and they've been fine with all three, flexy boots do not limit your winter horizons.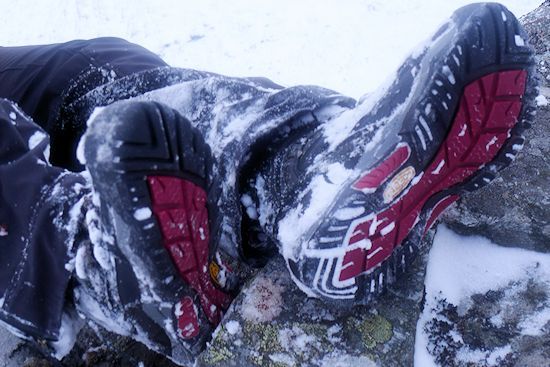 The ankle cuff is high enough to mate with softshell trouser inner gaiters and regular gaiters to keep the crap out and there's a metal D-ring at the bottom of the laces to attach a gaiter. The insoles are those mental woolly things Keen use which are comfy and warm, carpet in your boots. Genius.
1200g for a pair and absolutely fit for purpose. Nice bit of kit, just needs some brighter colours to make my winter day complete.
You can't fool kids, if they don't like it they won't do it, eat it or wear it. Holly loves outdoor kit, she know her stuff and the Alamosa's were go-to shoes as soon as she knew they fitted.
The design is pure Keen, big toe bumper with room for toes to spread inside and an upper spliced together in the familar way from suede and synthetic.
There's a waterproof lining which is great as Holly's always testing puddles for depth and the sole is cleated enough for a mix of grip on the dirt and not so much resistance on tarmac.
The Alamosa's don't hinder the tester, she went straight up to full speed and never looked back, as unnerving as it was for me to watch. She's been in the park on the grass and the equipment, up the Kilpatricks, on the trails in the Trossachs, round and round the garden and more and she's been sure footed at every turn.
She mentioned the heel at her achilles area at first, "Eh, dad…" as she pulled at it, but there was no rubbing and any initial stiffness in the heel area must have worn away pretty quickly which is good news.
The velcro fastening is good for little hands and parents alike, quick and easy with no trailing lace hazards as you child fires around like a rocket with a broken guidance system.
Great kit, kids don't know how good they've got it these days.