I think this is how it'll go from now on with gear stuff, First-Looks with a proper update later on.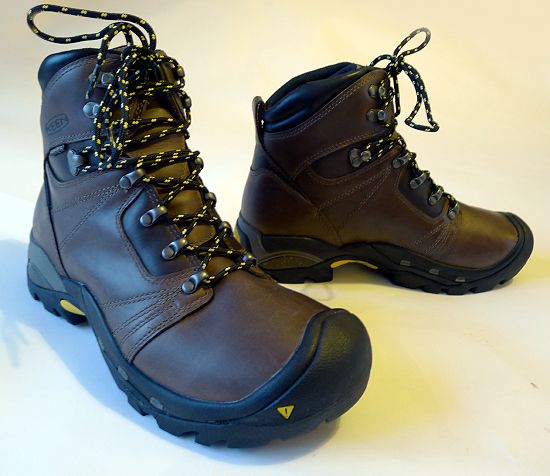 I get on well with Keen's winter boots, the light weight and flexibility have kept my feet quite happy the past few winters. Just out of the box for test are the new Erickson PCT's, the biggest and most badass boot I've seen from Keen.
I went Whoa when I seen the height of the ankle but it's nicely flexible so I'm hoping for no trouble from it, just a good bit of keeping the snow out action. The plain leather outer is a good call, less fancy stitching to attract damage and as odd is it may seem, I miss leather boots aging with the miles. Fabric and suede just gets tatty and falls apart, no class at all.
There's a Keen Dry waterproof membrane, all sorts of gubbins in the sole, which also has a properly aggresive tread on it, which I'll cover in the proper review and it fits like a Keen boot which means it fits me fine.
Big brown boots, who'd have thought it? More once we're into winter.
Update.
The Erickson's were my main boot through last winter and as you can see below they've seen some action.
I'm used to bendy boots in winter so there were no surprises waiting for me once I got onto the snow, the different techniques of flat footing and twisting into rather than kicking into neve all worked fine with the Erickson's straight from the box. The high ankle cuff softened up by the second trip and from then on it was a just a snow seal and I didn't feel that it affected my ankle movement  at all.
The upper got no care at all, I just dusted them off before throwing them into the motor before a trip and the leather has fared very well indeed. It's creased at the flex points as you'd expect, but with no flaking of the leather and they've lost pretty much all of the nice shiny finish you can see above after countless careless footsteps into snow.
The waterproof liner underneath is still waterproof, there's no grit getting inside to rub away at it and the limited flex of the upper are both helping preserves the membrane. They breathe well too, certainly no over-moist socks at camp with the own-brand liner.
The sole unit is probably the grippiest Keen design, the lugs are quite square edged and they do bote well when new and the grip has lessened only slightly as the sole wears down. I feel pretty confident in these in most terrain and most times I know when they're going to let go and slip, something that mountain bikers and folk used to using trail shoes will appreciate. Once you know the breaking point you can be ready for it so you can catch it or crash out with a bit of grace.
I've had crampons on the Erickson's a few times and they were fine. I was cautious at first with the steel Kahtoolas but they were rock solid both in attachment, even with that big rubber toe bumper, and in proper use. The flex of the Kahtooolas matched the Keen's own flex very well and the leather upper kept me from feeling the straps so it's an all-day match, feet don't tire or get cold from the constant compression.
I was mostly wearing big socks with the Erickson's, sometimes with th0se dead thin Bridgedale Coolmax liners and there's plenty of room although there's enough adjustment to pull them in a little for a thinner sock, but if it's a thinner sock you're after you'll be wanting a different boot or shoes I'd say, so I'm happy enough.
The toe room in there is vital, wriggly toes are warm toes and despite no insulation in there I felt than the leather + big sock combo was fine for me and I didn't find my feet getting cold when I didn't expect them too, like at camp when everything's inside the tent but your feet which are still in the snow.
Bottom line with the Erickson's is that they went from review boots to go-to boots and will probably continue that now that the snow is back with a vengeance. Comfy, light and now they're worn in I think the look brilliant. It's the one thing I miss about lightweight footwear, worn leather tells a story all by itself.
Great boots, recommended if your feet are the same shape. As the boots, not each other, you'd have two left feet then.