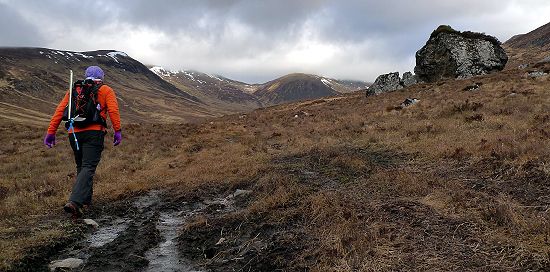 In a moment of despair I sent a text to Twitter, Inverness is next to cleanliness. It also seems to be made entirely of retail and business parks. As I had arrived in darkness and seen only Tesco and the Premier Inn I was staying at, it seemed like a reasonable assessment. It's been a few years since I was last through Inverness instead of past it, and I had the feeling that its Highland Boom-Town tag had ruined it.
The wee lassie at reception was cheery and chatty, her hobby was taking photies of bugs and mini-beasts. I could tell she was disappointed in my LX3 when we compared cameras. Would you like breakfast in the restaurant? "Yes", the reply was out like she had pushed a coin in my slot and pressed dispense, despite my plans to eat on-the-go next morning. Would you like the fu…"Yes"…ll breakfast? Bacon an' that would be mine in abundance.
I packed for the next day and then lay like a couch abandoned in a layby on a rainy day in front of the telly before admitting defeat and slipping into the remarkably high bed. The top of the mattress was a good four feet off the carpet I'm sure. Strange.
I woke a few minutes before my alarm and then waited for it to go off rather than get up. The cold that's been tugging at me has been thicker the past few days and the Beechams race-style gel sachets seem to have only limited effect. I dragged myself into outdoor gear and then over to the restaurant for a pleasant unhurried breakfast at the window where the cloud looked well-broken in all directions.
The dick in branded workwear at another table had left his phone in his jacket, the loud ring while he was in the toilet gave that one away. I had one leg swung into the ailse and one eye on the jug of fresh orange juice as an appropriate destination for Mr Stoopid's communication device when it rang off. But my air of relaxation had been broken, I drained the last inch of coffee as I stood up, waved cheerio to the staff who looked surprised to be acknowledged and headed to the motor.
Inverness Old Town is mostly still the same, and on the way home later it was quite lovely all lit-up, so I felt a little relieved. There's some modern blandness in the shape of angular steel and glass, but northeast grey stone is still the king here. Over the river I was quickly into the countryside, fast and winding roads through lovely scenery, deep brown hills streaked with white marked my destination.
I cut off the "main" road and into the little hamlet of Struy, pulling up at the infamous gate that bars access to Glen Strathfarrar. I unlocked the lock and swung open the gate, I drove through, dragged the gate shut and locked it. A simple task that was never far from my mind all day.
The glen is beautiful, Glen Lyon-Glen Affric beautiful. The low early light streaked through the native woodland as the ribbon of crumbling tarmac pulled me farther into what is in essence someone's garden. Scotland's landscape is so beautiful, a beauty that I can physically feel as I look at it, and despite our freedom to roam, ownership and land use, land abuse indeed, makes me seethe. All day I passed a mix of expensive houses and lodges and abandoned cottages and farmhouses, the Highland clearances have never really stopped. The glens should be full of people living, working or renting for a holiday, but too often they're the jealously guarded preserve of the wealthy.
I pulled up at the track end just past the power station. The well-trimmed grass indicated a favourite hang-out spot for the animals and a soft start for my feet. A steep climb at the other side of the field told the real story. Within a few minutes I was out of the glen and into a wide and wet grass coire with a wall of snow streaked ridges ahead. That was why I was here after all, to traverse the four Strathfarrar Munro's.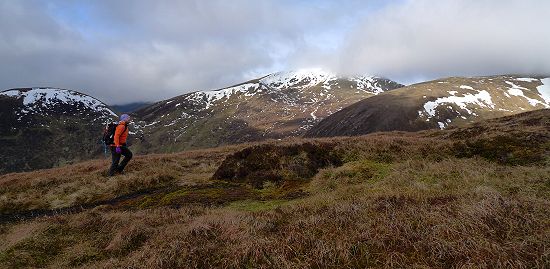 The cloud was patchy, I could see one summit, ah no, it's gone again. And that was how it would be.
It was nice, not too steep and progress was okay. The cloud broke a few times and let me see what was there, but never for more than a few seconds. I didn't mind though, I was quite happy as I reached the false summit of Sgurr na Ruaidhe and skipped the next seemingly almost flat stretch to the real cairn. I looked around, shapes came and went, the little rocky top to the south, the distant shapes of land and water to the east and the smooth ramp of moss sliding down to my left. From the rocky bealach at the bottom of the ramp I climbed into a little sheltered nook and took out the stove. It was windy, it was windy all day, but never an icy wind. I could feel winter slipping away.
Nick Nairn's black pepper oatcakes and applewood smoked cheese with Kruger coffee, the snack of kings.
The colours were all warm, the cloudy sky was diffused with light, the ground glowed, now stripped of its winter coat, but I packed and climbed out of the colour and into the misty, bouldery and monochrome world of Carn nan Gobhar.
Such a formless place was the summit a decided to take out my map and compass to take a bearing. The compass dangled from its lanyard on my wrist as I failed to find the map that I'd so carefully printed and laminated only days ago. Bugger.
I was going to be navigating solely by GPS for the rest of the day then, and that would be a learning experience.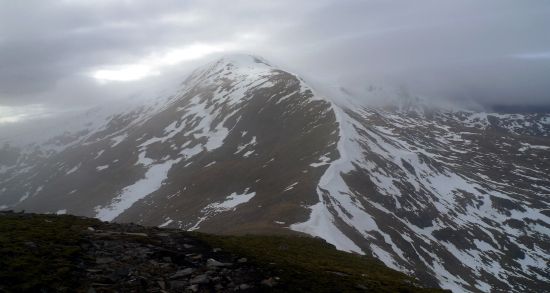 Like a huge zebra the dark and light ribboned northern flanks of Sgurr a Choire Ghlais shuffled into view. Mist can make almost anything seem precipitous, drops seem bottomless and I was very careful from now on as the ridges narrowed and ice become more common. On the ascent I stopped and put on my crampons so I could take the safest but steepest line to the viewless summit. A stumpy trig pillar and two cairns were there to greet me. Standing there it just looked like a washing up basin full of bubbles and the four of us were various dishes and utensils sticking up the through the foam. A shrug, a wry smile and onwards.
I checked the GPS. I told me where I was, but I find it very hard to read it like I read a map, it's almost like having the answer without the question. I can absorb and retain a map as I go, but the small GPS screen doesn't let me do that and I did do some unfortunate meandering. I just reset myself every time, but as strange as it may seem, a regular map would have been quicker and more accurate for me. More natural?
Still, it's an awesome tool the Garmin Oregon, dead accurate, totally reliable and without it I'd still be up there. I just need to find my own way with it if I'm using it as my main means of navigation.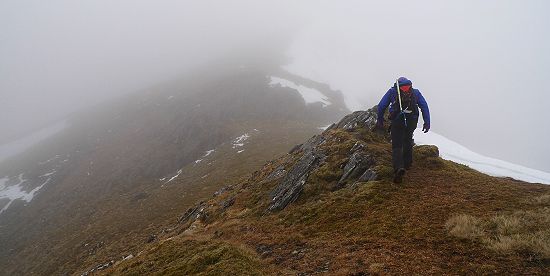 The drops to the north were getting steeper on the final Munro of Sgurr Fhuar-thuill, falling away seemingly vertically into nothing. I bet on a clear day it's just nice though.
Not point in hanging on, I was something like 8 miles away from the motor, and the motor was hours away from home, so I walked straight over the top and started looking for the way down. For the first time I can remember I was happy to see a navigational cairn, it was at the top of the stalkers track that  dropped into the coire. I turned left just before it and picked up the track that contours steeply below the mighty cliffs, mighty cliffs so I'm told anyway, I saw some clouds again.
The track was icy and banked out with snow in places, the run-out of which was several hundred feet, so I went freelance on the hillside rather than risk it. I found the track again later on and lower down, running beside an ever growing river. The sound of the water tumbling over rocks became ever more distracting and I pulled up a chair beside it and set up the stove again.
Pasta, coffee, chocolate. I was happy enough, and I was also a thousand feet lower down and still in cloud. The contrast to the conditions I had camped in just a few days before hadn't gone unnoticed. It wasn't bothering me though, I didn't feel frustration, it was just a different experience, and one I was enjoying to my surprise.
I sat for ages, then the light started to dim a little which got me moving again. The trail became an estate track, one with some delightful applications of earth-moving machinery, and the cloud became a roof again rather than an overcoat.
A little gap in the slates on the roof to the south showed a few fingers of pink high up as the sun played it's song solely for the balcony today.
When I reached the road it was night time. My eyes were tuned in to the dark, it was warm and I just put one foot in front of the other. Over the miles I had time to think about all the issues this trip had brought up. As remote as I was, as far from help and civilisation as I had been on the ridge, I still felt like I had sneaked into someone else's garden.
I had always resisted coming here in summer because of the gate, waiting to be let in at 9am like that feels like tugging my forelock while bowing for the master and I just can't do that. But, these restrictions may have maintained the glen in its fine condition at the expense of free access.
I have no answer or fixed opinion here, just mixed emotions and a general frustration.
I was glad to be back at the motor. About a mile back I'd put my headtorch on as the dark had become all-pervasive and I had started to see a few drops of something falling through the beam. A bat flew through the beam at one point too. It was very cool, no doubt very unseasonal and there wasn't a hope of hell of getting the camera out in time.
I changed my shoes to dry ones, started the engine and looked at my options. Strathfarrar to Glasgowish takes a while, even on the easy option of the A9, I was pretty tired and I really wanted to go home.
I checked my supplies when I sat down, having locked the gate behind me after a fun jaunt back down the glen with full beam lights and tired eyes, a bottle of Lucozade and a packet of McVities Dark Chocolate Digestives were placed handily on the passenger seat. Let's rock.
At 0020 I pulled into the drive without stopping once on the way down. Oddly I hadn't felt too tired on the road, I didn't want a cuppa or anything, but as I fell in the door (Joycee was still up and opened it unexpectedly) I was suddenly desperate for toast and banana, coffee, slippers, a chair.
It's nice to go, but it's nice to come home.