As much as we hate the USA they're shit hot at a great many things. Lightweight and innovative outdoor kit being the most relevant here.
My mate Craig discovered Kahtoolas a couple of years back and brought a few pairs into the country (along with Nemo tents, but we're not bitter…). We had a play about and decided that they were the truth and the light. The UK distribution was picked up by the fine folks at Beta Climbing last year and they're now widely available.
Amazingly, they've been completely ignored by the UK outdoors press. I can't believe that Chris Townsend hasn't been singing the praises of these from the highest tower in the land, I mean they are the only truly lightweight and trail shoe compatable crampons available.
So in the total absence of any reference material, I've got a nice new pair of the steel ones here to show you what they're all about.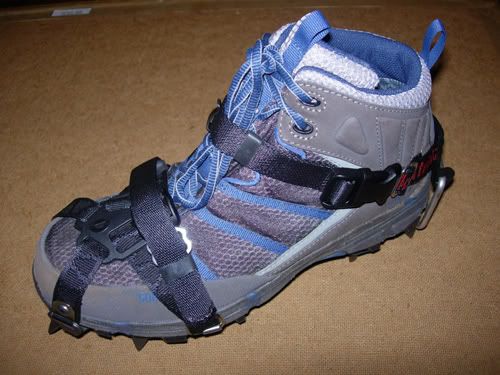 They look very strappy don't they? Adjust them in the house before you go and get used to putting them on, so that when you do put them on in anger with cold fingers there's no cussing.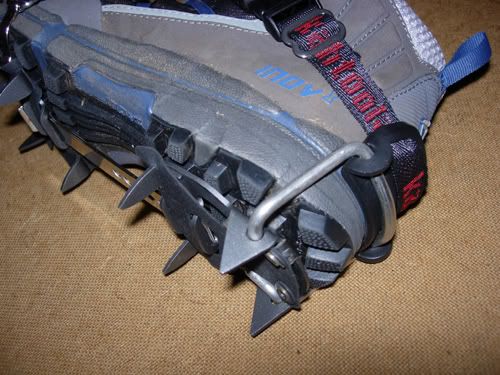 The heel clip is secure and doesn't exert a noticeable pressure onto your foot, the strap there has a quick-release buckle. The toe cradle has four points of attachment which is very adjustable and is secured by a buckle over the top of your foot. All the straps have securing loops so they don't flap about and get on your tits.
Underneath we have a more standard looking arrangement with ten points at different angles to prevent slippage and give reliable grip. The spacing and positioning is good, and as you'll see the points aren't as long as we're used to seeing these days. They're actually more like what we were using 20+ years ago when kit was designed to fit it's purpose, not for a new season launch date or to make if flashier than the other brands. This makes them fantastic for our mixed snow, ice, slush, rock and turf UK winter mountain terrain where long spikes designed for all-day-neve can cause you problems.
The link bar, which comes in two lengths with every pair, is made of rubber. No it isn't, that would be stupid, but it is a very flexible bi-metal bar with a wide range of length adjustment via holes in the bar and a spring clip on the heel portion of the crampon. We have worn them With Montrail Highlanders and they really do work. As they will with any boot at all.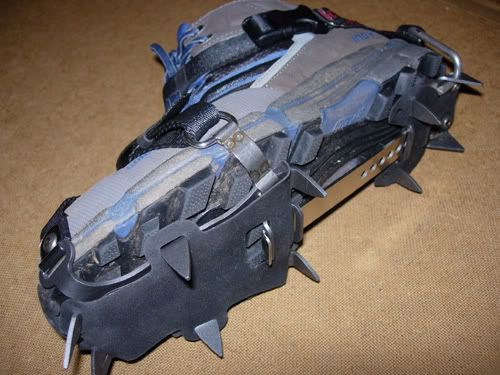 The anti-balling plates are simple rubbery affairs, weigh nothing and work fine. Which make you wonder why other manufacturers are consistently coming up with grander and more complicated designs to add weight and packed bulk.
Another little detail is the relief stamping on the front points for strength. You'll never get up an icefall in them, but you will get around the mountains in winter without issue. They're light at 662g a pair, the pack size is tiny and they work, and work well.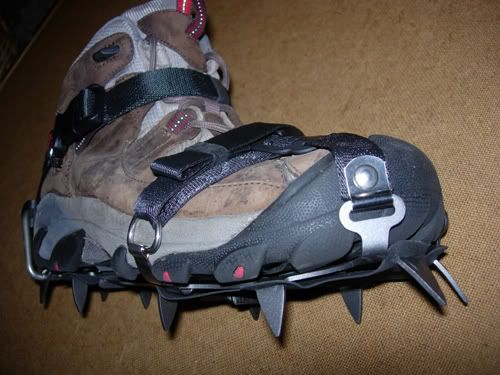 Abandon all this pish we've come to accept as the norm. In many ways these are a step back in time in design, with better materials and less weight. Winter doesn't have to be a slog. Let's gambol through the snow this year.