You know the score, the Mars Planets aligned to provide me with a weather window, an extreme desire to be in a tent with a cuppa and three distinctly different yet oddly similar chocolate coated centres.
I was making my way up Ben Lomond in the fading light. I chose Ptarmigan ridge as it's the best route and I was planning to camp up there somewhere. I met two contrasting parties on their descents, the first were four French girls bound for the youth hostel who were very concerned that my feet would get wet, and the second was a father/son/uncle team taking junior up his first Munro. After that it was just me, the ravens, even the sun dipped out behind the Cobbler.
The path is steep in places and winds around the rocky knolls and humps of the ridge with fine views of the summit and it's huge landslide that you can't see properly from the tourist path. Another reason to always do Lomond as a circuit, it's SW face is rugged and worth seeing. It's magic at this time of night, it's rugged and it feels as remote as Ben Lomond can ever be.
The sheep weren't happy, I was heading to their Friday night hang out with my strange ways, which are not there ways. They stared glaikitley, they Baaa-ed, but I was unmoved by their pleas. They quickly gave in and buggered off, leaving me a slightly soggy, but smooth pitch with great views here.
I brought the Big Agnes Seedhouse SL1 as I'd still not got good photies of it for a review (still don't), and it's a piece of piss to pitch, even in the dark. So camp was admined and the stove was on before too long. I was using the Silva L4 headlamp which has the red light funtion and it's brilliant, it's all you need in the tent and it doesn't screw up your night vision. It reflects off my nose quite effectively as well.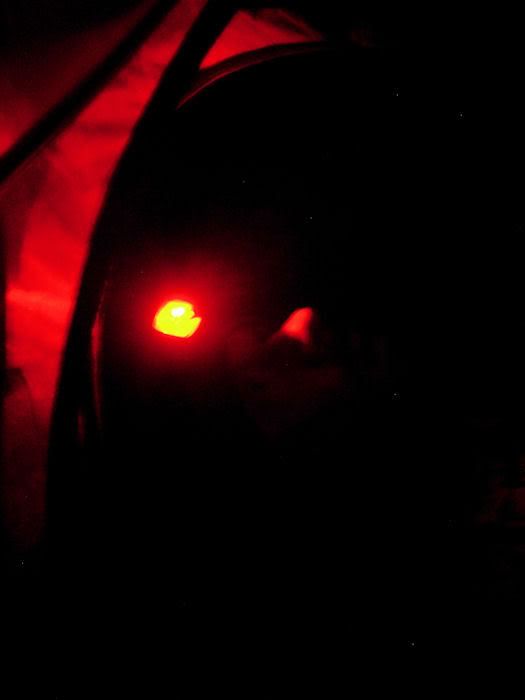 It's amazing how much civilization you can see from Ben Lomond at night, lights everywhere. It's quite bizarre, almost like being on the roof of a deserted tower block picking out the houses scattered about it far below. it doesn't spoil it, it adds an unsual dimension from the usual jagged edged pool of blackness I tend to camp in.
There's one thing you forget about regular crawl-in-one-end tents, you can see the sky properly. I ended up wrapped up in my sleeping bag (MontBell, lots of gear updates coming in a minute) lying on my back with my head at the door gazing straight up at the stars. Beanie hat on, with my iPod sending the Scorpions Tokyo Tapes right to where it was going to keep me awake until way too late. But, watching shooting stars, passing satelites and the yellow half moon crawling slowly clockwise around the sky can also take some of the blame for my final 0200 sleepy time.
It was dark for about 10 minutes I think, the tent was bright and it woke me up again, I stuck my head out and two things were apparent, it was bloody freezing and the sun was coming up. Clothes, camera, oot the door.

I hadn't expected the inversion though, that was a bonus. The free gift not advertised on the cover of the comic, the free live DVD in the new album, the one in a million KitKat with no wafer in it.
It was too cold though, I started shivering uncontrolably and got back into the tent and into my sleeping bag and got the stove on. I ventured out again having had hot muesli and armed with a hot chocolate in mt favourite purple mug.
I squelched about there for a while, looking down Loch Lomond there was only a blanket of fluffiness and the clouds were doing all sorts of strange stuff on various hills, flowing across, sitting on top and growing into a mushroom, it was all very fluid. There was bigger clouds growing upwards here and there, and that's a sign that it's breaking up.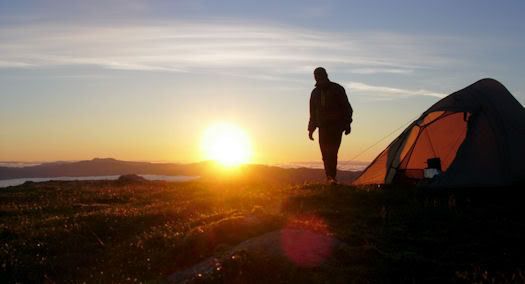 I took some shots of the tent and packed up to haed for the summit, I really wanted to get there and see what was going on behind.
It's a steep pull up from here, and although this all still before 0800 I was warm now, so it was baselayer and Oz as the wind had a wee chill. Autumn is in the air, I really felt it this trip. This I like.
As I got to the trig point it struck me that I can't remember the last time I had seen the view form here, it's either been at night or in foul weather I've ben there in recent times. So I stood for ages and reaquainted myself with the contours and shapes of the long familiar hills and lochs to the East.
I turned round and noticed that I'd been joined by a friend on the summit, a Brocken Spectre floated above Loch Lomond. It would have been rude not to have said hello, so I toasted this glorious morning with some Nuun and a protein bar before reluctantly heading down.
The summit ridge is quite level and pretty steep on it's Northern side, here was a mix of white cloud and lush green rising though here and there. The recent rains giving the ground a last flourishing of life before the change of seasons.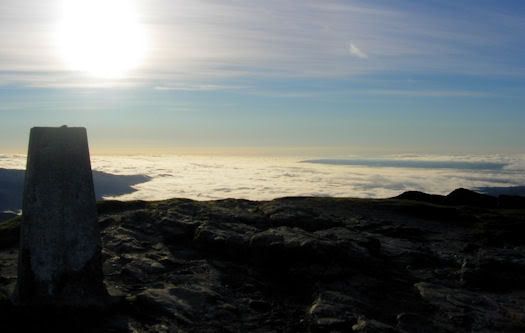 The cloud was breaking up and rising as I jogged down the track. It feels like a long way back on the tourist track and maybe a bit anticlimactic after the joys on the top, but I started meeting people to distract me, quite a lot of people in fact all of whom asked me "What time did you get up?". By lunch time the queue to get to the summit will have a waiting time of 20 minutes.
I met a bunch of folk I know near the bottom, but the midges were in ultra-vlolence mood and there were the briefest of pleasantries before we all ran for our lives.

The Ptarmigan family were a lovely bunch, junior all grunge feathers, the parents all prim and proper guiding junior away from the path with barely supressed urgency before the days traffic began in earnest.
I was back to the motor and away, then home in 40 minutes or so. A wee quickie, but packed full of stuff likea selection box if it was all sweeties instead of plastic tray.
Smashing.