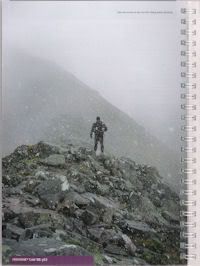 That there is page 53 of Montane's Cold '08 Workbook.
Top right it says "Unknown runner on the Carn Mor Dearg Arete, Scotland".
Luckily I can fill in the blanks. The Unknown runner is Craig Zielinski, the photographer is me.
This was taken in June last year (in snow, I know…) when we were route proving in advance of the Adventure Racing World Championship* based around Lochaber. We ran parts of the route so it could be confirmed and go on the race maps. Folk went lots of interesting place doing this (mainly Gary Tompsett), then putting out the checkpoints and taking them back in. But the teams had to do it all. There were tears I'll tell you.
Those familiar with the CMD Arete will notice we're heading East, going anti clockwise. It's a good way to do it, no ascent to Nevis over the boulder field at the end. It was a great day out, with a very unusual route up Nevis from Achriabach in glorious sunshine. Here's the original shot and one from earlier in the day.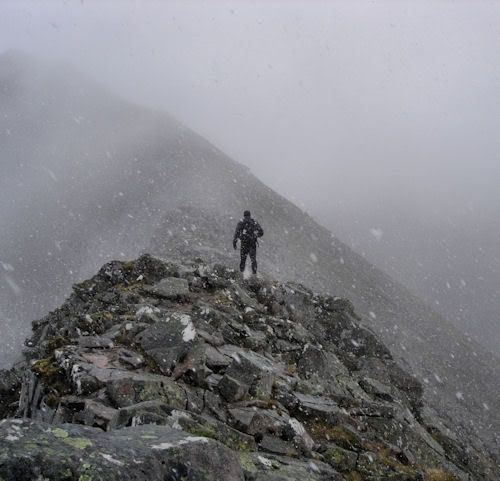 Byt the way, Montane has some nice things in there for this winter…
*That's a rubbish link, the official site's down