A pair of Julbo Dust shades came in for review a wee while back and they seem to have been something of a good omen as they brought along some perfect weather for testing them.
The Dusts are designed for adventure racers so they've got big lenses for protection on a mountain bike and all round unobstructed vision for moving fast on the trail, which is very nice but it also means that they make great all-round mountain shades as well. The big lenses mean I can pack goggles less in winter as the area of coverage is nicely protective and in the glorious sunshine you can see on the page here it's just fantastic to be wandering around without being constantly aware of the edges of the lenses.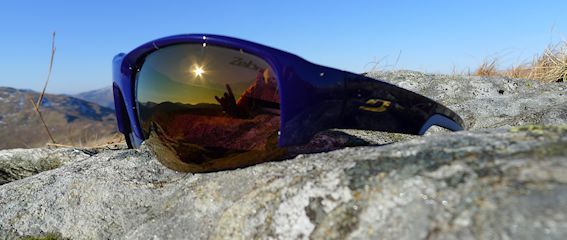 The lenses are Zebra photochromic's which go from catagory 2 which is good for anything including mist and snowfall to a nicely dark catagory 4 which makes walking in sunshine on snow a blink-free joy. They react fast as well, there's no waiting for the lens to catch up when you move from shade to bright.
I'm optimistic that longevity is good, my Julbo Contest review pair are now very well used indeed having been on most trips until this year and the lenses are still in good condition despite same very careless treatment and stowing.
Although the lenses are big, there's still good ventilation to keep fogging at bay. I've found that even just at regular walking pace there's enough airflow to keep the lenses clear, I know this is happening because when I stop to catch my breath I can see the waves of mist trying to form on the inside of the lenses.
The frames grip the top of the lenses and extend around your head in a nice easy curve. The legs are flat and and the last two thirds are split between the dark plastic and a lighter more flexible material which along with it's grippy properties gives me a rub-free and pressure-free secure fit. The same white material forms the nose grip and again, it's been staying in place on my sweaty nose and is a delight to wear next to the  rubbish nose grips on my regular glasses.
To sum up the performance, the Dust's are excellent, the lenses are fantastic and the frames fit me perfectly and don't slip or rub, they just sit there and do their job. You get a clear view and as they're photochromic, they're useful across a wide range of conditions.
The big lenses and shape add bulk of course, and while the Dust's are essentially weightless, no way I'm putting these on the scales, they do take up space in your pack or pocket. Mine came in a nice little plastic pod which protects them very well, and I've also been sticking them in rucksack and trouser pockets and there's not a mark on the lenses so far. For the performance, I'm happy to leave that extra bar of chocolate at home if I'm that stuck for space.
Brilliant bit of kit. And, Made in France too.