I got these in for test last autumn, and I think they've been on almost very trip I've done, be it at home or up north.
The reason for that is that they're magic.
The Contest models have a few different specs, but these pre-production versions have the Zebra photochromatic lenses which go from Category 2 to 4, which in the real world just seems to mean that they've always been "just right".
The lenses are big, which means superb clear vision, and they can afford good ventilation at the edges without light bleeding into your eyes. There's good protection from wind, snow and gravel fired up from mtb tyres as well.
The frames are chunky, but silky-soft and well-shaped, I've worn these for hours on end and have had no problesm with the bridge of my nose or my ears, even with a bike helmet. For biking and running they're very secure on my head, the ribbed grips on the ends of the legs must help there.
They've proved tough, some trips they've never left my pack, some they've been in and out of pockets all day, they've been dropped, leaned-on in the tent and they're still looking good. The big rounded shape when folded is bulky to pack, and does make them vulnerable to crushing, so it's lucky they are tough, but at 38g you really don't know you're carrying them.
The Contest's are a well-crafted bit of kit, your eyes are precious, so we should afford them the same protection and care as we do our feet when deciding on footwear. Like footwear, fit will be a factor with the Contests, I've got a big napper and they're perfect for me, but if you've got a head like a pea, you'll look like Elton John from the 70's.
Bottom line? Great kit and recommended.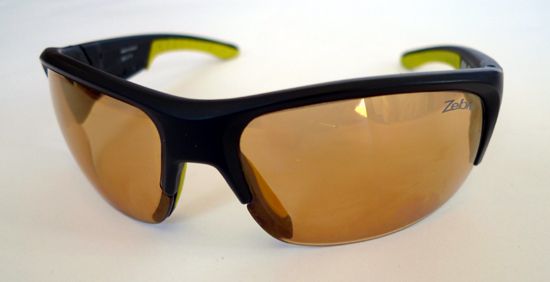 Product Information
UK Price: £85
Weight: 38g
Made in: France
Materials: Fancy Plastics
Options: Frame colours and changeable lenses