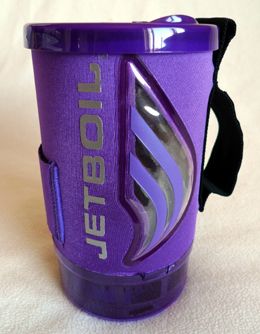 I originally saw the new Jetboil Flash at the KORS trade show last summer, and it caught my eye, so here's a fetching Violet version in for test.
No, not just because of the colours, but because it was lighter than the regular version.
I always pack my cook kit in a modular fashion, I take a pot and inside it goes the gas, the stove, firesteel, spoon and maybe some drinks sachets all wrapped up in a Buff.
The Jetboil does all that on it's own, and I have to admit a bit neater too, but usually with a little extra weight against most combinations I can make.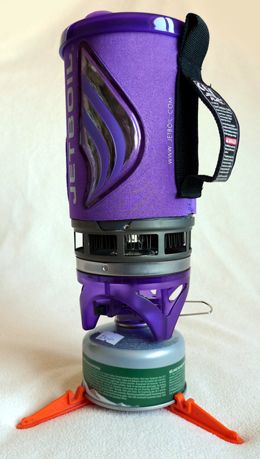 But it's selling some extra stuff against what I usually pack.
The pot is insulated which is good from an efficiency point if view, but it'll keep what ever water's left warmer too, giving quicker re-heat and make it more use for mug and spoon washing.
The stove section looks very robust, it's neatly put together, the plastic feels strong and the piezo ignition looks to be sensibly mounted, but as with such things will still need care when packing and unpacking. The burner head and valve body are familiar-looking, most likely outsourced parts, and rather than a cop-out, that lends an air of reliability for me.
The heat exchanger on the pot will add efficiency and increase the speed at which I can access a hot cuppa, always a good thing.
The dark flashes you can see on the side will turn orange when the contents reach 60°C, I have no idea if this will be useful or just a bit of fun. We shall see.
The kit also comes with the orange canister feet which I like as it is quite a tall arrangement, and that cup should be both useful (I like the handy deep lids on my Optimus pots) and it'll protect the heat exchanger when the Jetboil is in my rucksack.
It's all new to me this style of stove, I know it'll work, and it looks cool, but the big test for me will be to see if the little increases in packed size and weight are outweighed by the performance and usability gains that the Jetboil is offering.
More soon.