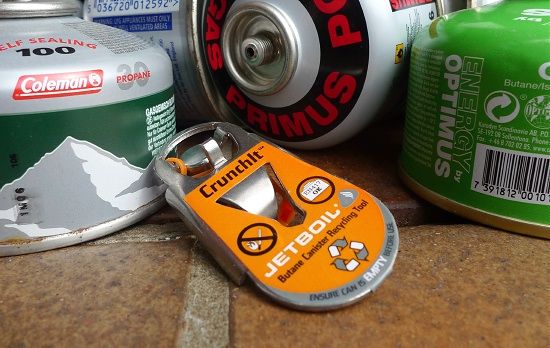 Now, here's a gallus wee widget, the Jetboil CrunchIt.
I love gas canister stoves, simple, reliable, fast, clean, light, look like miniature space stations etc, but the empty cans are a real problem, something that weighs on my mind in fact.
So Jetboil have brought out the CrunchIt, a tool for making your canisters safely recycleable. Safely is the important word there, anyone can hammer a screwdriver through a gas canister to let the gas out, but the CrunchIt does it with a little control brought into the action.
There's a threaded cylinder like the base of a stove that you screw onto the can, inside the cylinder is a prong that pushes the valve on the can right inside to let any remaining gas out. Once you've done that you just lean on the handle to puncture the can with the big tooth on the underside. It works perfectly. All done outside of course, but we knew that.
If feels durable, it is a bit tricky to fit at first as you have to hold it dead straight, after the first time it's a cinch. After a backpack you can puncture your almost empty cans for homeward travel for recycling or proper local disposal, most places have recycling spots now. Mind you, checking the local regulations might be an idea, sometimes pressurised containers have to have a side or an end removed to be processed.
I think it's a good idea as it's a safe way for most folk, even if unfamiliar with tools, of dealing with a real issue. It's in the shops now for a fiver.
PS/Edit: It doubles as a bottle opener too. My mini Irn Bru's are screw tops, but some folk will find it useful no doubt.