It was near to 0100 when I set the alarm for 0530. being a parent you learn to live without sleep, but to willingly sacrifice rest for the most esoteric at best and pointless at average reasons has a inharmonious resonance too it.
Still, I clicked the alarm button and hit the pillow square in its midriff. I was going to visit an old friend in the morning.
I was packed, totally ready to go. At 0600 I had all my stuff in the motor, an insulated mug of coffee on the dashboard and ten minutes of wrestling Holly's "good" car seat out of my motor and into Joycee's. I slipped onto the icy tarmac and was away. It was dark, cold and quiet. The sky was clear, but the north was blank, the cloud was low. I didn't care though, I was committed, awake and had nothing to do but whatever I wanted to today.
Once onto the side roads the motor got a bit more lively, the back end has all the weight, tools and fittings, and given the untreated ice and an already light front end and there were whoops of delight punctuating Captain Lockheed and the Starfighters all the way down the road. There was flooding as well, a delightful assault course altogether.
I soon left the ever lighter sky and pulled into the darkness of woodland to park and change footwear. Hood up, gloves on, onwards.
Back out of the trees and higher up the air was chill and the pale blue above was streaked by red and the horizon over the next rise a band of deep crimson. I quickened my pace but soon the early rise weighed more on my stomach than my mind could ignore and I sat on a grassy stump for a while. The sky flashed lazily, ebbed and flowed and I sat and watched it in perfect peace and silence. The birds kept their heads under their wings, the traffic across the loch had disappeared and there was no sound of a shutter to break the reverie. Dawn and time slipped by.
By the time I was high enough to see the horizon it was a tumble of peach coloured cloud. It looked quite magical, and I gazed at it whimsically until I entered my own frozen view-less world ahead. The temperature dropped, the wind rose and I needed a cuppa, and soon. I found a rock, layered up and cooried in. I pulled out  the camera as I was digging out my stove.
It was cold, but I was happy enough out of the wind and it was with dragging heels that I left. I was daydreaming, and daydreaming is not concentrating, so I went away the wrong way and ended up at a little crag that I've looked at many times and never visited. I climbed it and looked at the  swirling white all around. It's a great place for a tent.
I slipped down the far side and for the first time ever, I used a GPS in anger to find the straight line back to where I wanted to go. Easy peasy, but once on the final ascent I still took a new route and had to adjust myself to get back onto the ridge. The deep snow, the wind, the cloud, the fact I was wandering around without a care in the world were all contributing factors. I was just going out to play.
The summit was where it always is, just after a little rocky nook and when I got there a little light was showing through the murk above me. I unpacked at the trig point and started boiling up for some sweet and sour noodles and a cuppa. I wrapped up and wandered around. Happy.
My first visitors appeared after an hour or so. Two lads having climbed their first Munro, what a day for it too, the clouds burst open and the world beyond was visible. There was a riot of rolling threads of cloud tumbling over the hills with layers of cloud high above diffusing the light in tones of grey and orange. This would come and go through my time on the summit, from almost completely clearing to closing back in like a woolly cloak.
More visitors arrived, there was banter, more cuppas and smiling faces. I was alone for a while before a lone walker joined me for a while, the views were among their best then, everyone should have stayed on the top.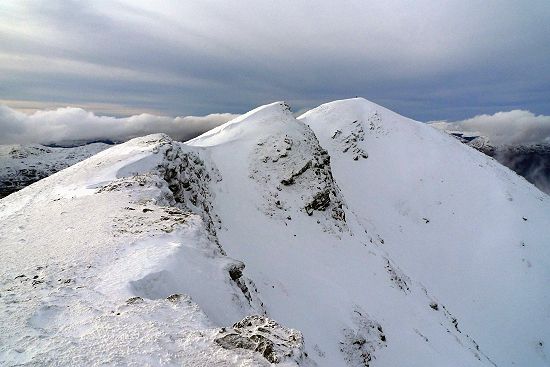 Dave and Celia were next to arrive, another pair bagging their first Munro, up on a weeks holiday from down south. They hung around on the top and fancied the steep descent the other way to make a nice loop, and that decided my direction too. I'd been on the summit for three hours, it was probably time to go.
It had been virgin snow all day, good snow too, not the powdery horror of December. There was enough ice to make crampons worth wearing and it was a descent of delight. Some deep drifts lower down made for a few detours but I kept the line close to the usual and we were well down and beyond the snowline before the dark and a glorious sunset were upon us.
The pair were great company, but they had to suffer my usual barrage of "useful" and "interesting" local knowledge, bless them. I hope they enjoy the rest of their holiday, they had such joy and enthusiasm at being on the hill and for exploring further. Magic.
All the folks I met on the summit had a smile, why that should seem unusual I don't know. The conditions were tricky at times, in the wind it was properly cold, and everyone who had made the effort that day was revelling in being there, there had been no promise of a view but we'd all been given a perfect moment or two.
I'm not saying that my faith in all that hillwalking represents to me has been restored, it was never in any danger, but has been given a little polish with a soft cloth.