I don't ride the Kilpatricks in winter as a rule, not because it's wet or cold, but because it destroys the trails. It's wet, muddy and wonderful, but selfish riders have abused it and the erosion has gotten so bad that when the path network was getting signposted, the foresty and the council probably had no choice but to do something, and of course it was always going to lack any kind of subtlety. So where we had dirt singletrack weaving through trees we now have big wide tracks with proper drainage. And the scars on the trees and ground to match.
It's horrendous, but it was probably inevitable. A few years will see if soften and there's still plenty of wild open hillside. Access is a wonderful thing, and these works have improved that, but at what cost to the experience of being there?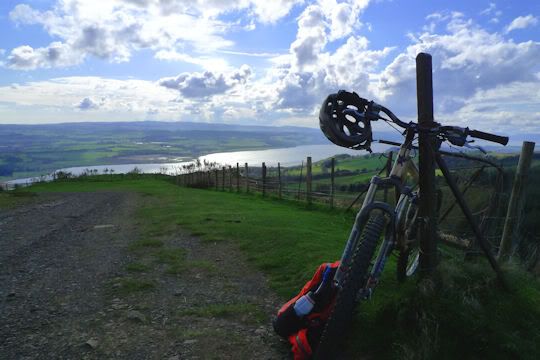 But.
The ascent from Old KIlpatrick is a bitch. Never once have I made it all the way to the level section at the quarry withouit getting off the bike and pushing. By the time I parked the bike against the fence and gazed down the Clyde at the hazy Cowal peninsula, sweat was dripping from the end of my nose and I was getting quite emotional. It was bloody warm, I haven't seen this much blue sky and unfiltered sunshine in ages.
The quarry is long closed, being used to supply rock for the road and dam at Loch Humphrey. It's faded to a natural ambience, so I'm sure the new trails will follow on. I can't wait the fifty years it took the quarry though.
There's little sign of the excavator that used to sit here, abandoned and rusting. It was taken  away piece by piece, although back in the 70's it was intact and we used to play in it. Highly dangerous with its long jib held by weatherbeaten and corroded cables. All that's left are a few plates here and there and a section on the cab roof lying in a gully.
Looks like good place for a spot of bouldering, but I didn't have the shoes. Or the grip.
Honk Hooonk Hnk Hoooonnnnk! I could hear them, but I couldnt see them until I'd ridden to the highest point on the trail; a flock of geese. They were strutting about and pecking quite happily, maybe 20 or so of them. I saw lambs earlier as well, fresh out of the oven. Lovely wee things.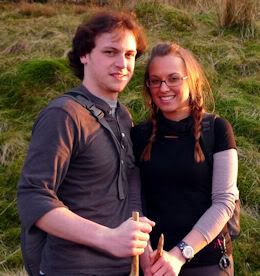 I stopped at the Loch Humphrey overflow for a drink and a photie, and coincidence leapt out of my rucksack and smacked my helmet down over my eyes. By the time I had straightened myself back up I'd ran into Candice and Jordan who are here from Florida for a bit and have been exploring more of the Kilpatricks in the last few months than most locals do in a lifetime.
Being as I am, I switched to banter and interesting fact mode and prceeded to melt their heids with useless information for the next few hours.
I'd have kicked me on the shin and ran away.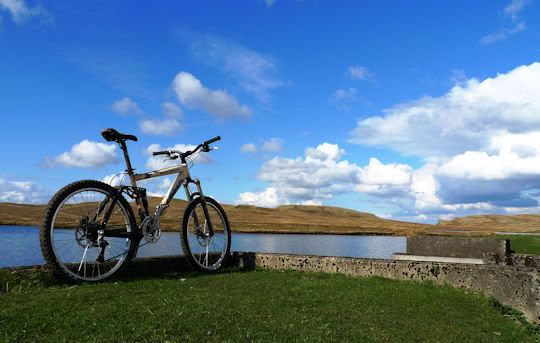 We ended up on Duncolm (I left the bike just er, a little short of the summit…), the highest point of the Kilpatricks and a great spot for a view. Above is Ben Lomond, Loch Lomond with some of the Arrochar Alps and Luss hills. Those bubbling clouds were just so far away.
But turn North towards the Campsies and pulses of rain were cavorting around themselves, dying out every time they tried to reach further afield. The rain never reached us, a flash of a rainbow nearby was as threatening as it got. Someone in the Blane Valley must have said something really nasty about the weather elves to merit getting stuck with that weather all day.
Back down to Loch Humphrey and the sun was getting lower. I was by turns riding and walking, enjoying the good bits of trail and not wanting to constantly annoy my surprise companions. My feet were wringing, but there were no tears and snotters, good socks and quick draining bike shoes (they've got a big hole in the bottom where the cleats attach) kept me happy. Soon enough we were in the newly built trails.
I'll speak of that again, I might even take a photie or two. But it still hurts too much right now.
We parted company as the sun sank lower so I could tackle the run down to Overtoun House at speed. As it turned out, it felt unfamiliar. Subtle changes to the trail since the last time broke up my flow and it was a bit stop-start, but I'll know better the next time and hopefully I'll nail it from top to bottom.
As I sit here, my legs are toast. I am in no way bike-fit. But the joy at riding some of the trail is such an incentive to get my shit together I'll stick at it.
Great day/ hills/ company. Hell, there was even a Cadbury's Buttons easter egg afterwards.
Alright!