There's leaving late, then there was this. Will we/won't we/yes we will. Quick!
Virgin snow, not even old footprints with a fresh dusting over them to spoil the eye confusing blanket of white above Crianlarich. It mean for extra work for both of us, I think I'm cutting a trail and Joycee's wee legs have to make an extra step inbetween each one of mine. Still, it kept us warm and it was glorious.
Animal tracks criss crossed the gaps in the forest, which was something straight off a Chirstmas card. Too late, you missed it. The tracks were telling stories, mainly little tracks being overlayed by bigger tracks with more snow sprayed from them. Faster made I'd say, the evidence of a chase for either life or dinner.
Outside the trees the snow was waist deep and we struggled to get to the deer fence with a mix of laughter and absence of something get any purchase on under our feet. We used to do this stuff together all the time and we're getting there once again. Holly isn't pleased though, school really spoils her fun at times.
The forecast kinda got it right, it did clear, but not for long. We had around twenty minutes of tantalising blue above as the sun was only thinly veiled to the south, but wading through deep powder and stopping to take photies meant that by the time we reached the ridge a bank of cloud had once again slumped over the top of Cruach Ardrain.
Neither of us cared, we've been here before, we'd been on the summit one perfect winter's day and watched the sun set before descending by torchlight to a hard frozen motor parked at the old toilet block in Crialarich.
Cruach Ardrain goes back even further for me, when I was young it was one I wanted to leave for a perfect day which I eventually got when I climbed it from the south side up the wide gully which pops out between its two summit tops. Waist length hair and a 70cm ice axe on perfect snow under a blazing spring-time sun.
Hundreds of Highland ascents means maybe not so much is brand new these days, it's often a mix of new and memories from over the years which is a cocktail that goes straight to the head and to the heart. Sometimes it's like seeing my life flash before my eyes, moments that are years or even decades apart condense into one instant flickbook as I put one foot in front of the other.
It ties me to these mountains whether I like it or not, I've climbed them through my life with people I've loved, or lost, or know I'll see again, or maybe never will.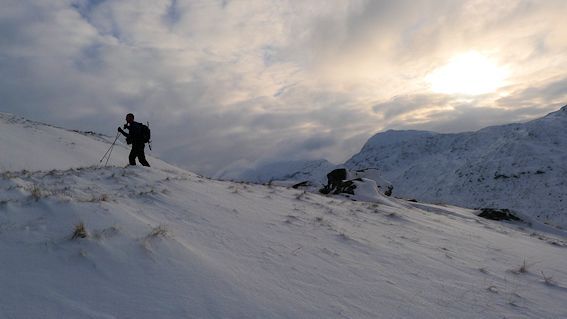 I dug a little shelter as the temperature dropped and the wind lifted. Hot cuppas, tasty home made rolls and a danish pastry (should that have a capital D?) before failing light saw us kit up with extra layers and see if we were going to get the summit in cloud or clear. We moved slowly, I think we already knew were nearly at the half way point in our journey.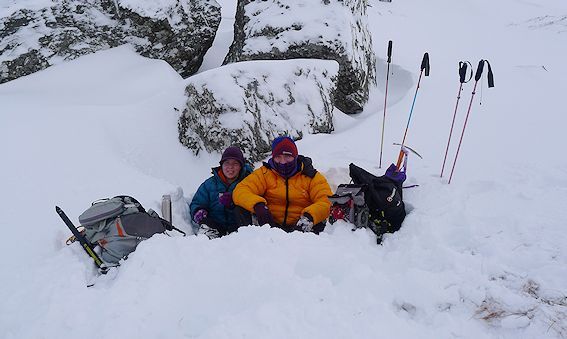 The top struggled under the weight of a bank of cloud rolling from the east. We stopped for a while at the bottom of the slope as the light started to fade. The only question that anyone should ask at times like this is "Is this going to be fun?" No, fannying about on a descend in the dark in cloud on poor snow when we could be eating chips closer to sea level made it an easy question to answer.
It was a good call, the descent was nothing but fun and the sky shot colour across hills tantalisingly close to us. Ah, to have been a few miles to the west.
We stopped and emptied the last cuppas from our flasks and were warmed and ready for the darkness.
We took a different line and followed the regular ascent route through the forest plantation while looked odd in the low light. You do see funny things in twilight.
Amazingly we got back in time to pick up Holly from her club to save Granny going back out on what was becoming a pretty minging night.
Pocket adventure maybe? I like pockets and I like adventures and combining things together to make a better thing is a fine tradition to which I gladly subscribe, where would a guitar be without strings, a bananana without a split, a sock without a socket? Indeed.