I'll be quoting Admiral Ackbar again later. The Peak is awfy far away for a day trip, so as I was travelling down from Ambleside with GT from Trail I thought I would just swan down to the Lakes the day before and get an easy start on Friday.
It was nice to have a wee wander, the hills looked rather fine with a fresh dusting of snow, and I had a great start with a roll on bacon and cuppa in the wee cafe at the car park in Keswick. It's pretty much always my first stop in town.
The shops were okay, and later on at five-to-six Blacks saved the day by having guylines with adjusters when I realised all my dyneema and lineloks were at home. I had a rake in Needlesports and saw that the new season Macpac Amps have embroidered logos, good call since the recent heat transfer ones last about half an hour on the hill. Ultimate Outdoors is now a Planet Fear, the only change being name and the presence of bikes and George Fishers is a lovely looking multi-floored tower of not much stuff at all.
Ambleside was the same, I wandered round a few favourites, avoided a few places for various reasons and caught up with the folks at the Climbers Shop, where we decided on March for the Hilleberg competition, so if you want an Akto that's when you can stake a claim for it.
I headed back to my diggs for the night and hauled in four rucksacks of gear to sort for the next day, oddly enough except the five tarps which I left loose in a box which would cause no end of confusion the next day.
The Lakes are a dark place after hours, I was glad to have dinner and then sit happily in front of a magic arctic documentary on BBC2 where that mad bastards crawled about under the sea ice gathering mussels when the tide went out.
I was up and showered nice and early, packed and away under a light fall of snow and I was still nearly half an hour late at GT's as I had to follow a Travis Perkins logo at 20mph all the way there. But, gear swapped over between motors and we were off south.
The journey went well, some good banter , trail shoes and boots were mentioned, and the only traffic hassle was in Glossop. The road into the Peak is a cracker, Snake Pass, some of it feels like a road through Sutherland heather, you'd don't feel like you're on an island jammed between cities, it does often feel like a wilderness.
With a quick stop in Hathersage to see freelancer Ben Winston for some kit, we were soon at Stanage Edge to meet snapper Tom Bailey and get to work.
I'm reviewing tarps for a grouptest in Trail, these are the more detailed reviews you see and always have some lovely shots to match, hence the hike south to meet at a middle gound of sorts for Tom to take the shots.
I've been playing with the tarps so I felt okay about getting them all set up quite quickly, and even in different forms, but after getting the Terra Nova Bivi Tarp successfully pegged on the crest of Stanage Edge, to quote Admiral Ackbar as promised: We can't repel wind of that magnitude. No way was a regular tarp going up in that wind so we had to retreat underneath the crags where we got the Integral Designs model up easy, and in a quiet a cool way as well. We all warmed to tarping as the day went on actually, working with them and seeing the possibilities.
We descended to some easy ground and did the MSR and Exped models, and although this sounds like we flew round it we didn't, Tom had to set up flash guns, and as it was icy and windy the batteries were getting killed so there were big gaps between shots, and there were many shots of each model. I was wrapped in Primaloft or down for a lot of it and Tom was jumping around, GT was was getting hypothermic.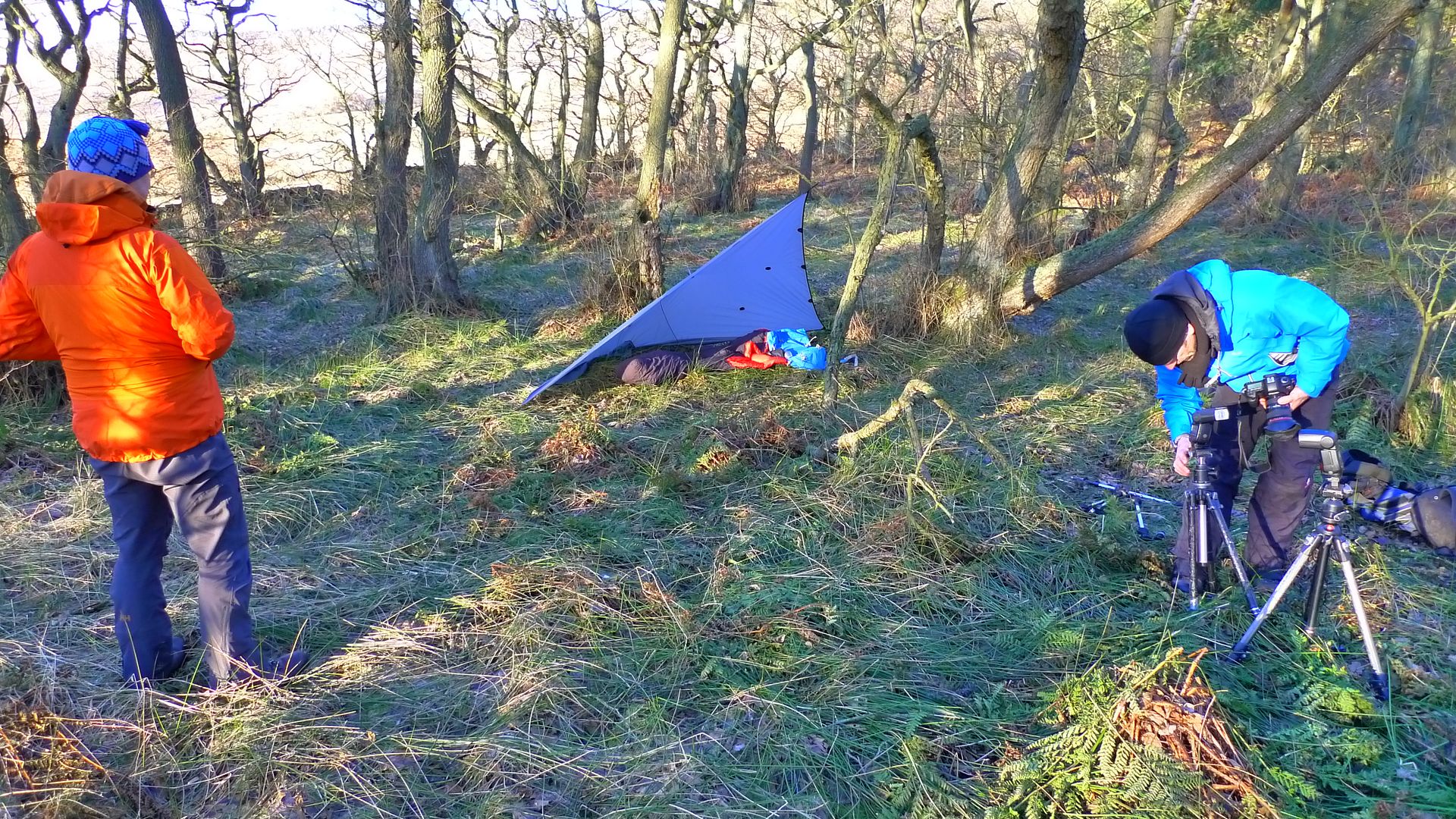 We drove to some woodland for the final tarp from Alpkit. The guys there are on the ball, they'd heard through the grapevine/ twitter/ blog about the tarp test and offered one just as Gossamer Gear said they couldn't supply a model for four weeks. Timing is everything.
So that was us done, no stopping, no lunch, no time anyway, daylight is short and it sped by.
I think it went well, I saw some of the shots and they look stunning, and I think I did okay with the tarps, especially in the conditions. But it's always at times like this when I'm surrounded by professionals I feel the most like I'm about to get found out: "Why are we photographing a heating engineer lying under a tarp?"
The journey back had the most amazing sunset, a giant deep orange ball slipping through a band of purple, the fringes of Manchester never looked so lovely. It's a killer as well, I should still have been under one of those tarps watching it instead of crawling through motorway traffic.
We stopped for cuppas on the way back, the two of us were burst, and I think it took until Preston for GT to thaw out. But the journey was trouble free and Ambleside was greeted with mixed emotions, one of us was home and the other was hitting the road. That road meant soup and more cuppas at the half way point, add an iPod on shuffle mode which gave me Rammstein, Hannah Montana, Triptykon, The Fraggles, Lady Gaga and Motörhead one after the other (can you tell the girls have insisted on been included in my playlists?) and the stretch home shrunk away to nothing.
The Peak then, not what I expected. I like it, it feels wild and it's big too, the rock's so damned grippy you can run up it in trail shoes and I think it would bear some exploring. So damned far away though, I now know how folk down south feel about coming up here. I hear wild campers aren't the most popular breed in those parts too? I dare say the locals and the frequent vistors have the knowledge to get the job done though.
Tarps? I'm learning, and I've even been on the point of enthusing since they came in. The review's a good while away yet, I'll have plenty to say I think.