It's been all go, and in the midst of that there's also been something a bit unusual for us taking shape in the workshop. The folks at Green Aspirations Scotland have been working with Blane Valley Allotments and had a lovely 12 foot long slab of tree (I'll be more specific if I remember exactly what kind of tree is was) to make a sign for their gate. Joycee being a sculptor to trade, and now out on her own with her own business, is handy with a chisel and got the job of carving out the lettering.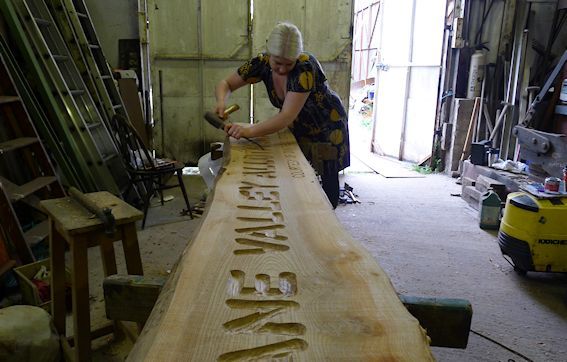 I'm not giving the game away as to how the lettering was all lined up, although a step ladder and swearing were involved, but the letters were all hand carved using wee hands and specialist wood carving tools dating back the the 19th century. Our workshop rocks, we can do anything from cutting nut slots on a guitar to riveting a battleship.
The wood was a challenge, very different along its length in grain and density. After a few minutes "helping" I realised two things, I'd be liable to take an axe to it in frustration and that work benches set up for short people are back for my back.
It came together well though, preparation is where it's at, pick out your socks the night before and you won't miss the bus.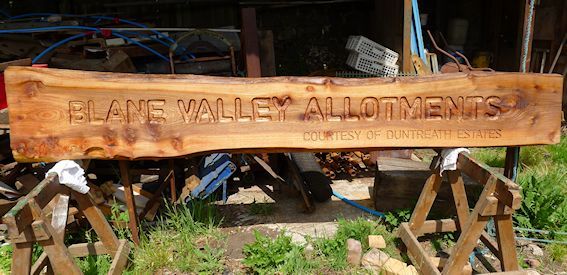 The wood was very thirsty and took the coats of oil very well. It really brought out the hidden colours of the wood as well as the lettering and the smell was gorgeous, I've done guitars in the past with the same treatment, so as well as just being nice it was a super sharp 20 year old memory trigger. Scent memory is a wonderful thing.
That's Paul and Lousie from G.A.S. flanking Joycee above at the opening of the allotments, and would you believe Holly took the photie. Rarely in my life have I been so spare at an event.
It's in a lovely spot in the shadow of the Campsies, somewhere I know so well. Some of my first memories are runnimg around these same fields when Jon Pertwee was still Doctor Who.
Is it odd how that seems to be a perfectly valid measure of time to me?
Anyway, people making stuff and doing things, you can't beat it.