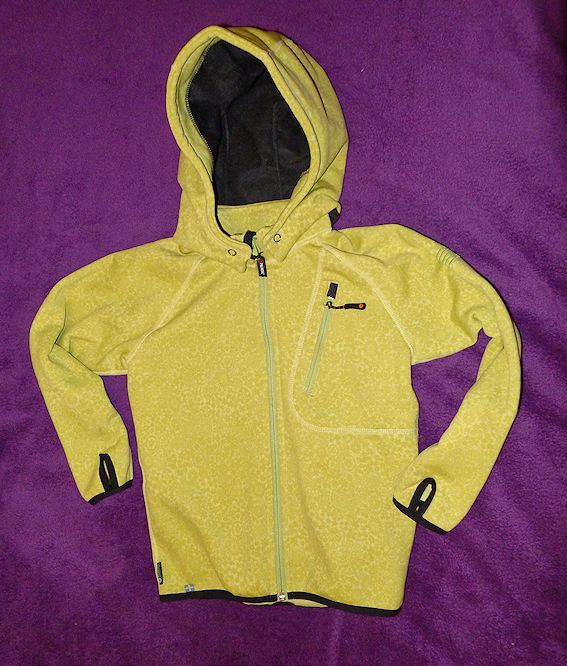 With winter coming it's nice to have a snug hoody on a peg ready to pull on. You'll need a top fabric, an active cut and technical features that give performance and protection. The Isbjörn Wind Pro Jacket looked to have all that so I was glad to have it for test. Except I'm not testing it, this sample fits a crazy (nearly) five year old.
Holly's had a few bits of outdoor gear on test and Isbjörn Wind Pro Jacket continues what I think is fantastic trend in real technically styled and specified clothing for kids.
The Polartec Wind Pro fabric is a great choice for kids wear as it's not completely windproof, so a bit cooler than it might be. This means that Holly keeps it on, just unzipping it when she gets warm.
Wind Pro feels a bit like a beefy Powerstretch, fleecy inner face for insulation with a smooth outer for a bit of weather and abrasion resistance, probably a bit more so than Powerstretch at the cost of some drying time and breathability. Nothing wrong with that though, and in a kids jacket its what you want, you know how hard kids are on their kit.
It's still soft though, the fabric has plenty of stretch, so the jacket is unrestrictive even with what I would call a technical cut, long body and arms with a slim general fit. It's definitely a real outdoor jacket.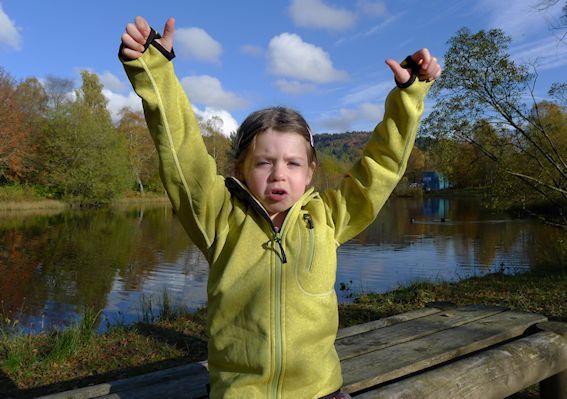 The features are good. The thumbloops cuffs are a winner with the girl, she likes to wear them and pulls her hands out of them when she gets too hot. The articulation in the arms is excellent as well, high reaching without pulling up the waist, vital in a weans jacket.
There's one chest pocket, which I did raise an eyebrow at, should it not have handwarmers? No as it turns out, adults warm their hands in pockets, kids put stones and snails in theirs except when stomping out of school in bad mood when hand pockets are used for dramatic effect with hands thrust deep into them. The pocket's a big one a soft stretchy lining for easy cramming with niknaks, with a reversed zip for a smooth touch and a big zip puller for little hands.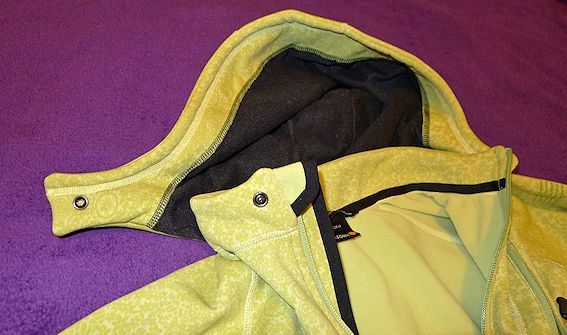 The hood's a different take on the safety restrictions for such things. There's no adjustment, but it's very well shaped so it stays on Holly's head pretty well, results do vary on the days hairstyle though. It has an extra microfleece lining wich helps to keep it in place when it's pulled up and adds extra insulation as well. The whole thing is held on by five poppers for easy on/off as necessary, but also means it if gets caught on something the hood might pull off of the jacket where a zip-attached one definitely won't. I know its a worse-case scenario that stuff, but when it's your little one on a fairground ride/ hurtling past on a bike/ running through the trees, these things seem suddenly important.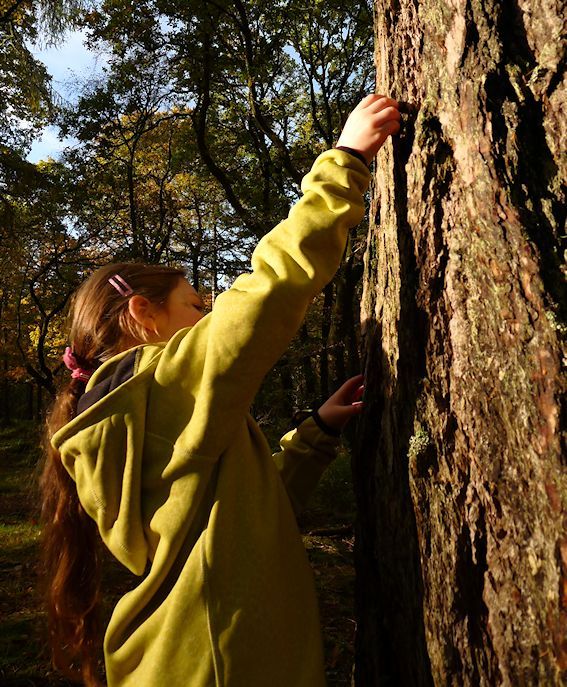 The whole jacket is well finished with flat-lock seams and neat stitching throughout. The neck seam is taped, the zips inner face is well finished and smooth despite it not being taped and the cuffs and hem have a nice soft and stretchy lycra binding. There's a chinguard/zipper garage at the top of the zip with lycra edging which does its job, but because it's not full length down the whole zip it can have a tendency to snag when pulling the zip up, b0th Holly and I are getting fly for it now. 
Getting back to the fabric, its recycled with is nice and there's a pattern to it, a sort of flowery snowflake effect, Holly has decided its an ancient celtic pattern to fit in with her current Disney Brave fixation and the "slash" motif on the sleeve adds to that, it's Mor'Du the bears clawmarks.
The bottom line is that the Wind Pro is a cracking jacket, I'd wear the same thing in my own size, just maybe with skulls in the fabric pattern instead of flowers. The size we got sent is 122/128 which is sized for a little older than Holly, but as she's tall I took the gamble and it turned out just fine as it fits well and there's room for some growth in there which the jacket will last through I'm sure.
Holly wears it by choice, I can't recommed it better than that.