It was an interesting week, work was convoluted and happily constant. I do enjoy the ultimate contrasting experience of being busy and skint.
I'd also been to the hills, had an unexpected breakfast with a pal, ran around, rummaged and pretty much used up all my waking hours doing something or other.
I got home at tea time on Friday and sat in my chair. Nice.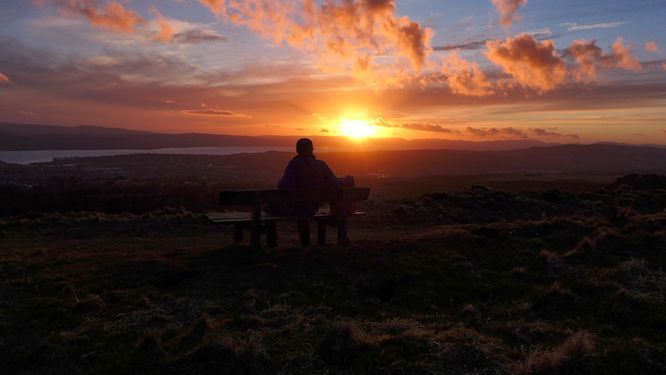 However my chair looks across the Clyde to a row of wee tops and those remaining white streaks were catching a little evening sun. I stood back up,went to the window and looked right to the tail of the bank. It was hazy, was that rain? It was a golden fuzz of some sort anyway. It was mostly clear above though and the sun would be down in about half an hour. That'll be nice I thought to myself.
Aye. Telly back off, gear packed and out. The best thing about being "back" is that my gear is sitting there ready to go, no hassle, no hunting for stuff, just grab and go. Funny how that arrangement only seems obvious now, note to self etc…
I marched up the track, figuring it might be marginally faster than unlocking the gates and driving up. I was racing the sun the whole time, as I gained height, it slipped a little further into the bands of cloud on the horizon.
On the steep track to the bench on the ridge I slipped into the lead while the sun fumbled a gear change and lost momentum. Yes please.
The place was all mine, mine and the sky's, time and space to just stop and wait for nothing to happen.
I bimbled the grassy ridge to Round Wood Hill as the colours bled through every hue of orange, red, gold and purple that you could find in the bumper coloured pencil box you got from santa in 1973.
The cool blues and browns eventually took it all away as I reached the top of the track and I headed down with thoughts of dinner while pulling on a beanie and zipping my top up to my chin. The sun is actually warm when you can see it, science is a wonderful thing.