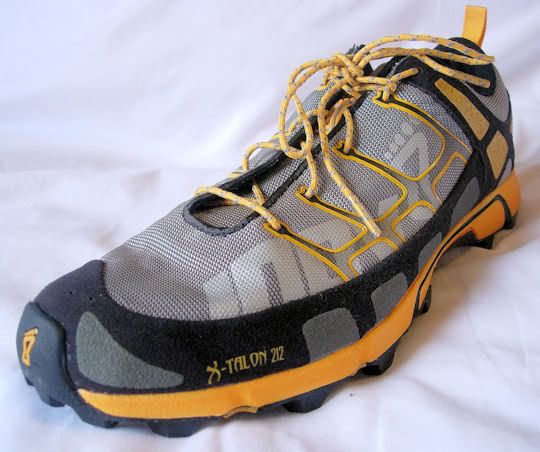 These are some badass looking shoes.  They're about as minimal as you'll get, but there's a sole on there that means I can charge forward with confidence, although I'll be checking the wear pretty often as the compound is soft. That's fine, I'd rather have grip than slidey shoes that last for years everytime.
They've got a rand that covers the usual wear points and the best heal-cup fit I've had in a low-cut Inov8 shoe as well.
I was going to have first look at these after I'd used them to break the just-out-of-the-box monotony, but as I sit here in my dressing gown, sipping a Lemsip I'll say for the moment that they fit me fine at my usual shoes size with a thin-ish sock and grip carpet and floor tiles very well. 212g a shoe? Crivvens.
Inov8 also sent me these interesting wee doodahs, the Debris Gaiters. I don't fancy their debric sock so much, fine for a run or a race, not so good for backpacking as the crap will be on your sock and it'll get in your sleeping bag and there will be tears, yes there will.
The wee gaiters though I like, they fit nice and snug and the sockesque cuff is skin friendly.
I'm dying to get these out on the hill, and will do as soon this bloody cold abates a little.