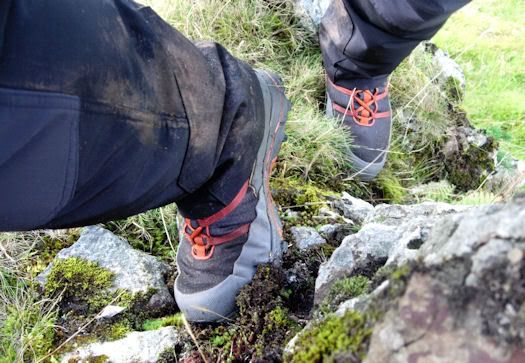 I had a lots of comms when I first featured these, and a lot of comms since asking how they were doing.
Well, the biggest point to note is that they're completely different to the Gore lined 390's. The only similarities my feet found are the visual ones.
The whole boot is softer, more supple. This includes the ankle cuff which doesn't strangle movement the way I found the 390's did, contouring, catching a slip, moving quickly across mixed and rough terrian in much more possible for me in the 370's. They do feel more like a trail shoe with a high ankle that the bigboot with a bendy sole vibe I got from the 390's.
Sizing was an issue for many people with the 390's, and although the 370's dimensions look identical when you put the two models side by side, the 370's fits me better. The Gore liner is a factor in this, and now I'm wondering if a half-way house softshell shoe in between the two models would be ideal, some of that nano-bollocks we're seeing in the gear news just now sprayed onto the 370?
I digress.
The outsole is the familiar roclite small bock pattern and matched to the flexible midsole gives reliable grip and dexterity over agood range of terrain. Water comes straight in the mesh, and sweat goes straight back out. That's a good deal for me. They dry quick as well, there's not an abundance of spongey material to hold onto any moisture. Which brings me too my next point; suitability. These are boots for trail shoe folk, trad boot wearers will be all tears and snotters if they lace these up and head onto rough terrain unless they get some miles in first to get their feet conditioned.
But, that means Inov8 got it right this time. A high cuff to stop shit getting in your shoe and padding to stop you getting the occasional ding on your ankle and all the benefits of a bendy trail shoe.
I care not for waterproofness, but I'm going to go back and reassess the 390's and see if I missed something the first time round. My feet have been constantly changing the last couple of years as my footwear de-evolves. So I'll get a few trips in and report back on those as well.
But, the 370's? I like them so far. But I can't give a definitive answer on them, I think it must be one of the most subjective pieces of kit out there as the reaction to them is going to be such a personal thing.
They're also in a class of one, so what can you compare them to?
Try them in a shop, if they fit it's worth the gamble.