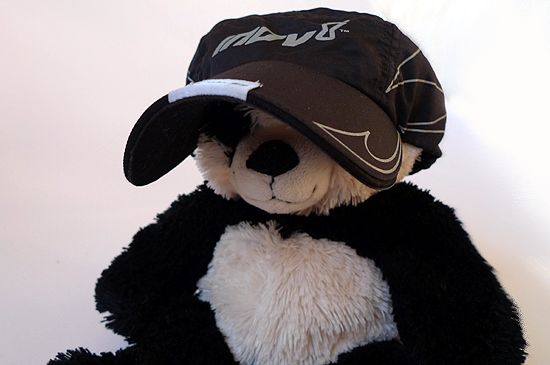 Mr Panda has been absent from these pages for too long. So, here he is, sporting Inov8's Rain Peak 62.
It's the wee things that make the difference but get no attention, head, hands and feet need love too, they're only human. And panda. Inov8 have a bunch of what all brands condemn with faint praise as "accessories". But rather than brand-up half-arsed sourced kit, there's some thought went into it, and of course as it's Inov8 there's several versions of every model.
The Rain Peak above (and left below) is a water resistant model, made from DWR treated microfibre. It's a simple affair, but what details there are are the ones I like. The peak is stiff, no wind will deflect this boy, and well shaped to protect your eyes from light, wind and spray. The adjustment is a simple velcro tab, but it works fine and this cap sticks to my head like a giant squid to the Nautilus without routing my forehead for some freeform marquetry. I wore this for the first time in a while in Assynt and I was all smiles.
The general look continues over to the summer model in the middle below, the Hot Peak 60. The fabric here is a stretch mesh, so you get the eye saving sun protection of the same big peak with a chance of letting the heat out the top too. The same velcro tab and the same good fit apply.
To the right is the Winter Peak 65. It's cut from DWR treated microfibre with a light fleece lining, the same great peak, but here the adjustment is a drawcord, there's no cut-out at the back this time. This is the right way to do it, look at some of the waterproof caps out there, velcro adjustable at the back with a big hole in the hat, Stupid.
This one has some map contours on it and I think it looks kinda cool
They look different to a lot of the caps out there, and as they're designed to work rather than just carry a logo, if your head's the right shape they'll do a grand job.
The sporty styling and big branding may not be your bag, but you can't see it when you're wearing it for that big peak, so what the hell.
More Inov8 test kit updates on the way.