I met up with the guys from Inov-8 today after the launch of their Offroad Running Centre at Run4it, upstairs at the GOE Tiso in Glasgow.
The lowdown is that Run4it now have the biggest selection of Inov-8 kit in Scotland, it's all there from a wall of shoes (his and hers) to the packs & bumbags, gaiters, socks, hats and more. It's a good idea, a lot of the questions I hear about Inov-8 are about what's the difference is between models, what has the most cushioning or the best grip. Well now it's easy, you can just pull them off the display and spend all day trying different shoes on and melting the heads of the Run4it guys. Then you can go to the cafe with you new purchase and soothe your buyers remorse with a tasty lunch. Genius.
Below from left to right are Wayne Edy (Inov-8 main man), Matt Brown (designer) and Jethro Lennox (Team Inov-8 racer and amongst other things, winner of the 2009 OMM Elite class).
It's amazing what you miss, and that's what's good about talking the folk that make the kit. Inov-8 shoes have a cushioning grading system which you can see below, on the right we have four arrows, then three and two as we look left. This is a nice logical system when you know it's there and you can look for what will suit your quest for comfort or your need for speed. They've got a shoe coming out with one arrow, and that's going be damned close to running barefoot. That'll be interesting.
There's a few new models on the cards for spring and winter next year, some of which I've seen, and none that I can talk about yet. I will say that we're talking mids (which had me grinning from ear to ear as apparently GT had predicted) as well as shoes, and as well as the usual undiluted search for low weight and performance there's a lot of nice new aesthetics coming, and I think the range is looking fresher.
I'll have photies and test samples when the time comes, it'll be good, trust me.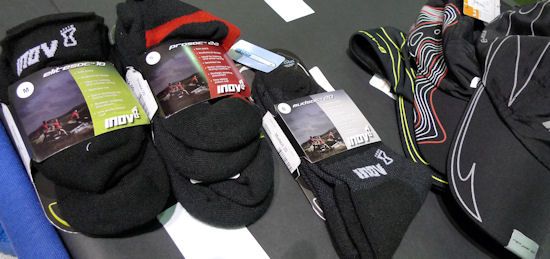 I knew about the Debrisoc and the Debrisgaiter, but it completely passed me by that Inov-8 were doing regular socks. Well, racing socks to be precise, in three weights from summer to winter. I've got the Mudsoc 20's on test which is the middle version, it's lightly padded and is baked from Coolmax. Updates on them in a wee while.
As mentioned above, folk often find it hard to get into the world of Inov-8 and pick out what they want, and this hasn't been lost on them. The range is going to be honed a bit, we've got similar model's being spliced together where one would do better, and some being dropped. The Roclite 370 boot being one casualty, it's now discontinued. Folk just didn't get it.
Also it'll be easier in general to figure out where we are with the help of their new chart below (it'll be on the website and literature soon, not just on shop floors which would be hard to refer to at home…). It shows the sole pattern with the model names and has a nice wee usability chart as well. Good job, a definite stress soother.
Unfortunately there were no "Worlds Lightest Boots" for me to squeeze, the X-Talon 240's  have proven a big hit and are sold out. But hopefully we'll get a set to have a shot of soonish, and we'll see more Inov-8 on test as time goes on too.
We spent the afternoon sitting at a table in Run4it with lunch, cuppas and a tin of Mars Celebrations (thank you Run4it, may your house be free of tigers), there were grapes as well but only Matt was eating them, the poor boy was burst having been in Germany this morning. This meant that customers were tripping over us to get to the gear and as one lassie was poking at shoes Wayne got up and did a fitting routine with her. That was kinda cool, both because it shows that the man at the steering wheel knows how to drive the bus and also because the lassie didn't have a clue why we were all so amused. Brilliant stuff.