116g. I know that's a baw hair heavier than it says it is on the Inov-8 website, but 116g for a rucksack? It's really just a poly bag isn't it? Let's see.
10L is a handy size for racing, light hill days, running and biking at any level of performance  and the RaceElite certainly isn't going to add to your load doing any of that stuff. But, you can't just have low weight, you have to have functionality.
The main compartment is a teardrop shape, slightly fatter at the base than at the top. Impressively it's made almost entirely from one piece of nylon ripstop which means a minimum of seams. What seams there are are reinforced on the inside with tape which all makes for a clean and neat construction.
The fabric is PU coated and the pack is staying pretty waterproof, rear wheel spray doesn't seem to penetrate and the reversed main zip does a reasonable job of keeping keeping crap and wet out without the additional weight and stiffness of a fully waterproof zip. Keep the zip clean through, muddy tyre spray on there will kill it if left to dry, like Lemmy says: Stay clean, it's your only hope babe.
Durability? What can I say, it's sitting on my back and it's not rubbing against anything but whatever top I'm wearing so it's looking good. Talking of pack to back interfacing, there's no back system at all and at 10 litres it doesn't need it. An extra 15 seconds packing it carefully before going out means no digging in the ribs from stuff and things.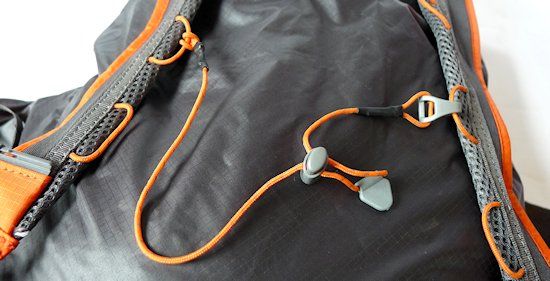 The harness is stripped to the bone, the bones being mostly stitched tape with some mesh panels and fabric fillets to give it shape and usability. It's very comfy, and also moves well with you as the construction gives it great flexibility at the shoulders. At the bottom there's regular length adjusters but the chest strap is as light as you can get, cord, a hook and a cord lock adjuster. Works fine, tricky with gloves to get it undone, but something heavier just wouldn't be right, it would look like you were wearing a 70's cowboy style belt buckle or something.
There's a few stitched-in loops to chose from to get the height right and talking of height, the pack is a good length for people who aren't five foot eight and tighten their packs up around their necks like reversed sports bras as seems to often happen with racers. The strap also has a mini emergency whistle attached.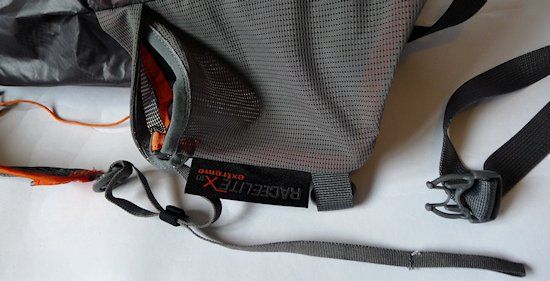 There's two stretch mesh hip pockets which will take the  mini 500ml Inov-8 bottle at a squeeeeze, but will take the Wee-Bru bottles with ease. The pockets are the attachment points for the shoulder straps and the waist strap too which has a side fastening adjuster, a style which I've preferred since Karrimor used to do it in the old days.
The RaceElite Extreme 10 has a very thoughtful design, there's nothing extra but there's nothing missing, is that the definition of practical lightweight? Which is very nice in theory, but the pack is very usable, for mountain biking it's been my first choice since the spring. You have to work with the design, there's no compression so you have to think about how and what to pack, I usually fill it out with a loosely packed shell or insulation and it means stability and comfort.
Fully loaded it's great as long as you don't cram it to bursting, the light straps need to sit over your shoulders, not get stretched over them when they'll distort. A wee sit mat in there against my back when I'm packing a stove (real cuppas on a bike ride rock) or other bulky kit is almost weight free and works a treat.
The RaceElite Extreme 10 is specialist kit, it's really light, it fits in a trouser pocket if you roll it up, but it's fit for purpose, more that actually, it's bloody good at its purpose.
If you're willing to work with it, understand it, look after it, you might be a happy racer, walker, runner, biker or that bloke I saw using one on his commute into Glasgow a couple of weeks ago. Fair play to all concerned if it's up to that task.