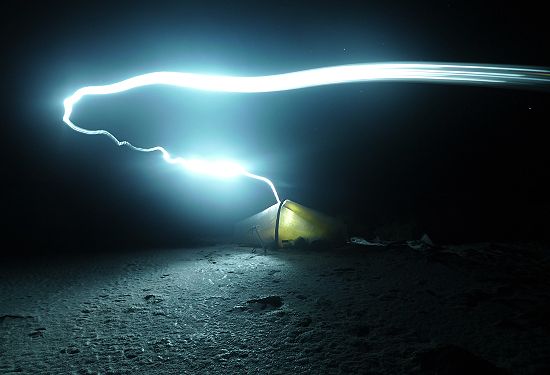 Joycee was on a rare girl's night out and sleepover, so me and Holly had the place to ourselves resulting in all sorts of shenanigans and a late night for the girl. This meant I couldn't pack as my rumaging and compressing etc wakes her up every time, so I'd get it in the morning.
Morning came all too soon, and me and Holly picked up where we left off, this time interspersed with toast and jam. On the toast and both of us. However, at 1100hrs I was on the phone "Joyceeee……?!"
"Yes, yes, I'll be home in a bit" came the reply.
So, not be design or default, but somehow entirely appropriate and familiar if you've been a long time listener, it was late when I left.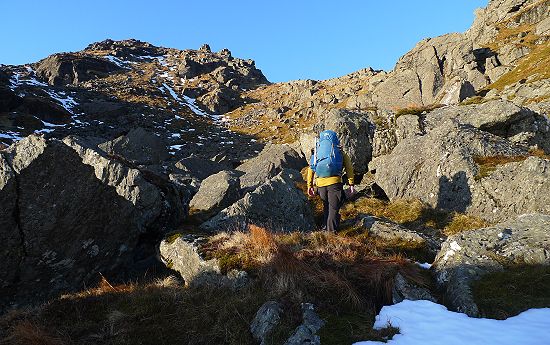 I'd decided where I was going the night before, I had to be back pretty sharp the next day and the Arrochar Alps are just down the road. I think subconsciously I knew I was going to climb Beinn Narnain, it has been a while after all, I just hadn't said it out loud. I still don't think I have either, when I parked up I just went up the trail like a Zhu Zhu Pet homing in on a chair leg.
I met some folks on the way, as always going in the other direction, except for an elderly lady who was tackling the track with two aluminium sticks. "New hips are fine" she said "…but the knees are crumbling". She used to sit at the high bench you pass at the halfway point with her husband. Today she was alone. That's because her husband was on the Cobbler and she was wanting to surprise him as he came down. How cool is that? Too easy to just sit on that chair.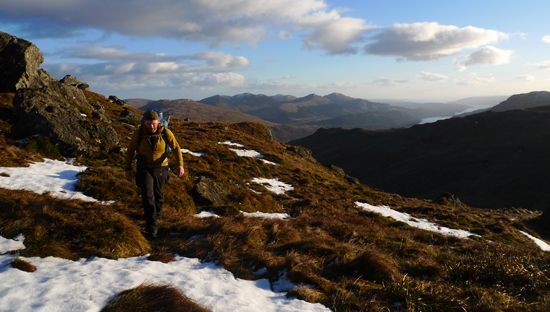 It was warm all the way, the sun beat down, the sky was blue with a wisp or two of cloud and the trees caught any breeze there was and kept it to themselves. I panted and peched all the way, much to the amusement of descending passers-by as they skipped downhill. Aye, but they didn't have a sleeping bag that only packs down to 25L jammed into their rucksack though.
Clear of the trees it was cooler, but also in direct dazzling sunlight. The pale grass and rusty bracken, dark rock split by dark shadows and streaks of pure white. Up here is so familiar to me now, but it still makes my heart swell every time I see it. I call many places home, where I live, wherever friends or family make me welcome, wherever I feel I belong, wherever feels right. This is home too.
An ascent in warm evening light is the accidental norm for me. I had planned to be up there by lunchtime so I could pitch the tent in daylight and get lots of photies, but as that activity was now off the schedule it was all about, well nothing really. I was climbing my favourite ( aye, I know I say that about Ben Lomond too) hill in perfect weather and had nothing to occupy my mind but what to eat and drink first as I sat on the top.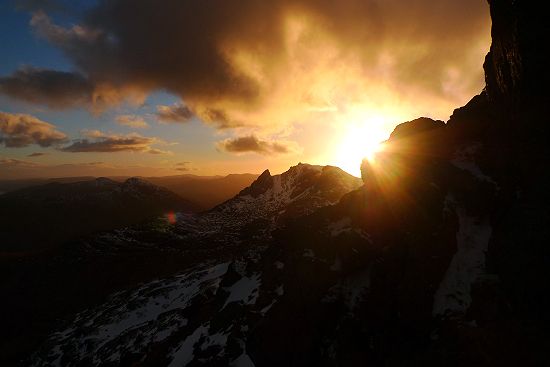 Someone had been up before me in fell shoes, I'd know that tread pattern anywhere. It must have been a good while before me though, the sun had left this northern aspect long ago and the soft snow had frozen rock hard. I kicked my toes in with conviction and tried to plunge the ice axe shaft through the crust. I probably could have stuck my crampons on for that short steep stretch, it would have been entirely appropriate, but I felt happy enough, I wasn't in a rush and chipped a couple of ledges for my toes where I had to.
I always make my own way up Narnain's craggy face. The regular route is horrendously eroded to the point of being both unpleasant and dangerous, there's endless other options through the angular rocks, and a look behind while you're finding your way can be a pleasantly airy experience.
The last slide up the side of the spearhead buttress takes you close to the summit, but it's a place to linger. To your left fall crags right down to the glen which then rise back up into the Cobbler's pointy crown. It's a dramatic place and the soft light and quiet don't soften it one little bit.
There's a little ribbon of grass here before you step up onto the summit plateau, hidden under a thick blanket of white just now. The snow's drifted, smoothing out the shape and this has made some snow bridges of a sort onto the top, which have thinner sections as evidenced by the leg-shaped holes many feet deep. By the time I got there it was all frozen solid again and I just floated over. That's something I haven't experienced in a while.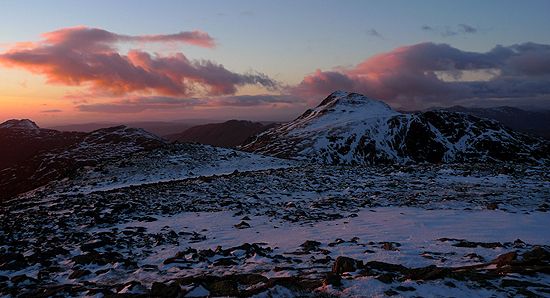 I wandered around absorbing, grinning, looking for a place to pitch. The snow was thinner on the top than I'd expected, but a patch of ice not far from the trig point looked perfect. I threw down my pack, layered up and started pulling out stuff sacks to make a home for the night.
The sun was gone by the time I was sitting under canvas willing the stove to burn faster. The stars winked into life one at a time as the temperature dropped slowly but surely.
I was fed and watered, head to toe in down and alone on the summit. I paced around, amazed at how much there is to see. The patches of distant lights pick out the towns of central Scotland, even Perth is a recognisable distant glow, the MOD base high in the Luss hills is so obvious, but hidden at sea level. But, to the north only dark indistinct shadows, a mountain landscape at rest without a single light to be seen for a hundred miles from where I stood.
As usual I stayed out, played, wandered, mixed thoughts with the views and came up with solutions and ideas that would soon be lost in the depths of warm night's sleep on a bed of ice.
I had music. I slipped away to Hawkwind, not in my earphones, but little speakers. No sore ears, not cord strangulation, the final piece of the camping jigsaw has been found under the sofa of modern convenience.
At 2am, a pee saw me out under an even darker sky, a quieter landscape. A moonless sky seems to suck the light away, the stars spattered every inch of sky above me from horizon to horizon but they were cold and their distance was never so tangible. It could be described as just a little spooky you know.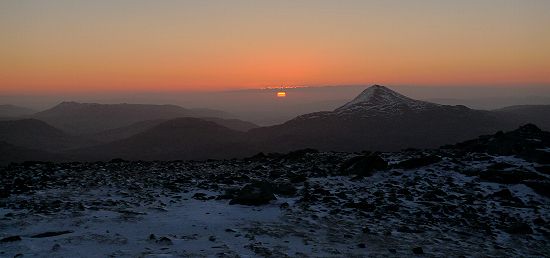 It was bright, my watch had a 6 on it, I pulled my head back into the down cocoon. It was no use, I had to get up and have a look. While sleeping in just base layers is a joy, getting dressed in a tiny tent without a shiver or two is next to impossible, so I threw my waterproof outside, stood on it and pulled on my insulation as quick as possble. I lit the stove, stuck a wedge of snow into the water in the pot and walked off to greet the day.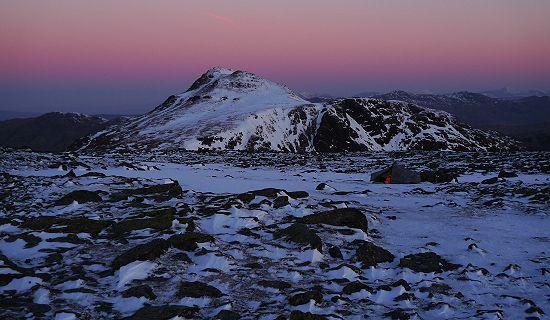 The sun wasn't up yet, but the sky was aglow. Purple to the west, orange to the east, a warm pale blue joined the two above me. The sun broke cover and quickly hid in a distant thin ribbon of cloud, but from it's crouch in there it launched itself upwards and it's rays burst across the land, catching the frosted surfaces and the morning glistened into life all around me.
It seemed to slow down a little in a haze, maybe the sun gets a head-rush if it sits up too fast too? For a lazy moment we were bathed in orange, soft and deep, but too soon it faded to the clear bright light of day. A golden moment, a magic moment, a perfect moment.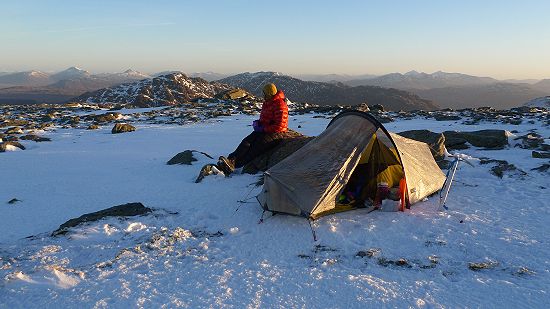 There was only one thing to do, put the stove on again. Coffee, toasted waffles and applewood smoked cheese for breakfast.
I lingered, just a while. It's amazing how much things change around when you're just standing still, the day was very much alive.
I had music as I packed, and a spring in my steps as I left.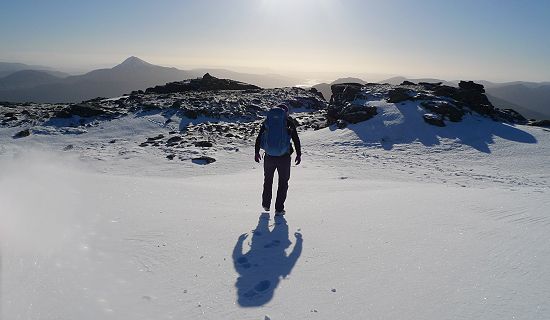 But, they weren't fast steps.