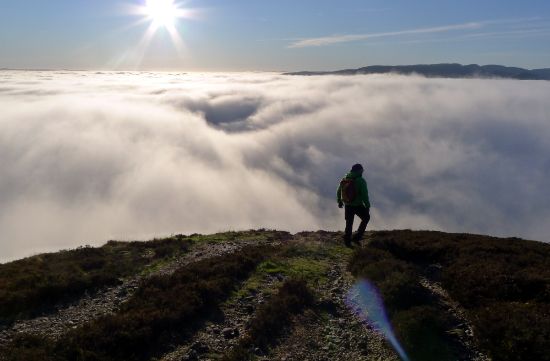 I couldn't resist it, the past few months I've abstained, too busy, too stressed, too responsible, too damned old? Not on this Monday morning.
I switched off my phone, threw some bits and pieces in a pack and hit the road. A greasy road at that with several grin inducing slides at familiar corners which were covered in fallen leaves and droplets of condensed cloud.
Balmaha was reached soon enough and I was into the trees, running up the trail pulling on my pack before the light had switched itself off inside the motor behind me.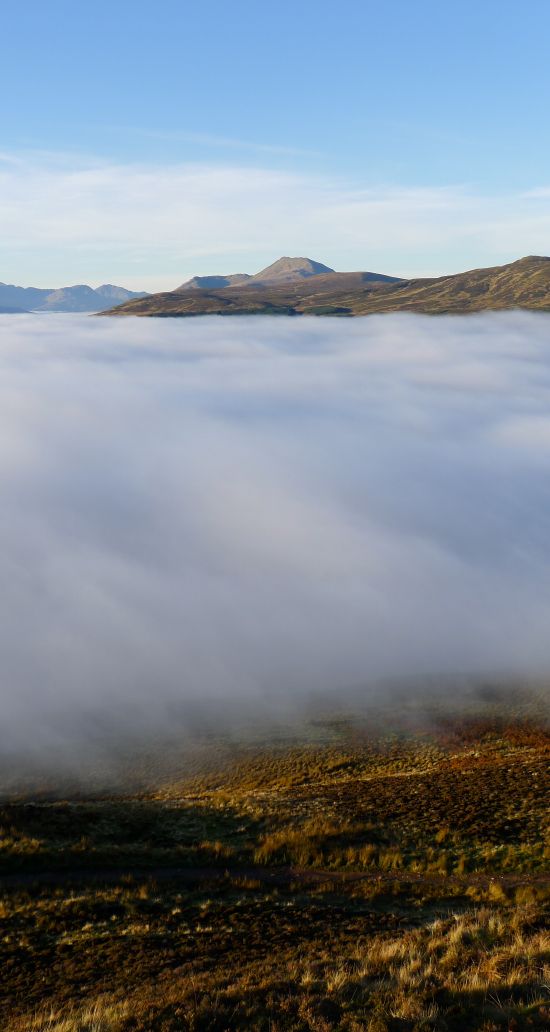 Grey all the way as sweat ran down my forehead and I just couldn't run any more. As the day goes on inversions lift and break up and I was sure I was going to be too late. Sure enough a few West Highland Way walkers confirmed my worst fears, there was blue, but above their heads. The American couple said the same, they were disappointed not to get the views. But the sun suddenly seemed brighter behind as wee chatted. My legs found the last of their energy as the couple though about climbing back up.
I wheezed onto the ridge and into the very top of the swirling cloud, indistict shapes lurked at the horizon and the top on Conic Hill stood dark and clear above. I walked the track grinning as my breathing and heart rate slumped back to normal.
I was followed all the way to the top, a perfect Brocken Spectre floated below the ridge with a big white halo around it 20 feet wide, it looked like a tunnel mouth with a little cartoon me running to the far end.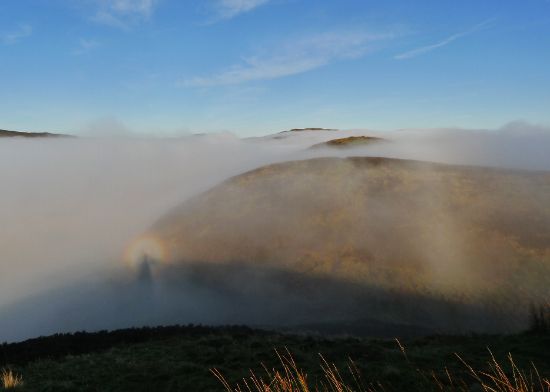 It was bright and there were folk waiting for me. Banter followed, stories swapped, friends made, numbers exchanged for photie emailing. That's how it was for the next couple of hours. Other folk came and went, some lingered, some took a shot and left right away, everyone was overjoyed to be there.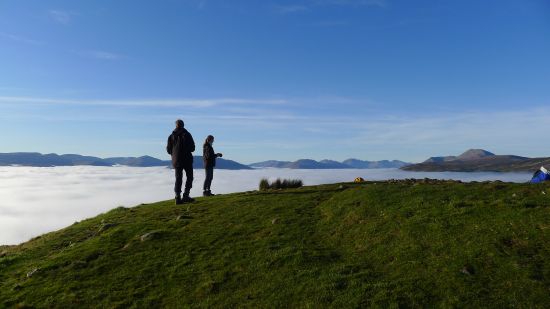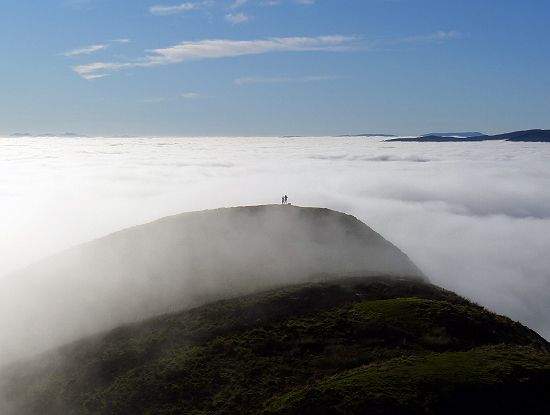 The cloud lifted and sank, changed texture, moved to the west as always and lapped into the glens and up the slopes of the mountains that cluster around Loch Lomond.
I was wrapped up and warm even in the cool breeze as the sun sank. Peace and utter joy.
I was going to stay for the sunset, but I'd got my timing wrong and had to run. literally, down the hill. it was Holly's birthday party in the Vilage Hall and she wasn't going there direct from visting, Holly and mum were going to be at my folks in less than an hour.
I paused at the edge of the cloud, the sun diffused and the temperature dropping, I looked back then stowed the camera and ran. I bloody made it as well.