It's a big day tomorrow. Joycee has biggest of the bigness though, it's the unveiling of her sculpture of St Kessog in Luss on Loch Lomondside. There's a whole day of events leading up to it, and she'll be burst by the end of it. We dropped him into his hole earlier tonight, he's looking good for a 1500-year-old. Both Holly and I shall be waving and grinning as Mummy does her stuff.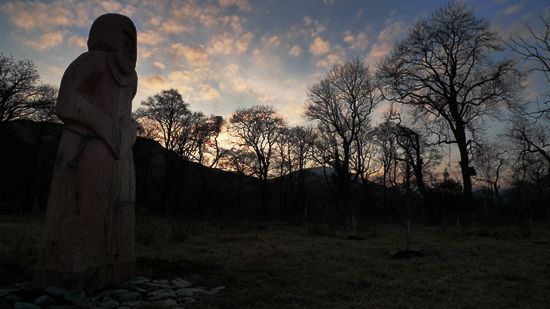 Me? I'm expecting answers, although to be fair I might have to wait until Thursday for them. Whatever those answers are will mean I'll have to do one thing or another. It's a bugger not being able to bluff my way through everything I do.
The Loch Lomond Wild Camping er, demonstration(?) is now confirmed, we're just looking at A and B dates, April or May.
A couple of folks from the Park HQ will be joining me on a wild camping trip on Loch Lomondside, we'll be looking at where and how to pitch, water, waste, and all the ways to make wild camping low-impact and responsible, and maybe most importantly possible. That of course is the easiect thing in the world to do, we all do it, but with good coverage it's a chance to show the man in the street what the difference is between wild campers and informal campers.
Maybe the difficulty will be scaling that difference down enough to fit it onto even the biggest wide-screen TV?