Pale blues skies were above me all the way. The snow line seemed to start around 600m, clouds hid on the north sides of the ridges and summits, keeping out of the low sunlight. The A82 wasn't the enemy today, it was a sparsely attended passage through a wonderland, and I grinned my way north.
I stopped at The Green Welly for a roll on bacon and a cuppa, also hitting one of the staff on the head with the toilet door. Well if I'm fixing a radiator behind a door, I tend to block it open. 
Skipping through FT Bill it was still as fine, although some high cloud was creeping in, it just added to the wintry feel. The road stayed quiet all the way through Kintail and I pulled into Eilean Donan's car park with hardly a cross word spoken through the windscreen.
I took some shots on the bridge (it's a Trail thing) and nipped over to see the folks at 914 Outdoor, just opposite at Ardelve Point. Local knowledge is a great resource, and I was soon revising my route choice. I'm never keen on sending folk into fast flowing water (or over it should I say?), I think river crossings put folk off trying routes, so it was back in the motor and into the hills on a magic wee single track road.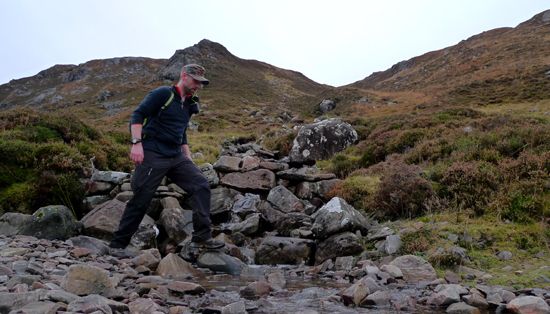 I headed up the trail into Coire Dhuinnid. It's a wide,  high glen with 500/600m ridges and small peaks on either side, and it's a total joy. Almost immediately you lose an sense of being close to the road and farmhouses as you travel inwards and upwards. Behind, Beinn Sgritheall is the first high top to poke out of the scenery, a fine hill with a little snow down the back of its neck.
As the coire widened, I found the oddest shielings. The structure to the left below is like a guard house, you can go right inside it, and if you're about 5'8″, stand upright. Brilliant shelter if you're stuck.

So many scars of glaciation up here, the wee rock above battered but unmoved. There's a huge amount of bare rock on the upper slopes too. It feels wold in here, just a few km's from the road and I felt as "out there" as I ever have in Scotland. I never saw a single soul either which added to it, I did see some fell-runner footprints on the track earlier on, but apart from some deer, it was my and my thoughts.
I was having lots of those too, it was getting very dark despite the early hour and I was again having to re-think the route. I had planned to to take in some of the higher tops and do a big circular route, but with the weather looking like turning I switched to tackling the rough looking ridge to the west and do a shorter loop over Boc Mor (brilliant name). I felt pretty good, only occasionally coughing. My legs were working, I wasn't tripping over my trekking poles, and you know, it was just really nice be there and to be doing what I was doing. I could see the snow capped peaks of Kintail, Lochcarron and beyond, but it felt just right to be in this lonely and neglected spot. I was warm, comfy and quite happy with my lot.
On the ridge I found more of a breeze and also I could see that the distances of the original plan and the new version confirmed that Plan B was the right one. I wandered across the high moorland to look for the rocky outcrops and something that would look a little like a mountain.
There's plenty of that it turns out, it's barren, rough, very hard going and utterly wonderful. I made my way around crags, easing around the edges of deep lochans, and tried to stay upright on the bare greasy rock.
A few spots of rain had me scanning the horizon and the peaks were becoming flat grey shapes. This was proper rain coming. I pulled on my waterproofs and pushed on.
It got dark, the wind got up and the atmosphere changed. I was buffeted all the way to the little top of Boc Mor, and found myself struggling to stay upright. I didn't hang about and descended into the complex terrain to the south, a jumble of more crags and lochans, with somewhere in amongst it, an easy descent route.
I fell over several times in the semi-darkness as my shoes assumed the grip performance of greasy piglets bungeed to my feet. The ground suddenly became much wetter as the rain became torrential, water ran down over the grass and I struggled mightily. All around were black shapes looming over me and steel grey pools chattering with the barrage of rain drops. I'd forgotten just what it's like to be in unfamiliar territory in the worst of conditions. I needed this, hey, I loved this.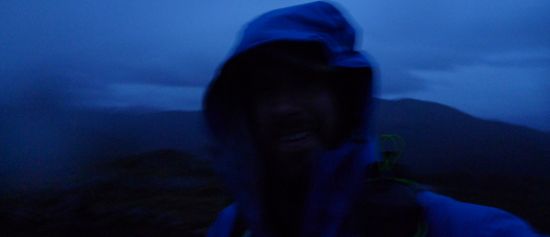 By the time I found the track it had become a burn. Clear, fast flowing water led me back to the motor.
Getting the wet kit off and getting into the drivers seat was the trickiest operation of the day, it's been a while since I was so wet that my waterproofs were entirely gloss, but I sat there with the engine running and windows de-misting quite happy with my lot. I was hungry, I'd taken my stove and supplies, but the weather made that option unavailable. So when the windows were clear, I headed home and I swear to you the first thing that my iPod played for me was Just Walking in the Rain by Johnnie Ray (see it's not all metal), then it hit me with Straight outa Compton by N.W.A. before settling into some Rush. Bless it, sometimes it gets it just right.
Food though, the first thing that was open was in FT Bill and didn't want a Mickey D or a kebab, so I was heading to Tyndrum and the Real Food Cafe. Which was shut.
The Drover's Inn is too close to home, so dinner was from the M&S simply food where I spend Monday night in the broken car. By the time I got home I was nibbling the packaging on my chicken balti.
A fun and varied day oot.