Craig's bike has been lame for a while, and a quick fix wasn't likely in time for tonight so he said he'd run it and see how it all matched up with me and Phil on the bikes. I knew it'd be fine, he's too fit by far, but it was still interesting how it all panned out.
We took the simplest Kilpatricks route, a big loop from my front door, but there's still a huge amount of ascent which is always hard enough without that bloody wind tonight which slowed me down and eventually knocked me and then Phil off the saddle and onto our feet a couple of times.
Of course when we got to the level section at the quarry Craig was waiting for us, he totally creamed us on the ascent. As did a group of lycra-clad bikers on hardtails who passed us on their way to greater things.
I like to be reminded that I can't compete, it takes the pressure off.
We rode and ran the newly constructed trails with a little flair and some welcome speed now that the trail was twisting and winding rather than just going up, up, up. The distance between bikes and feet was always elastic, but stopping now and again for a drink and a quick bit of banter kept us within shouting distance.
In the trees, the wind was just a whisper, and that was very welcome indeed. Wind on a bare hillside is relentless, and on a bike you just feel like it's picking on you and having a bit of a laugh because it's the "Big Wind" and you're just a wee fanny on a daft contraption. I never feel persecuted by the wind when I'm on foot. I'll talk to someone about these feelings at some point.
Leaving the forest was just magic, Ben Lomond, the Arrochar Alps, even Ben Lui, all well defined in the clear evening air. We all stopped and had a "Ohhh…" moment.
Then straps were tightened, shades secured, arse shoved back and we headed downhill.
I was a bit happier than last time and only got wrong footed in a boggy section, the trail has hardened up and it's getting fast.
The cool eveing air rushing past my grinning coupon as grit stung my legs and stuck to my shades, I found a little bit of confidence tonight and really enjoyed the run down to Overtoun. It's a joy, it really is, and as we go through summer it'll only get better.
We waited for Craig to catch up near the bottom, chortling way to ourselves at the simple fun of it all, and catch up he did, very quickly too. Running down this trail is as good as biking (or walking) it, at times it's so steep you're on the verge on losing control and becoming a spinning ball of budgie green and broken limbs. You don't need "stuff" to get excitement, an incline and unreasonable optomism is often more than enough to get that adrenaline rush.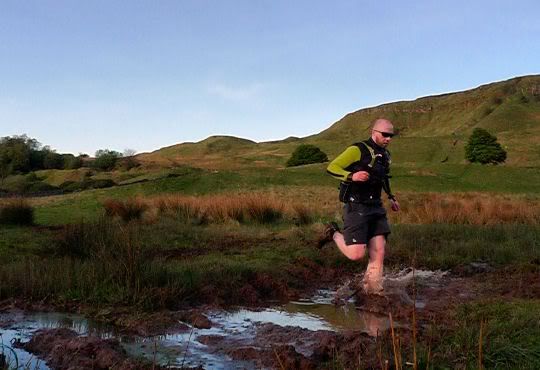 After Overtoun House it's a tarmac descent to the A82 where you run out of gears and sacrifice rubber from your expensive sticky tyres. But watching a drop of spit boil on your front brake disc on the roadside at the bottom makes up for any inconvenience.
Craig appeared after a wee while, the longest we'd been out of comms all evening. The bikes won the descent, that's the bikes, not the riders.
We met the other group of riders from earlier as we headed for some tasty goods from the BP/ Marks and Sparks Simply Food at Milton that must be familiar to anybody heading North on the A82 who'll be wishing it was on their side of the road as the Esso Shop on on the Northbound carriageway only has pork pies and the like.
It was a great night, it's been a while since were all out together and if was fun, pure and simple.