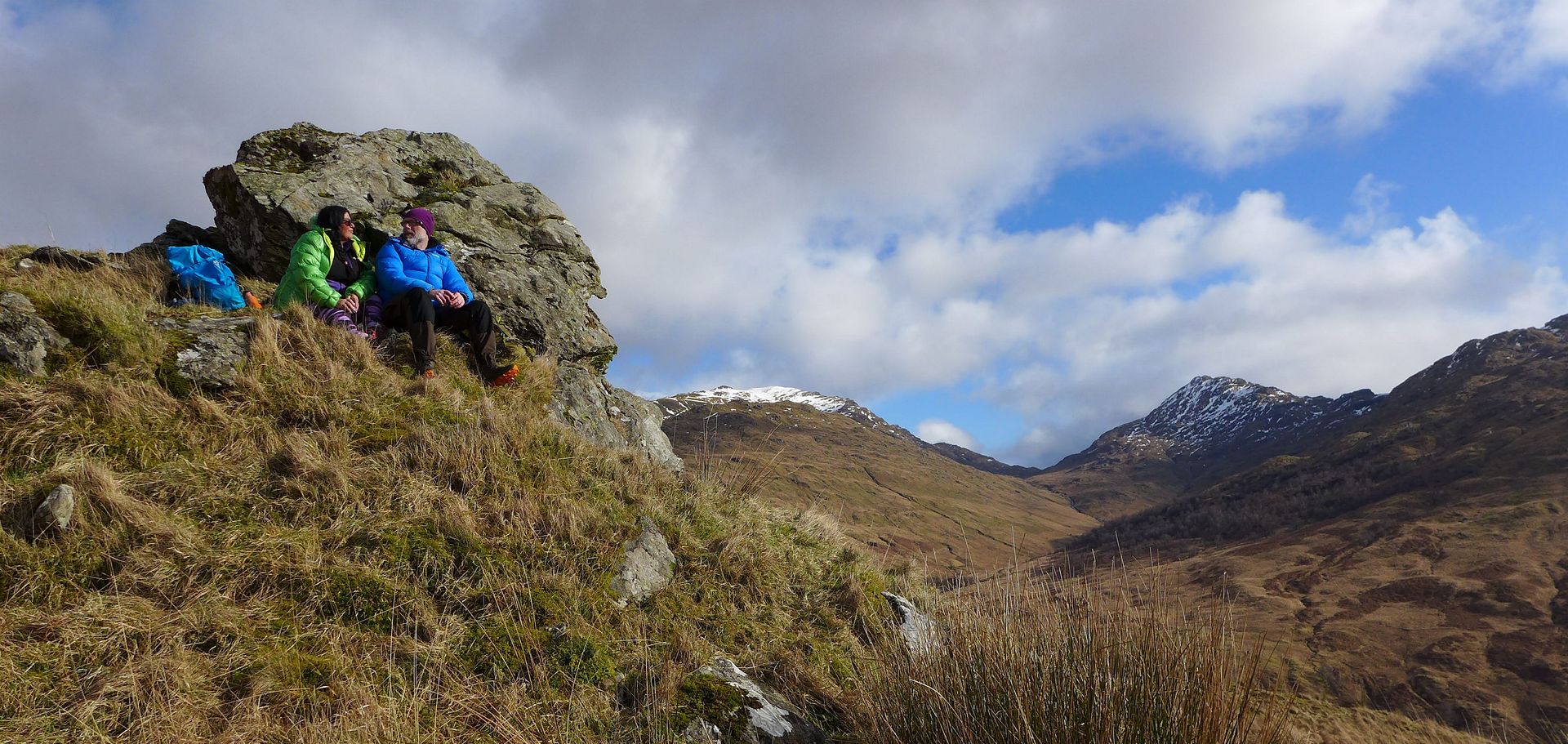 Linda was finished for the day, I was nearly finished for the day. Lunch we said, the where was the thing, let's go and see some snow? So flasks were filled, our fridges were examined for useful content and we threw together a lunch of sorts so we only needed some sweeties from the garage on the way.
The road was as quiet as you can get in the afternoon but the big surprise was that the falls of Falloch car park only had one other car in it. There's something you won't likely see again this side of November.
We were ready to go so it was packs onto shoulders and a dash across the road to try and find something a wee bit special on the north side of the glen, the Clach na Briton.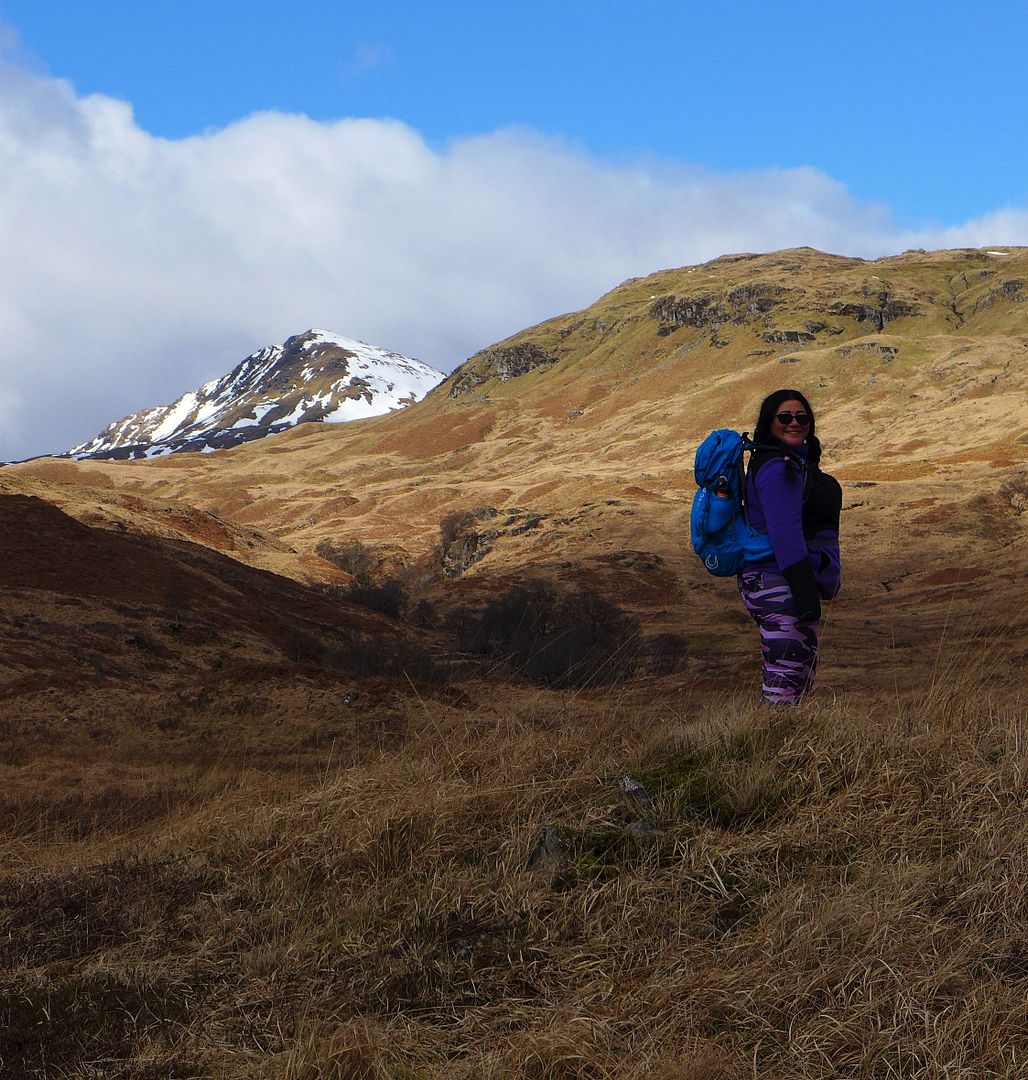 It's 15 years since I was last up here when there was a team handed sprint up the lochside after work to find the stone when we'd all been inspired by Tom Weir's enthusiastic description of it in an episode of Weir's Way.
That's long enough for the hillside to feel brand new again and as soon as we crossed under the railway we were definitely exploring with a vague "It's kinda that way I think…" as a route guide.
Ben Oss and Beinn Dubhchraig feel very close here once you gain a bit of height, close and very tempting. Later on we kinda cursed ourselves for not packing more food for more miles but that's okay, there'll be other days.
The grass can be hard going, it's basically fuzz covered footballs underfoot everywhere and as soon as you take you eye from the next step up to the scenery you're sideways or down.
It was lovely though. A bit windy but not so cold, broken cloud over blue sky and an already low sun beaming light and shade in equal measure. Perfect for being out.

It wasn't long before the smooth grassy skyline was interrupted by a very obvious pointy thing, our pin point navigation has led us straight here. Clach na Brritaaaaaaannnn as Tom had said. With grins wide and maybe a wee bit of excitement we picked up the pace to get there and throw down our packs for lunch, or dinner, it was getting on.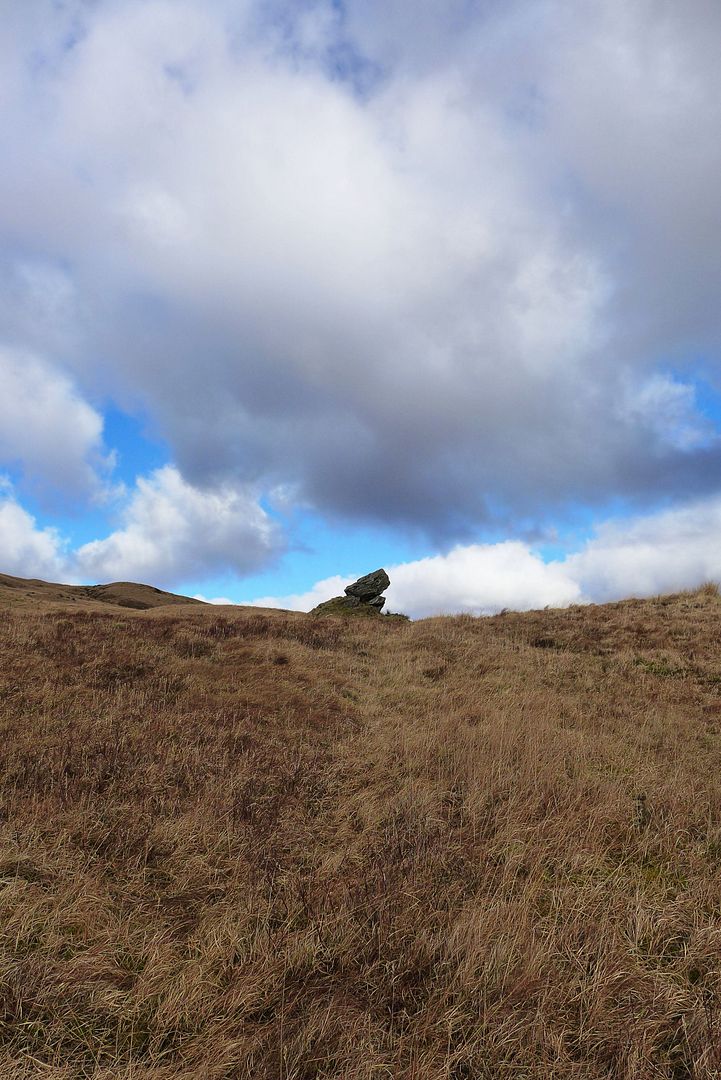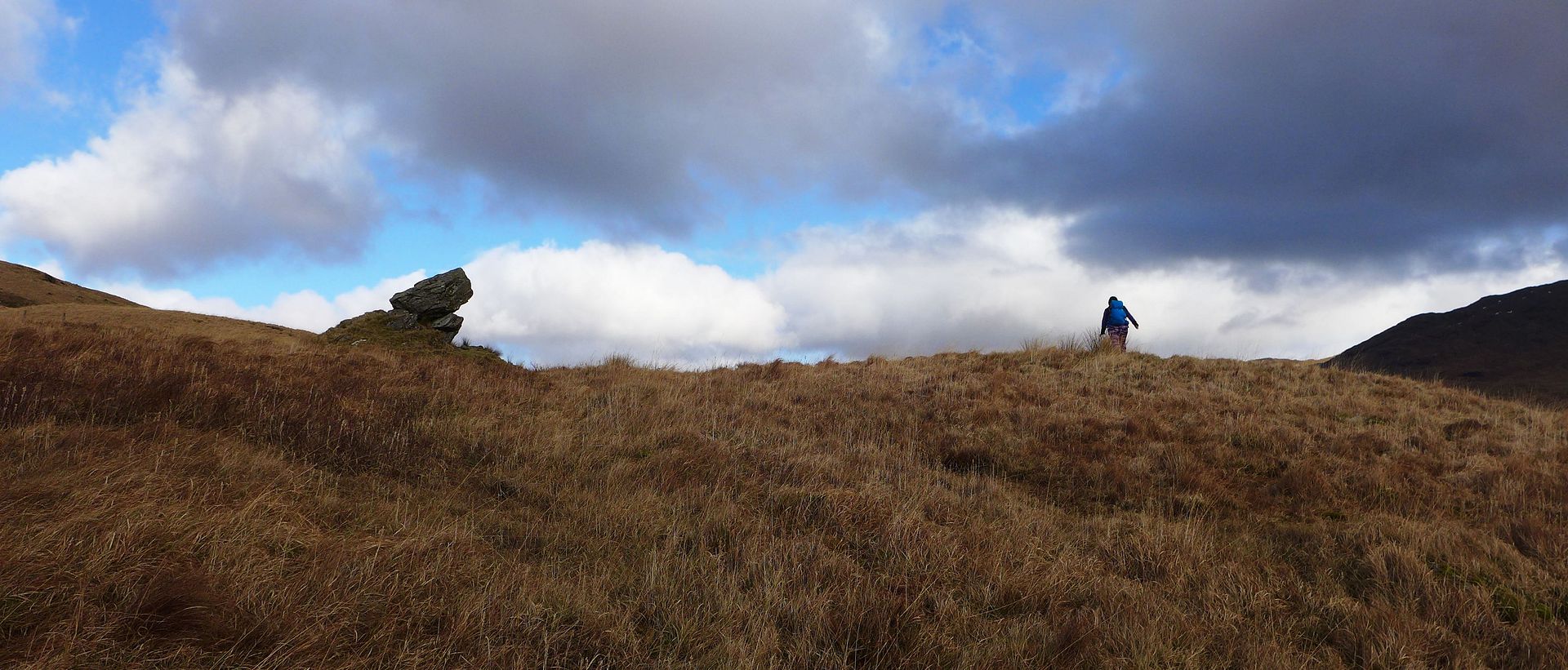 It's an impressive place, so much history must have been witnessed by the stones over the centuries but so few hard facts are known about it.
Clach na Briton, stone of the Britons, so called as it's said to have marked the meating of three ancient Scottish kingdoms, Dalriada, the Picts and the Scots.
Its age, which is unknown, might have blended it into the landscape but this is at least partly the work of many ancient hands. There's a wide rocky base, piles of huge stones on top and the giant spearhead dragged onto the top.
Maybe they found an outcrop which is the visible on part on the downhill side to give them a start, but whatever, their hard work has endured.
There are matching named stone mounds to the west, perhaps marking a very definite border. Ah, if only the Romans had came here as visitors and not invaders we might have some written records. All we have is 500 year old words on a battle fought here near the Minvircc, the stones' old name.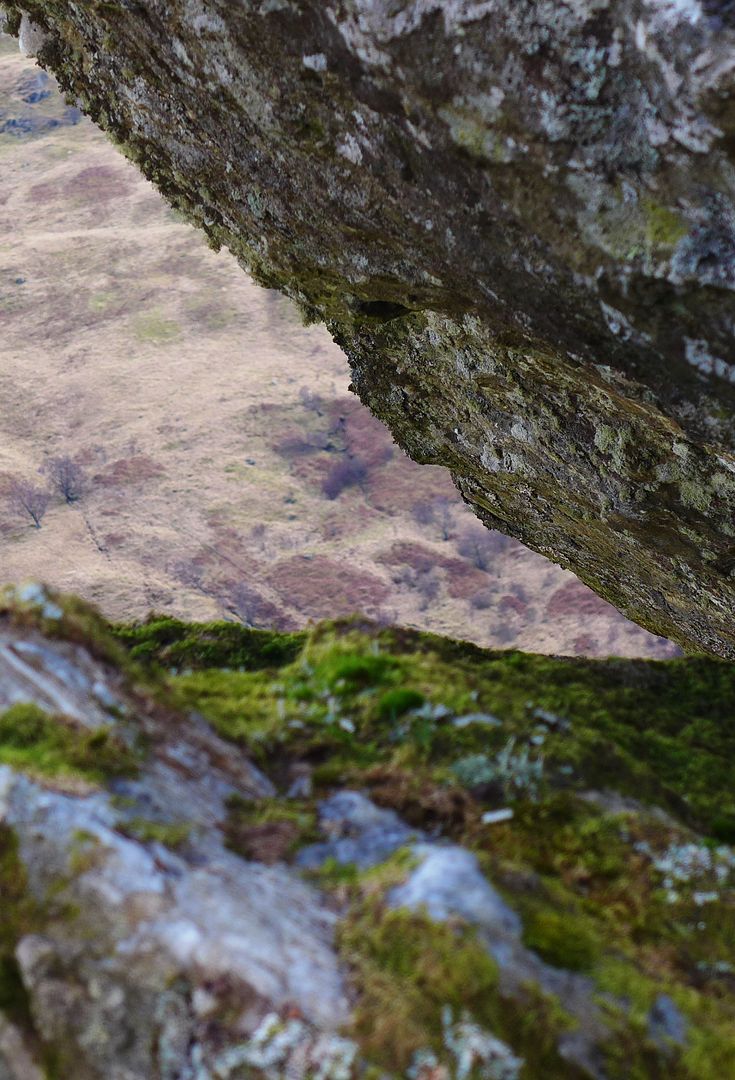 We sat in the sun, it was warm while the cool but gentle breeze had us pulling in our down jackets. We are our pieces, drank from our flasks and then just sat. I'm very much for just being when I'm in the hills, the drive to achieve goals and reach summits is long gone and I'm so glad Linda is the same, so we just sat.
Actually we reclined, heads back onto the grass by the rocks, knees relaxed, sun on our faces, eyes closed, no chat, happy just to be.
I though I heard voices, or was it a radio? There's a fence line close by, it could be someone working. I sat up and looked and with a field of view hundreds of metres in scope, there was nothing. Ach, I put my head back down. I could still hear, something though.
Linda was soon fidgeting, "What's up, I'm trying to sleep…" I murmured. Hmm, the singing had distracted her too. I sat up and looked again, I stood up, climbed the rock to see nothing, no-one at all. It was quiet too now I was up. The breeze had dipped and the air was drifting by rather than blowing, it wasn't wind whistling through the rocks I was sure. I put an ear to the ground, it'll be water inning below the surface, snowmelt heading to the river… nothing but my own heartbeat.
We looked at each other with no answers to share and lay back down to watch the clouds slip by as lazy as we were ourselves.
The singing was still there too. No instruments, it was layered voices, mostly female, light and melodic but melancholy too mixed with sweet. We lay there and listened and the song remained until we sat up to go when the light dimmed a little more.
We talked about it, we still do weeks later. I still have no explanation. I am all about science and dinosaurs, but my mind is always open. Once on Ben Macdui I had an experience that still lives with me. I think this might be another.
Whatever it was, it was welcoming, that I know.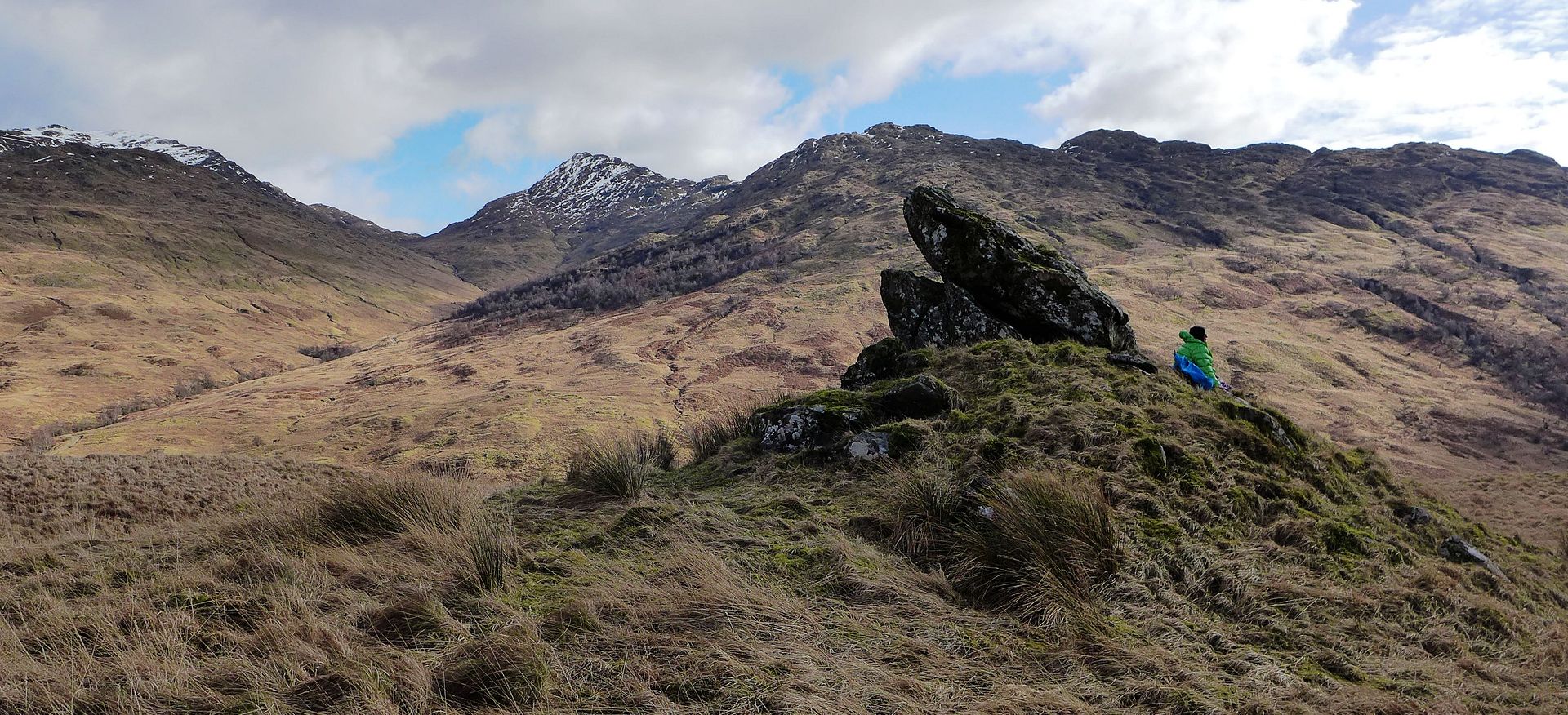 We left cheerful with a spring in our step and no desire to head back, we were heading up the glen.
Now Linda is the love of my life, where my heart has found its home, but dear god she can't walk ten feet outdoors without decking it.
The terrain was tough, and when you're four foot eleven the obstacle clearance options aren't great so I'm not mocking here at all. Just gently enjoying it with a generous side salad of concern.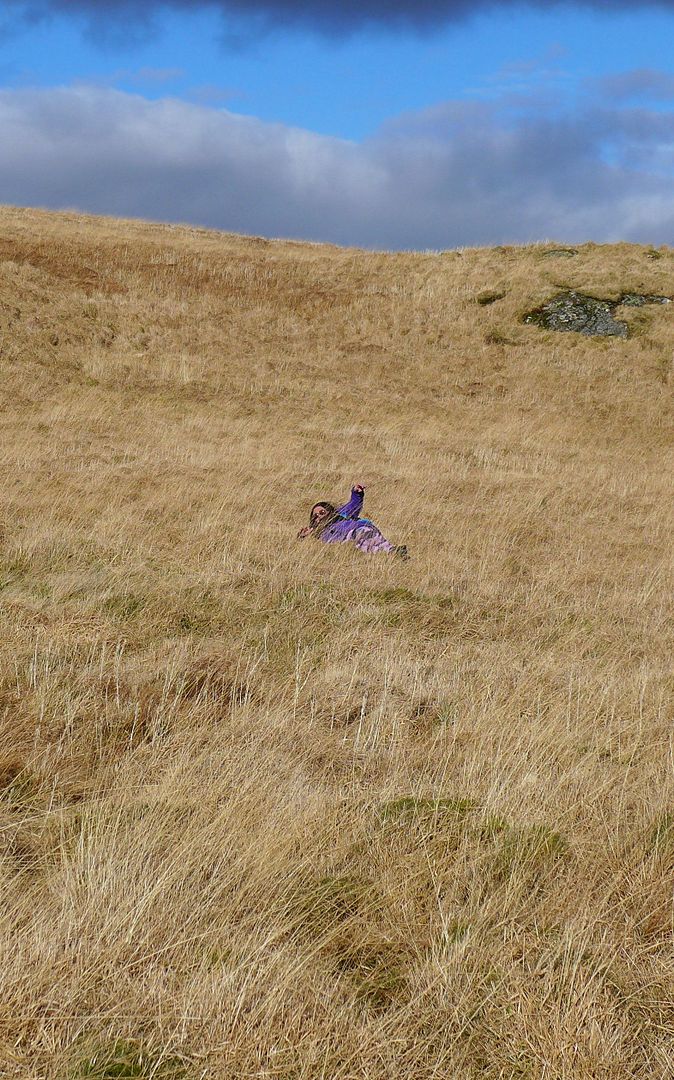 Fionn Gleann is fantastic and it's a first time visit for both of us. The terrain does improve higher up on the rocky knolls we headed over and it was a lot of fun just exploring.
There are broken walls high up, shielings and a cottage by the looks of it, but here we had to plan a way back. Bummer really, we had headtorches but no food left, the will to keep exploring was strong,we just hadn't planned for it.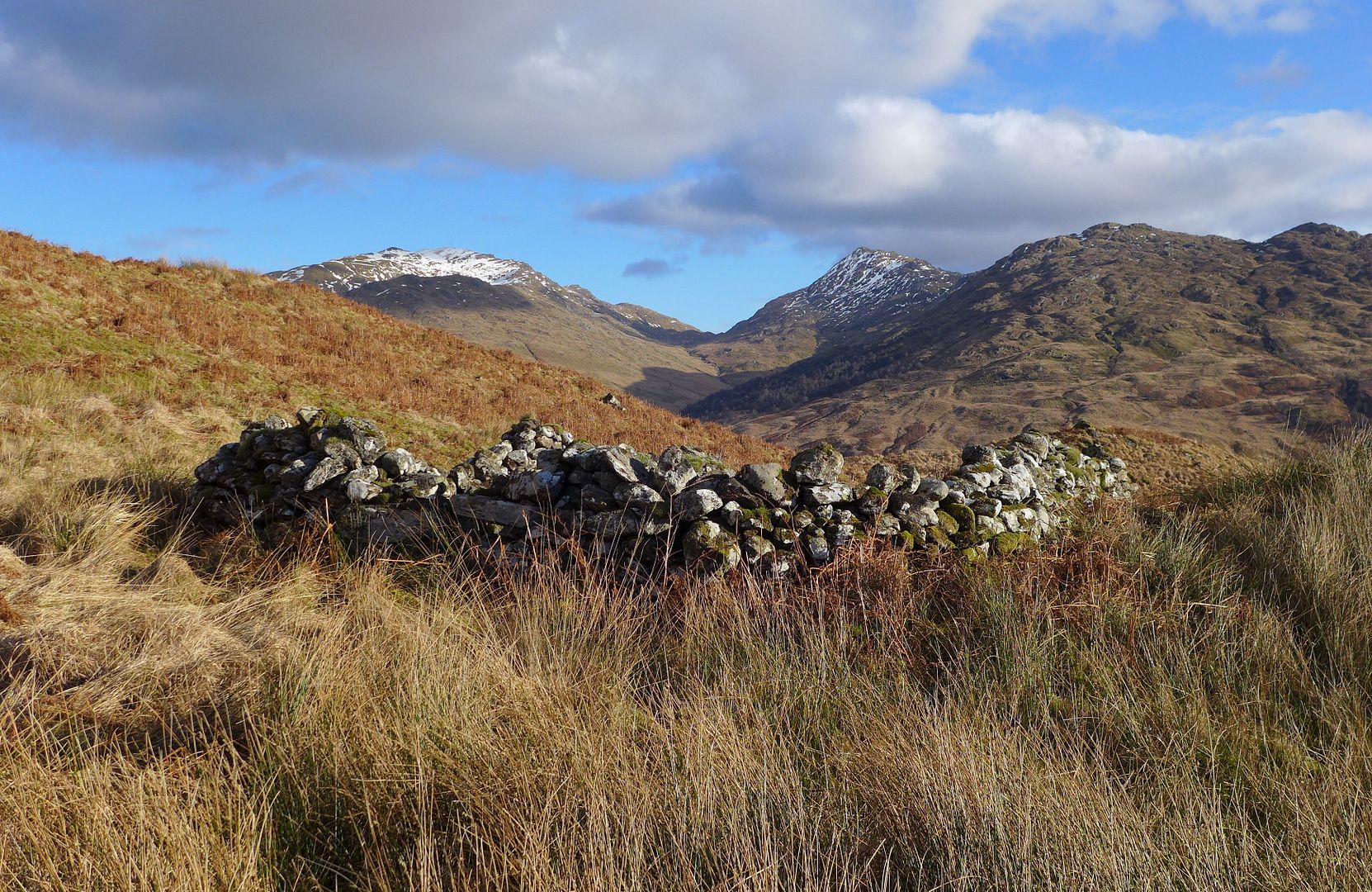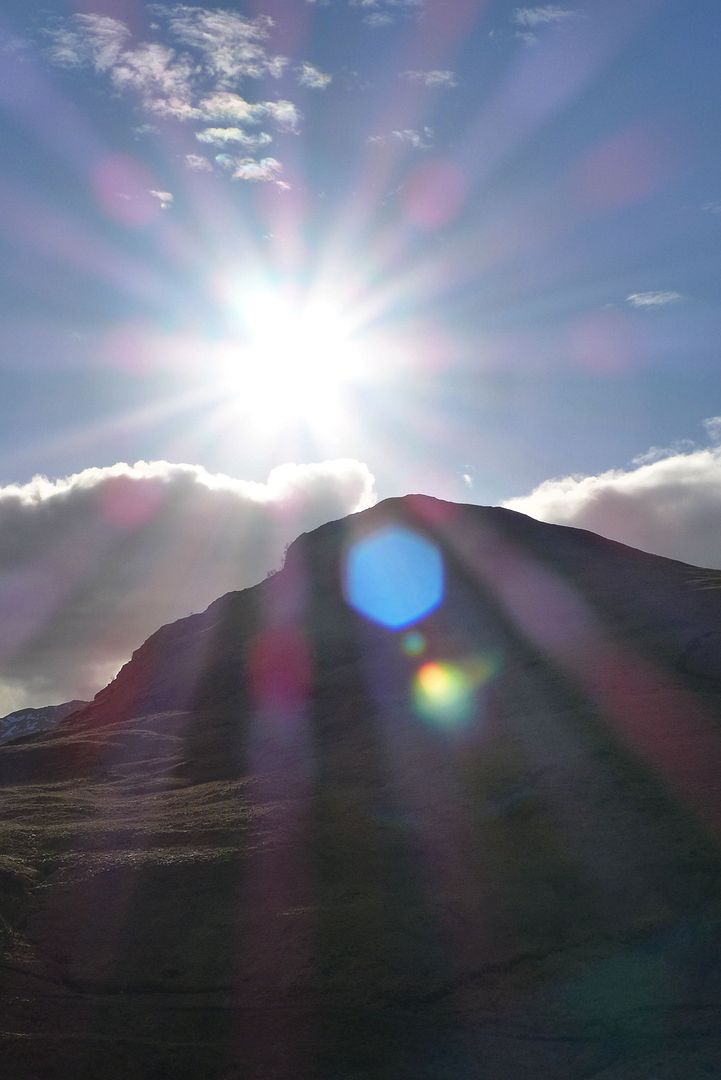 We descended to the deep gorge which was an unexpected gem. Black rocks and tumbling water with unfamiliar views of familiar places.
We sat by the water as it rushed and gurgled over our quickly dipped and removed bare feet then finished our flasks as the sun dropped out of sight.
A wonderful spot, an absolute joy that I had never even known existed.
Oh, get off that beaten track.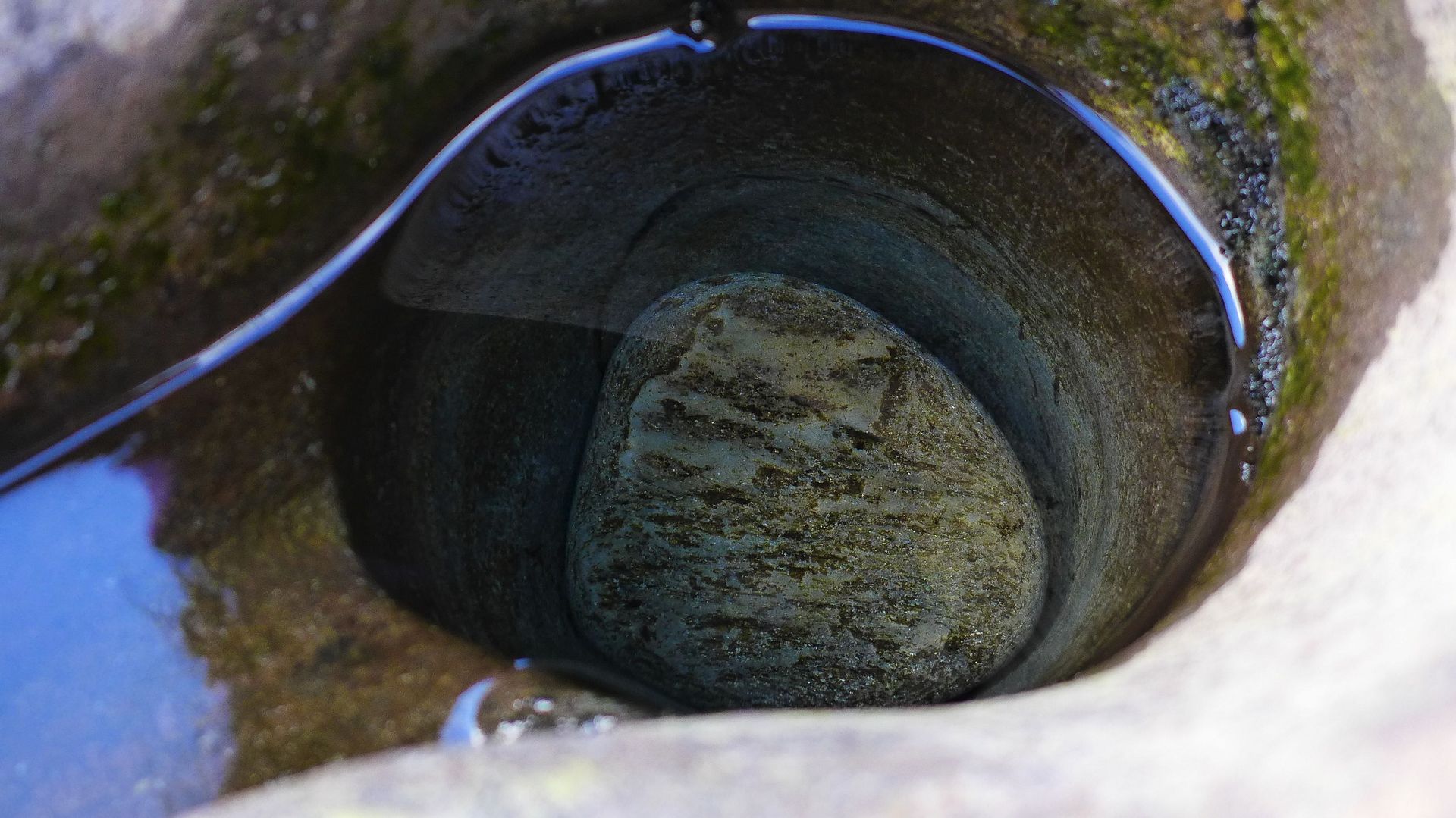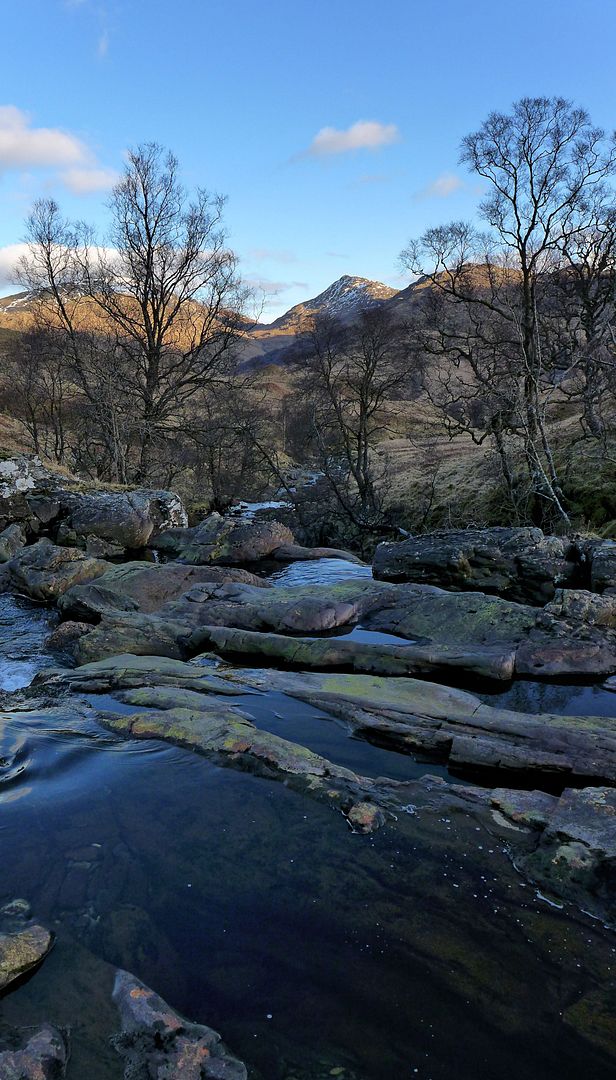 The evening light was beautiful as the brown winter slopes glowed orange as we walked down the hideous hydro scheme road on the other side of the glen.
Our knees we're glad of the assistance after the trials of the walk in, but it's still s blight on this lovely place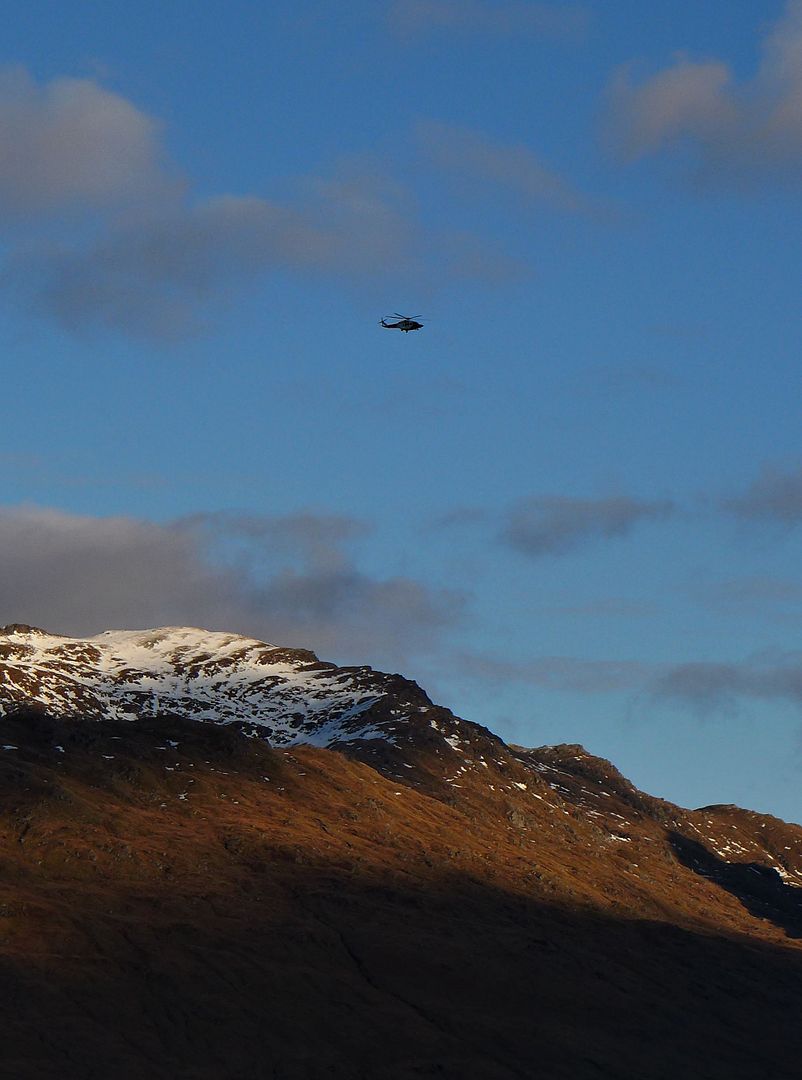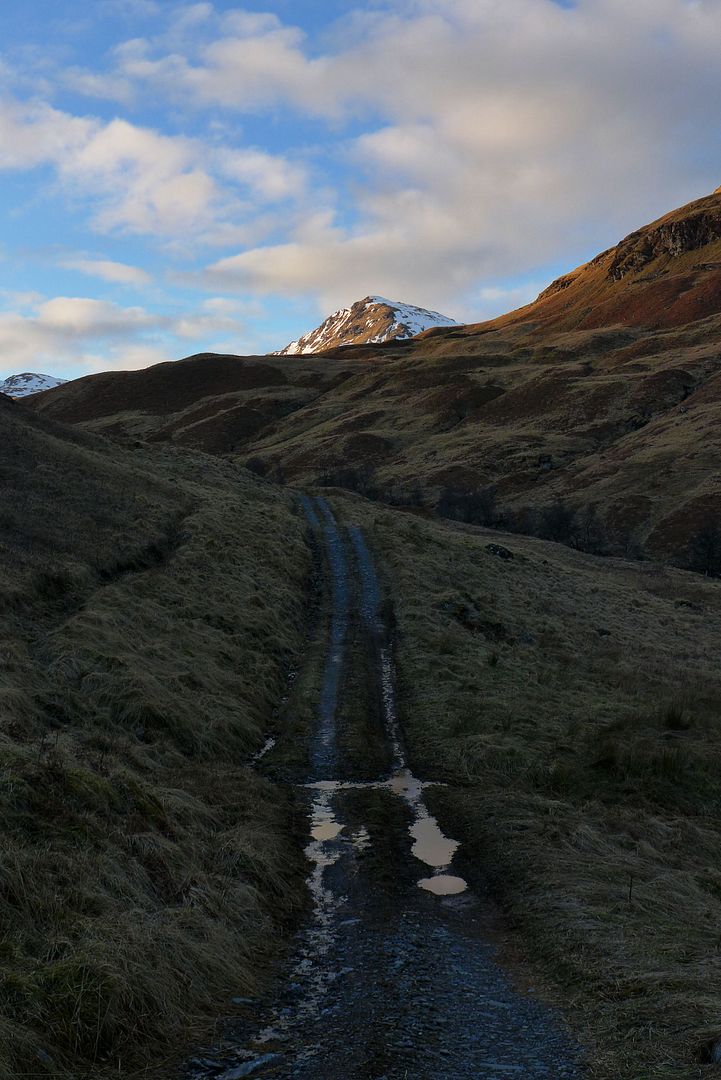 The bigger hills looked magic, so close but just a little far. We'd had such a good day we were happy enough to have them as our wallpaper.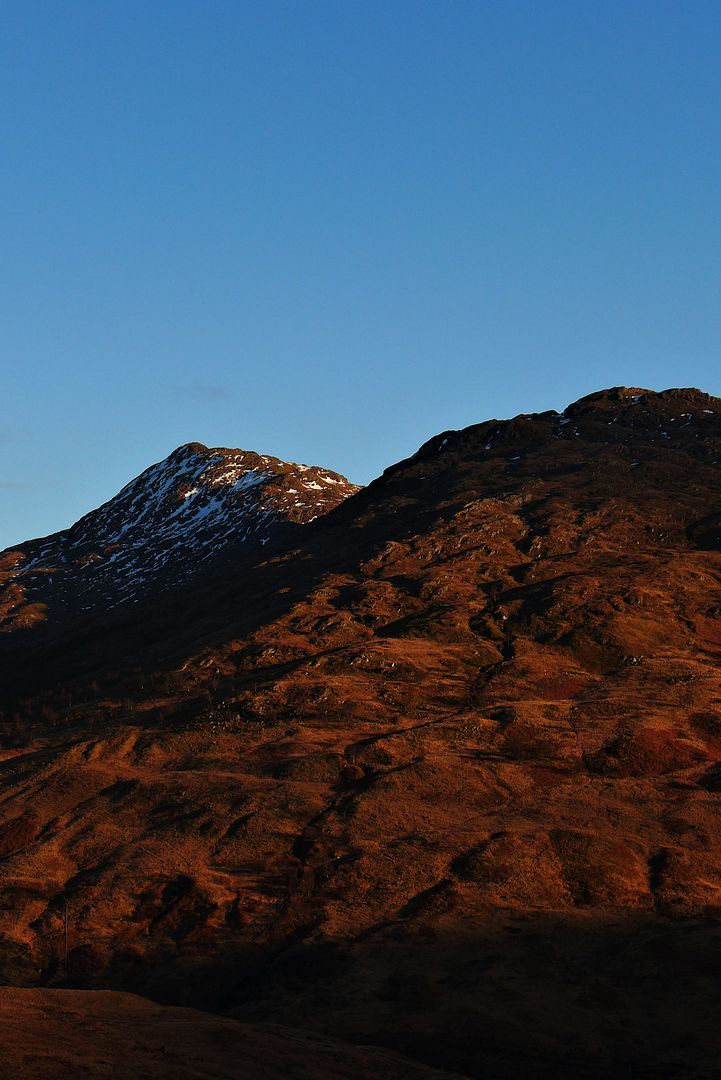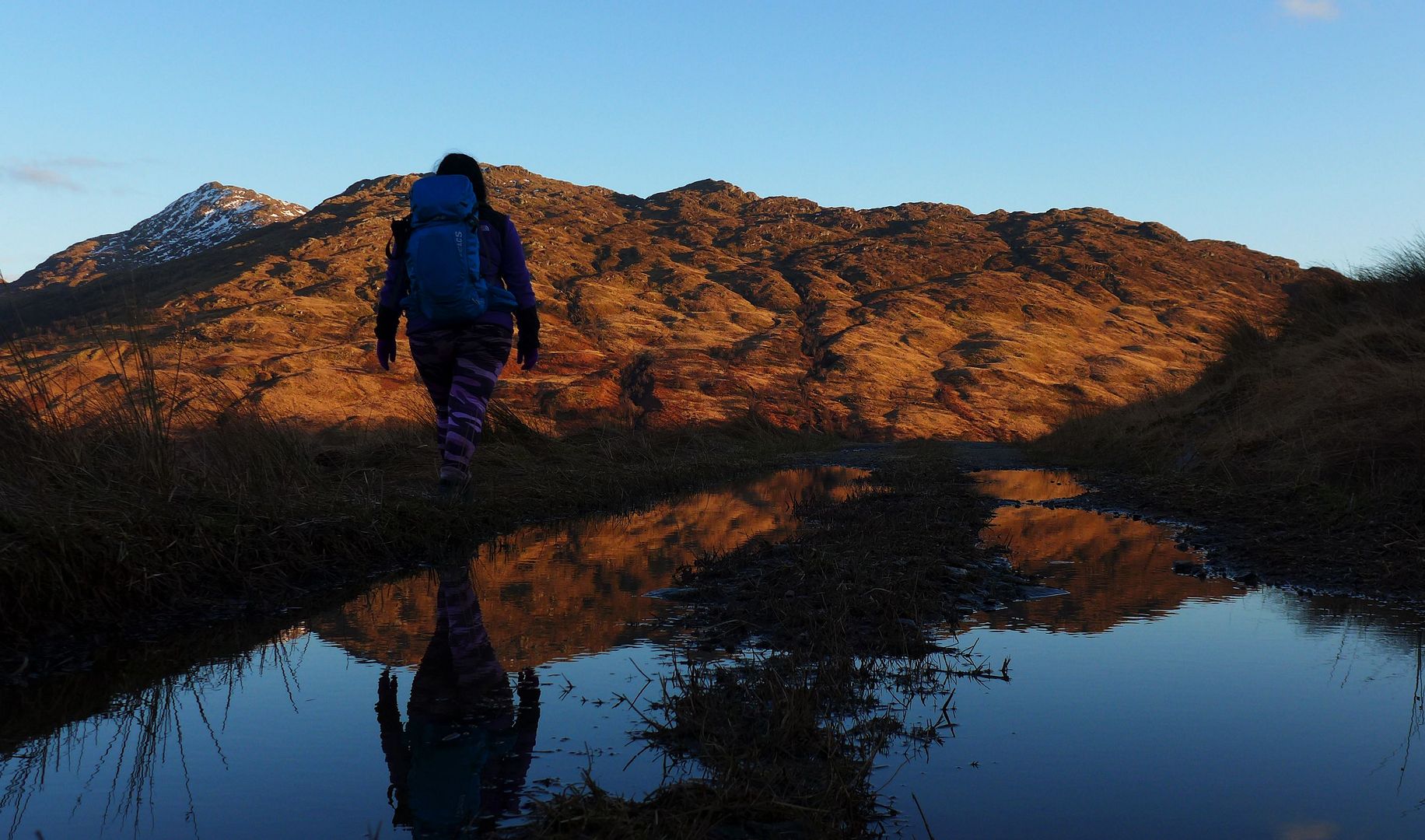 We cut off the road and headed for the cattle creep above the hydro house as it got dark. We found it but the bastards who did the hydro scheme have wired it up so you can't slip through. This left us with some choices, none if which I was happy having to take Linda into.
We couldn't cross the river, the gorge here is very deep indeed, and we weren't reascending to look for a safe crossing point either, so the railway line it was. If I'd been solo I'd have walked the railway line back across the river to the ascent route, but a quick shin across the tracks was safer. We also had to climb four fences to do this.
I was livid. The cattle creep is still on the map. How the hell did they get away with this?
Once over the A82 were onto a stretch of the old road hidden in the trees with its crumbling stone arched bridge and tarmac. Nature is taking it back.
We followed this back to the car park with banter flowing and talk of what hot food we were getting on the way home.
It's a day full of joy that even the railway crossing couldn't info, a wee day that had everything. And thinking back to the singing by the stones if you have ghosts, you really do have everything.