Another item being trialed for the first time in a wet Scottish winter are these Icebug Speeds. I've only worn these outside a couple of times so far and they are the strangest things. They're a nice lightweight, well fitting waterproof boot on the outside, but flip them over and they're a 1950s hobnail boot. Well, not quite. But walking on tarmac you do sound like the entire Wermacht marching west…
The studs are on flexible mounts so they don't get torn off and the whole sole grips like duct tape to cheap laminate flooring.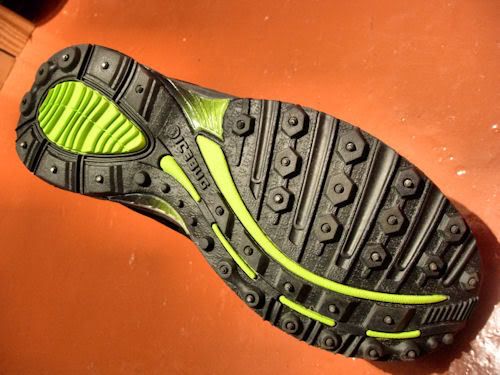 They fit the Kahtoola crampons well, they have a stiff-ish toe box, a nice flex to the sole and they're looking like a good winter boot.
The sole though, you can't wear it anywhere but outdoors. It scrapes everything, concrete, tarmac, it tears wood and carpet.
More news soon (ish) when they've been on proper mountains.