I've done plenty miles in these now, trekking, running and scrambling. I used them on Beinn Narnain on Friday night and that finally decided where I was with them.
Although they have a good steady heel, nice forefoot flex and suppleness enough to allow your foot to respond to the terrain, they're a robust shoe and have plenty protection for your foot. The breathable and easy-draining mesh has plenty of help from plastic overlays which form a secure cradle over your foot and also there's toe and heel protection in lovely silver. The sole has an open aggresive sole pattern in a soft compound rubber for grip, and it has that in spades. After you find out where the grip breaks, which is only on very steep dirt, you get a confidence in them which you have to have when trail running. You can't fly downhill thinking "Will it stick?" with every footfall. Grip is good on rock, but will wear the sole fast if you on it all the time. Mixed terrain is where they excell.
I've had no rub points or issues with them, but they are a large volume shoe. I can get the thicker merino Sealskinz sock , plus a liner in them nae bother. For use with a light sock I have to put volume reducers in them, but It works fine.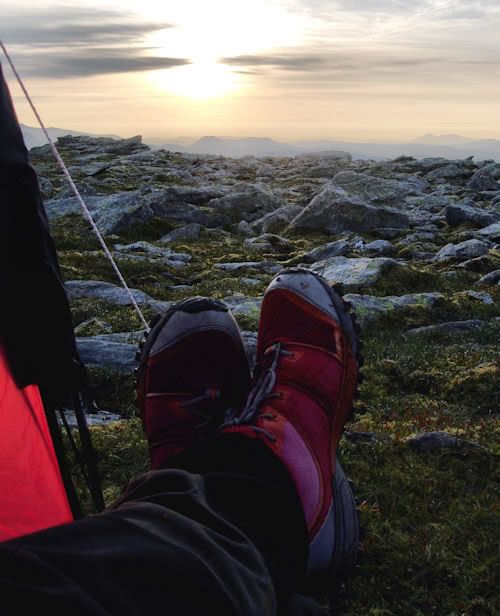 For me they're a good mixed trekking/ running shoe. The high volume means in winter I'll like them better as I can wear a thicker sock or Sealskinz with them and the Bugweb will come into it's own then as well. There's no heel lift or pressure under the lace knot which are the two things that I'm always looking for in a trail shoe. There's a couple of wee things, the soft midsole is exposed and could take a beating, and there's a potential wear point on the upper where the toe flexes. I've not had any issues as yet, but I'll update if I do.
Their features and application are all good. Grip is outstanding, and they're more robust than most trail shoes. If they fit you, they're a winner.