2013 started off with a flush of mountain colour and splashes of camping joy but it wasn't long before I found myself cramming in hill days between work trips up north and being able to pick the best days turned into desperate dashes to try and catch patches of blue sky. My lasting memories of the summer are going to be two specific things. A return trip to Kintail to get clear photies and instead sitting in the car in the pissing rain for hours hoping the cloud would lift higher than the fence. Then there's Skye which was just endless days of misery. Repeat trips onto viewless wet rock on what should be an inspirational beautiful place. And I'm going back too.
I was close to losing my sense of joy, I was burning tank after tank of fuel, burning up days up as fast and coming home with nothing but frustration never mind a head full of memories or a memory card full of joy. Great for finding out that most gear is entirely adequate, but I'm not buying the reverse psychology that bad weather mountains are somehow better or make you some sort of hero, that's just bollocks, a view from the top and a cuppa under a calm star-filled sky win every time.
My time in the Kilpatricks was something else though, a wee island of escape regardless of weather or mood. I owe that place more than ever. But, something had to give one way or another.
Being back on the bike seems to have sparked something, an unexpected shout for a flyaway mountain job later in the year had me looking for new maps, renewing my passport and feeling enthused, then there was the arrival of autumn. It's almost like being brought back to the surface.
The forecast was good, Holly wanted a sleepover at Granny's, we rummaged, packed and hit the A82. Joycee chuckled as she looked at the clock on the dashboard, it was the best possible omen, "Look, it was late when we left…"
Sticking to my well used format, the road needs a mention. We were behind a Ford Mondeo that drove between 15 and 25mph up the lochside and stopped dead every time there was oncoming traffic. I was directly behind them and was getting twitchy but the ever lengthening queue behind me was getting dangerous. The road was busy on the other side, no chance of overtaking, but I could see someone was going to chance it. Mrs Mondeo finally saw sense, reason, or just gave into the fear of a road narrower than a motorway and pulled over. We were gone.
Only as far as Tyndrum mind you, no pressure was felt this day, we had all the time in the world. The Green Welly has upped its game, the food is way better than it used to be, pressure from the Real Food Cafe's rising success and matching prices? Soup, homemade this and that, dinner for our rucksacks and the sunkissed highway took our aging wheels once again.
The last time I was down Glen Etive was when I was away on the Garmin press trip last winter. What a place it is. Its dead end status keeps it quieter than it might be, there's still a bunch of informal car campers shitting in the grass along the roadside of course, but it's still beautiful from one end to the other. You just don't have to be clever to enjoy it.
Lots of cars around the Ben Starav access point, we got the last space. Mind you, it was so late in the day, some folks came back and started the drive home while we were still deciding what snacks to pack.
We got our shit together and wandered down the road towards the river. It was warm, the breeze carried only a hint of autumnal cool and the light was golden. It was heart swelling.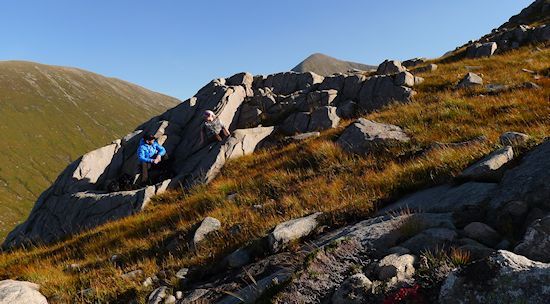 When I go somewhere with Joycee that we haven't been before I get away with pulling out new/old stories and the wooden bridge ahead was cause for one. Years back when LED's were moving in saying that my Petzl Zoom was old hat I was up here solo in the middle of winter. I was descending in the pitch black with a brand new Petzl Tikka (I think) on ground that was frozen hard and legs that were tired out. I missed the bridge, and ended up at the lochside, tired, confused and cold, For some reason rather than retrace my steps and look for the bridge I decided to cross the river where I was. The torch had already proven inadequate on the descent, the grassy hillside was a slope of water ice from days of freeze/thaw cycles which a pale pool of light had made into a baby stepping epic. I now crossed the river on well spaced out iced rocks with the same pishy grey splodge of light that meant I could only see a few feet around me.  Idiot.
I went right off LED's for ages after that.
Red dragonflies pattered around us, hawthorn berries burst with a matching hue and the white rocks littering the path traced our way ahead like the easiest game of join the dots you ever saw.
It's a wonderful place this, perfect mountain shapes with autumn slowly wearing away summers green cloak. More stories came back to me, the ptarmigan attack on Glas Bheinn Mhor, the waist deep snow on Beinn nan Aighenan, the day under blues skies wearing ski goggles on Stob Coir an Albannaich, the deer incident on Beinn Fhionnlaidh, I'm sure Joycee enjoyed them all, but maybe just because her iPhone had no signal.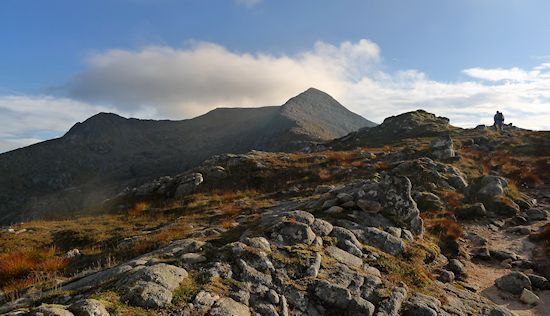 The pace was good, we wanted the sunset at the top and we had plenty of time. There were cuppas, rests, fannying around with cameras, talking to folks on their way down and looking at the view. On the ascent you can only see north, but it's not like it's a second prize. What's fun is that Glen Coe looks a little small and insignificant from here, maybe even a little utilitarian, like the loading zone at the back of a shopping mall. Ben Starav stands tall here in so many ways.
It was windy, the grass shimmered or rippled in mini Mexican waves as the sharper gusts rolled across it, but I was still warm and my new hat was staying on. Rock was ever more present as was the feeling of height, the ridge is wide but it's pretty steep so you do have a feeling of isolation on the way up as the occasional leveling-out makes the slopes below it disappear.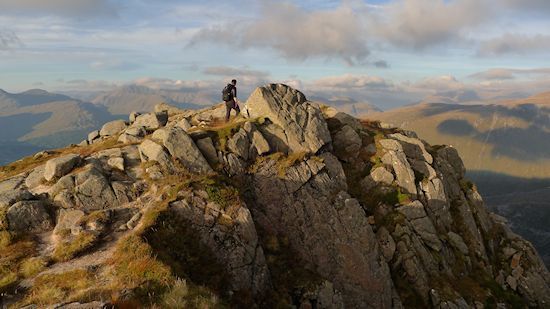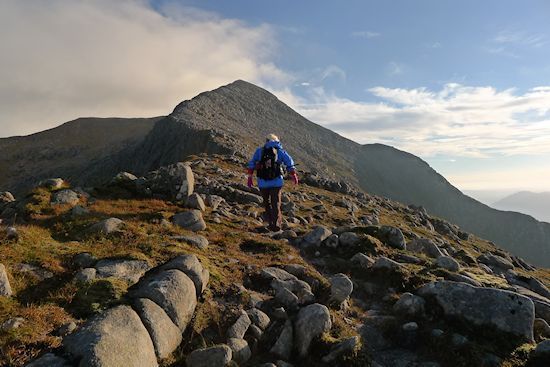 We sat on a rocky shelf, had a cuppa and looked at the world below. It was suddenly all back, the joy, the motivation, it had been here all the time I suppose, I just had to go and find where I'd left it.
My initial reaction was to want to lie back on the rock and go for a wee kip, done that many times over the years. It just means I feel at home. And that I might be feeling a wee bit knackered. Not today though, we both wanted to climb on. I finally pulled on my windshirt and gloves, we were were more exposed now, both to the wind and to the height, the last stretch to the summit is a little rougher.
I'd kinda forgotten what the last ascent section was really like, a well defined boulder field – ridge sort of thing. Joycee did well, it's been a while since she'd tackled anything even close to that, pre-Holly days, she scrambled up the boulders like wean looking for sea creatures in rock pools at the beach.
The summit is a joy, a viewpoint with that magical mix of mountain and sea and all things inbetween. The sun was going down slowly, we were in time and then there was something a little strange. If you know me you'll know that nearly every summit I've visited in recent years has had a raven waiting for me, it initially got a little freaky but in recent months there's been no raven and with it no views, and no joy at times either. As Joycee and I took in the very real joy of the cairn a raven swooped up beside us, carried up on the wind, it hovered there and then it was joined by a friend. Two ravens, one each. They arced and swooped around the top, having fun, ignoring, or maybe just enjoying the human company. The devil's carrion my arse, the raven is a mountain dweller and brings me as big a smile as the two ptarmigan we set flying into the night later on. Bless them all.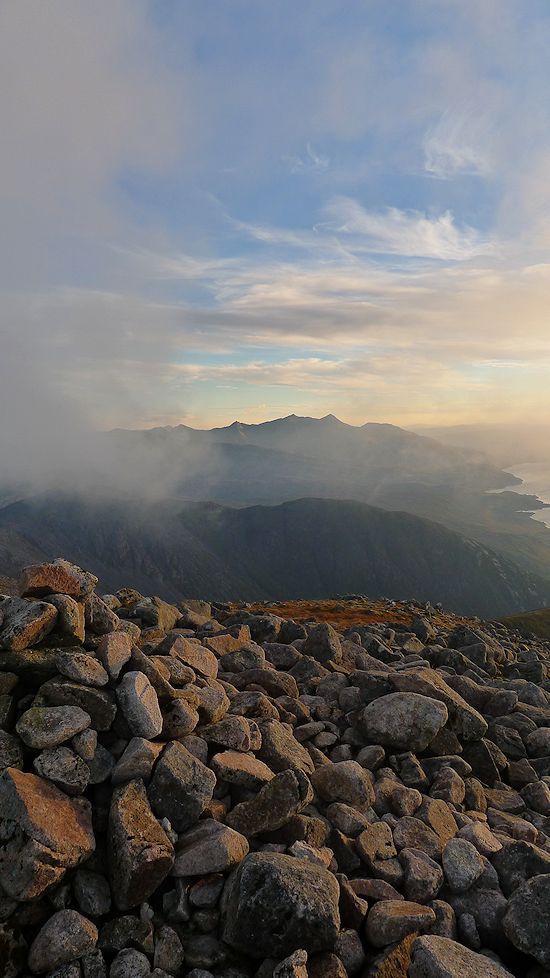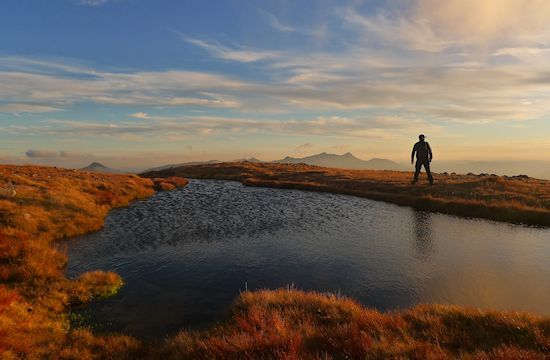 Just off the summit is a meadow of sorts with a little lochan, a perfect place to amble in the sunset or pitch a tent. We both asked the same question: Why aren't we camping? Next time.
The next descent takes you away from the horizon and the sun sinking into it, but the ridge ahead is a bit scrambly and I wanted to make sure we were in a good place when darkness fell. It was so good to be back in the mountains with the misses, I didn't want to blow it by pushing my luck.
It worked out well, the cloud behind us caught the colours and set the sky aflame as we took our different routes along the ridge, the rocky highroad was the most fun, but the contouring path was a wise twilight choice.
It got darker by the minute and we got slower but at the bealach we finished our still warm flasks and had our dinner, more than a little later than planned. By the time we were ready to move we were fitting out headtorches to the sounds of rutting stags in the glen below.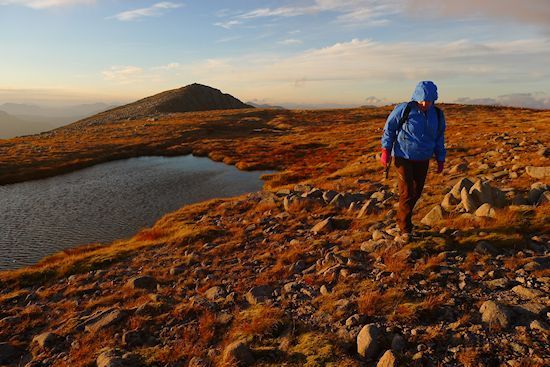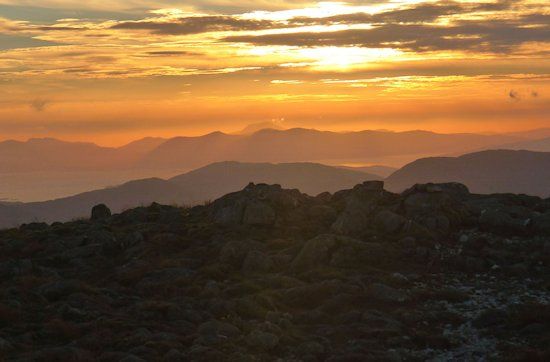 The stars came out and the sound of rushing water drowned out the stags. The pace was slow as our legs got a little more tired, the drops into the gorge were black and almost magnetic. Again, we wished we were camping. But the wind was strong, we had stuff to do the next day. The day had been won whatever.
Joycee had stretched herself, I saw her do what she'd forgotten she could do and also discover what I see and feel in the twilight of the mountains at the same time as I remembered it myself.
The road home was empty and dark. Home was odd without a crazy five year old to put back into bed the right way up. We were tired out, it had been a day to remember, and for me especially a mountain day I wanted to write about for the first time in a long time.
Joycee was under the duvet just before me, my head was buzzing with the thoughts and emotions of the day, but I swear to you I was asleep before that busy head hit the pillow.