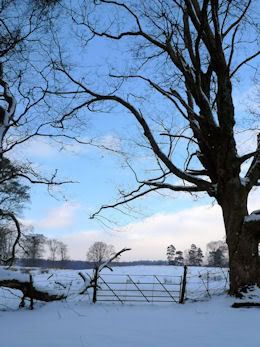 This is such a familiar spot. I've lost count of the amount of times I've slung a leg or mountain bike over that gate.
It marks the boundary between estate grounds and open hillside, or I should say between regular and adventure.
The weather doesn't start until you're past that gate, no rain or snow or sun can reach you in any volume you until you're out from under the trees, the westerlies can't buffet you until you're a few steps beyond it.
I hop over and think "Right, that's me now, where will I go?"
The crags climb away at your right, the land slips down to the gorge on your left and then back up to natural woodland which cheekily blocks your view of the Luss Hills until you're higher up. The highest ground is just up and round there, out of sight.
"Ach, I'll see where my feet and nose take me".
Be it a local park, a canal tow path, a quiet back road, a disused railway line or even just the long way round to the shop and back. I hope we've all got somewhere to stretch our legs and imaginations.