The pandemic has made the fun things of life a little tricky and our little overnighters all over the country all but stopped dead. So it was with a mix of excitement and maybe apprehension we hit the road to the Pitlochry Hydro. Amazingly it was late when we left because I had to go to work, so rather than a leisurely wander up with the hope of dropping by to see friends it was as much of a mad dash as the average speed cameras on the A9 would allow.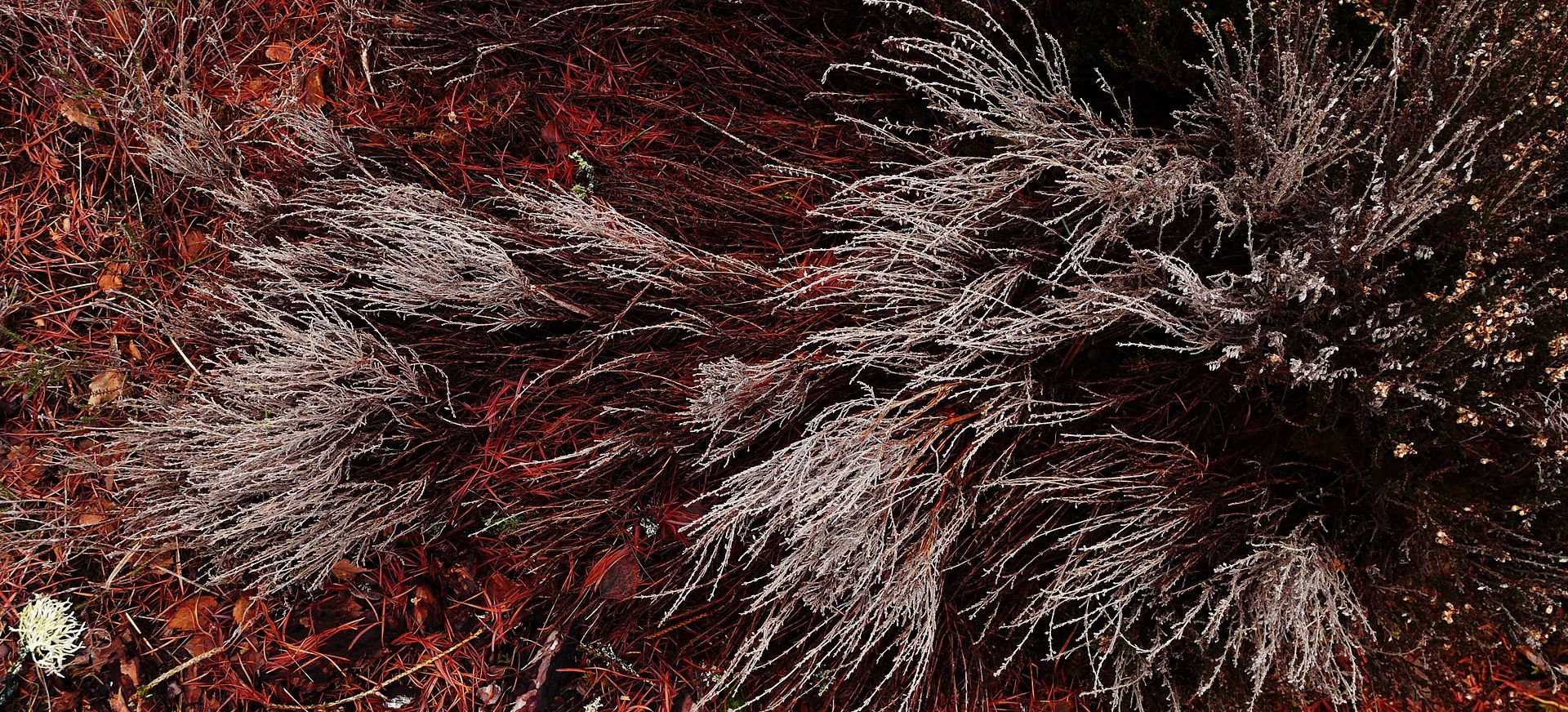 But we got there in the end and the Hydro is actually pretty nice, clean and warm inside with friendly staff and the food later on was great. Although the bar tender couldn't catch his amazement in time when I wanted a pink gin cocktail the same as Linda's after dinner when I should maybe have been ordering something more er, manly?
Before that though we walked into town and had a little poke around as the shops and cafes hurriedly pulled down their shutters as we approached. Hey, it's Scotland I'm used to that, I remember with fondness and amusement the fallout I had with Visit Scotland when I suggested their new slogan should either be "Welcome to Scotland, bring a packed lunch" or "Welcome to Scotland, ye'll have had yer tea?".
However we found lights on, coffee machine steaming, cakes on display and a warm welcome at Mackenzies, the last cafe standing in the town. And of course it's run by a Yorshireman. Good lad, and thanks for sending us into the woods to look for the waterfall next day.
The woods were under a very grey sky and rain was threatening but the dampness seem to brighten the colours of everything, dead or alive and it was a very pleasant want to the rather impressive Black Spout waterfall. It's really, scary high. So it was with some relief I got Linda away from the edge and we found some endless snowdrops spouting by the burn which she didn't fall into either. Which is probably a shame, the photies would have been magic.
We had intended to climb Schiehallion but the weather was minging and I have never seen a view from the top, never mind Linda never having climbed it so we've save that for another time and decided on some general exploring. The road and trees make any journey around here a joy so we headed west in vaguely homeward direction.
We had cuppas and pastries so we weren't intending to go too far at first so the cuppas were still warm and I pulled up into a little forest car park which I'd never noticed before, Allean Forest it said.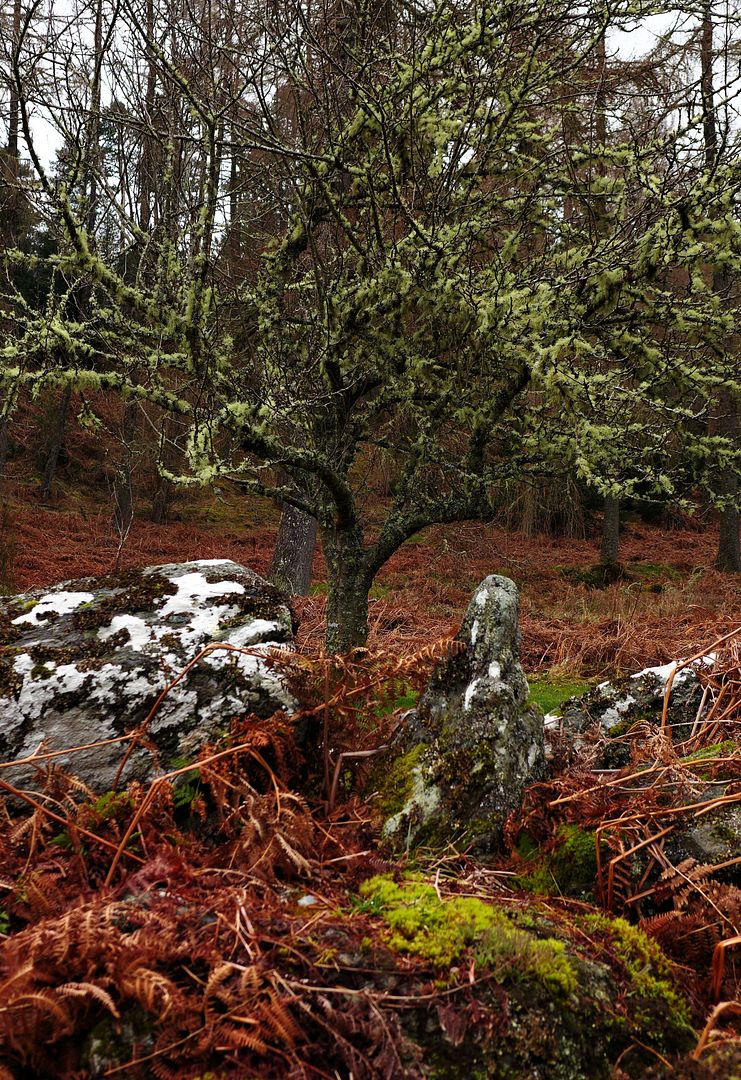 One of the best accidental decisions ever. The signs said there was stuff hidden in the woods, trails to follow and things to see. Off we went. In jeans and Converse.
It was mainly good forest roads so the going was good and I've rarely been somewhere this accessible but yet so quiet. We came upon the pictish homestead first, a large stone circle that used to be roofed when occupied and latterly they think used for storage or housing animals. The trail goes up and on through the trees which swayed, creaked and swished as a strong wind tried to get to us but they trees didn't let it. I think it gets to nearly 400m before it snakes down again and takes you too another abandoned settlement, this time it was occupied in living memory despite the rather medieval look and feel of the place.
We explored fully and it was fascinating. A little group of building where workers lived, families grew up and now there's nothing but stones, not even real memories to find and absorb. The main building has been re-roofed to give you a flavour of living conditions. Hmm, maybe we'll just visit rather than move in.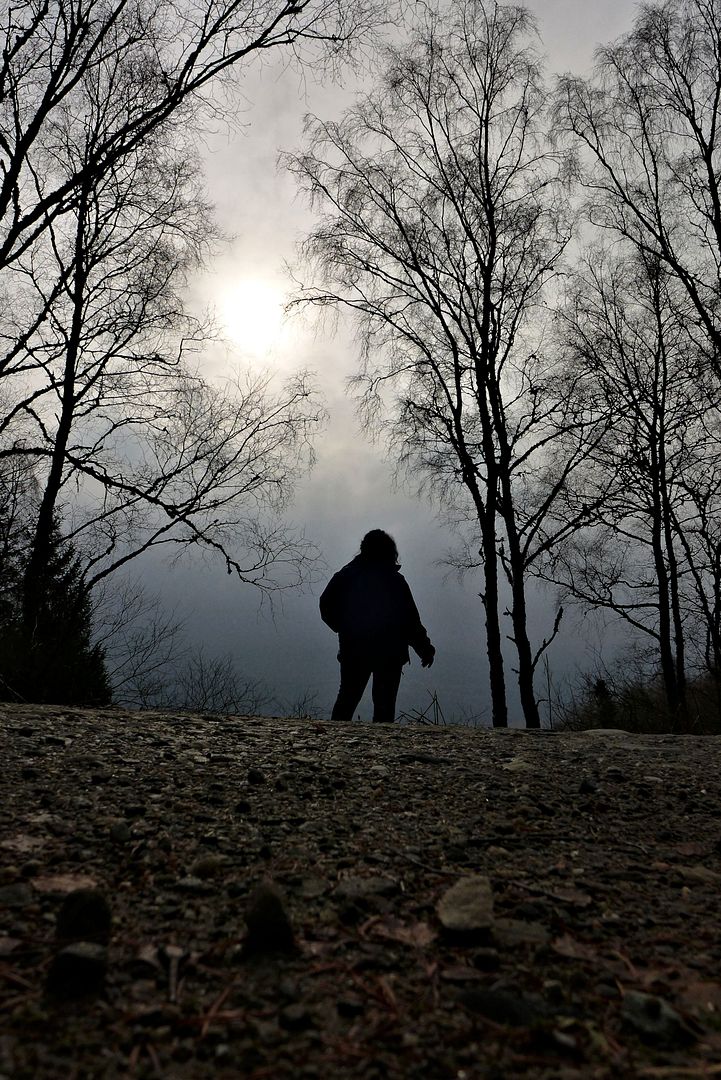 The two historic sites we saw here are very well maintained with good access and not a single sign of litter or vandalism. It's joy to witness.
We found a mysterious sculpture in the woofs at a viewpoint, that lets you view the tops of other trees. Is majestic Schiehallion lurking in that grey? We never know.
The rain started spitting, that wind was getting its way, so the weather took a two pronged attack. Back at the motor, we shot along to the cafe at Kinloch Rannoch for hot soup and a view down the loch. Still lots of grey, but lively nonetheless.
From hear to home were roads familiar but wet though happily quiet. The mountains stayed hidden the whole trip but that's okay, it made us look elsewhere and that was the best thing that could have happened.