I'm a great believer in wearing clothes that work, fit well and have usable features. That means the clothes I'm wearing on the hill from the start, base layer, trousers, and now we're into cooler weather my mid-layer as well. Saving weight on what you're carrying increases your joy, but worrying about the weight of your baselayer for backpacking says more about perception of your personal fitness than anything else I think.
As regular listeners may have spotted I'm usually all multi pocketed mountain pants and merino underwear, the heaviest combo out there. This was why I wanted to test Parámo: wear heavy; stay comfy; maintain a light pack. It's a notion that fits the colder months better of course.
So midlayers were on my mind, weight no object, but good performance. I've got a cracking discontinued Macpac merino/sythetic pullover, but it's a bit of a rarity to find that kind of thing. Icebreaker do a few in pure merino, but they seem awfy casually styled, or should I say apres ski in style.
So I spotted this Waffler from Howies coming out for winter and I was instantly keen to get one in for test. I've used their merino baselayers for a couple of years and they're great.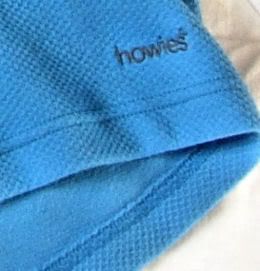 The Waffler has a Bi-Polar (?!) fabric, smooth inner face and grid outer for wicking and increased drying performance. Polartec made a similar polyester fabric a while back, Karrimor used it on their Concordia pullover and it was very abrasion resistant as well keeping comfort levels high.
I don't expect the same levels of abrasion resistance from the Howies pure merino fabric, but it should help. The fabric is also very stretchy and this size medium fits me well. The panelled constuction mirrors Howies merino baselayers, do the panels help movement? I don't think so, but my guess is that it uses up fabric offcuts, keeping the eco-credentials up and factory waste down.
The neck is a bid odd, rather than a close, sealing fit, it's sticky-outy at the front like it should be worn with a cravate or a knotted Buff. Good on it's own, under a shell there might be issues.
It'll stay fresh for long time, it's comfy and that's offset with the usual merino criticisms, slow drying and slow wicking. It's a personal decision where the compromise is. The other details are probably deal breakers, it weighs in at not much less that 400g and retails at £90. A Haglöfs Single weighs 165g and cost £45, you'd have to really want the merino performance, and in my mind I'd have to wear the Waffler from the car, cos there's no way it's going in my pack. Like Parámo.