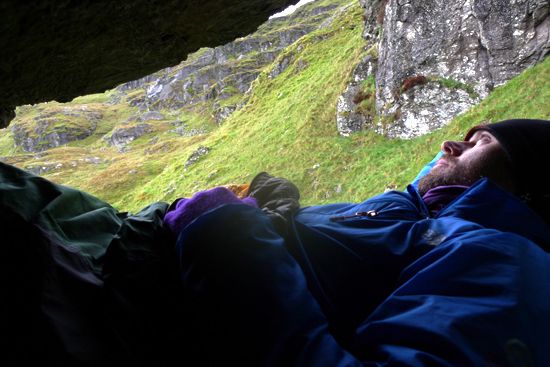 My one worry was where to park for this, but I phoned the girls at the Inveruglas Visitor Centre and they said to stick the motor out of sight in the long-stay parking and that's what I did. It was dinner time, so a BabyBel and a Pepperami were used as leverage against the tide as midges circled and dived while I got my kit together. This is my first bad experience with the wee bastards this year. Oh joy.
I walked by the  Sloy Power Station as the rain pattered down, the cars fleeing by my left ear. Do I drive that fast here? It doesn't seem right when you're on the pavement.
It was wet but, as I climbed the hydro road I was definitely overheating, gulping in lungfuls of muggy air to try and cool down. It didn't work, and felt like I was going to burst until I got into clear air and was distracted by the lambs, now a bit bigger, but still shiny white. I wanted to throw a stick for one that stood looking at me, but I have no idea if lambs fetch sticks. I mean, they're just like dogs but with horns, so they might. You might scorn me, but you don't know do you, because you've never tried it either.Imagine if proper dogs had horns, how scary would that be.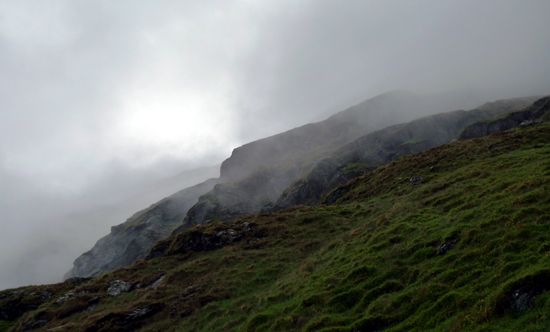 Ben Vorlich is a marvel, it's the ugly sister of the Arrochar Alps, less defined in shape than the others from most viewpoints, but when you're walking it's flanks it commands both your attention and concentration. It's a mass of crags, tumbling waters, steep grass and dark jagged shapes all around you. You have to make your own route through it and any sense of it being an accessible wee hill just off the A82 is quickly lost if you lose yourself in the drama-filled eastern corries. Maybe not ugly sister then, Twisted Sister.
The hydro road is a blessing, you gain so much height so quickly using it. When you see how steep and rough the ground is around it any thoughts of cheating are easily beaten down with a broom of smugness, because like a rocket, it launches you into the wilds of Coire nan Each.
I love this place, it looks too rugged to be this close to home, huge faces of rock, some stark, some split and some crumbling at their own feet. A torn blanket of green thrown over it soften just a corner or two here and there. I just stood there watching the clouds chasing each other through the jagged teeth on the skyline. Glorious.
Behind me, the east side of the loch is rugged too, crag and natural woodland, it's colours surging out from under a blanket of indifferent grey.
I've walked these hills uncountable times over the years, but this time I was completely caught unawares, I could see the beauty, I always do, but this time as I just stood there and lost mysself in the scenery I could feel it right inside me too.
After breaking my little reverie I turned back to the coire to search for my home for the night, I knew what I was looking for, but not necessarily where it was. So, I zigzagged my way higher and higher, crossing the coire until I found what looked like the grassy mount that hid a cave inside, formed by rock fall debris from what must be thousands of years ago. The shape looked right, but the front was a mess of freshly moved earth and rock. "Oh crap, where am I going to go now?
As ever, I'm running late with a Trail Route, the cave was the plan, but now there was Plan B making an unexpected appearance. I had bivi gear and it was raining, so unless I wanted misery for supper, at midnight, at 1am, at 2am… I had to get inside or at least under something, I was looking for a howff.
The coire is howff central, there's plenty of free-standing boulders that I could get under, there were shelters between rocks, big indentations in crags where chunks had fallen out, but nothing had me phoning the estate agents for a schedule. Looking for bits of pure blackness is a good policy, it means depth, and that means cooking out of the rain.

I was in the rain clouds now at around 600m, in every billowy gap that passed I'd hopefully scan the crags, as I'll be honest, it was getting late and I was hungry and tired. Everything was running with water too, many likely candidates turned out to be a cherub short of a garden water feature and I had an awful feeling I was going to have to scramble up that wet crag to get to that good looking one on the left or, oh what's that over there, halfway up that wide gully? Big dark cleft, looks nice. I traversed the slopes and climbed the gully. I took my pack off and eyed it, it was big enough, but a little low. There's some water in the back, but enough room to get all of me and my gear in.
I thought about putting an offer in, but I took some cooling-off time. Leaving the gear (Surely I sign that I already aad one foot inside the door?), I climbed the gully and surveyed the other side, a steeper drop, harsher crags, but with two big boulders at the bottom. I could get under that one at the left, I'll go back down and see.
I got back to my kit and never left again, enough with the fannying about I said to myself.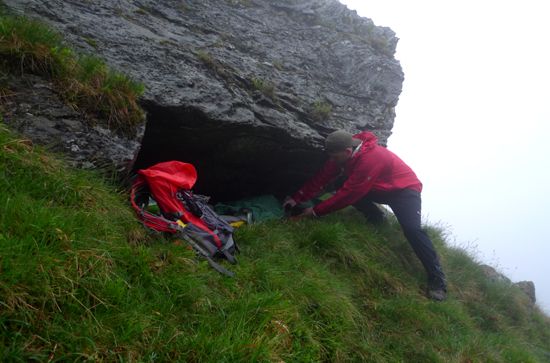 After using packs with zipped bottom compartments, I've changed the way I pack. The Macpac Amp had the camp gear at the bottom in stuffsacks, bivi bag, mat and sleeping bag. Everything else goes in an Exped liner that I can pull out and it can sit in the rain if it likes while I set up camp. Works well, perfect for this trip in fact and I got everything set-up and inside the howff without getting it wet.
The mat was the new Alpkit Airo 120, and I split the difference at each end with my head on my rucksack, a little gap with my waterproof trousers underneath and my feet only overshot the end when I stretched out. magic. My cooking gear went into the roomy interior, which was a little swampy right inside, but between me and that was a big flat stone which took bottles, stove, and even my lamp. I took that Alpkit hanging lamp which would have been nice in the cave, but in here it was just as good and I never used a headtorch all night.
I got my boots well inside in the dry, slipped into my bag and lay back. Comfy. I was completely out of the weather, it wasn't claustrophobic at all, everything was to hand and I was cozy. The stove went on. This was the Vango Ultralite's first trip, and it's a cracker. Smooth control and a mighty flame to delight seekers of hot beverages.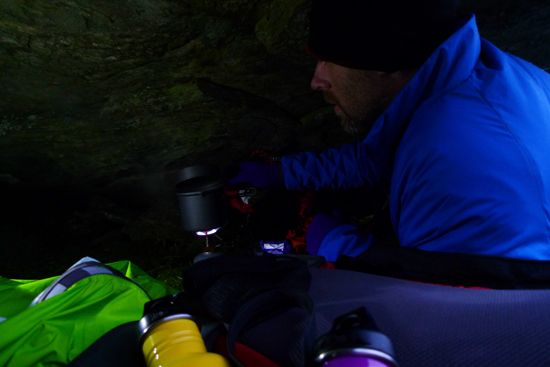 I stuck my iPod on and cooried in as it got dark. Between songs I could still hear the roar of the water cascading over crags, through rocks and under the ground. Nature's symphony, not so much of the melody, but a bottom end to frighten any metal band. The rain got heavier and over a couple of hours the roar got louder and a little erratic as the water got heavier and a growing wind tried to blow it back uphill.
My howff wasn't immune to this and around the edges water began to creep in and drip down, just in a few places at the edge, so not a problem. I just shuffled a little further in and the water was miles away. That rock I can feel won't annoy me unless I lie right on it. Well no, that rock is what my ship ran aground on, and as I watched the restless natives of Coire nan Each ransacked my cargo hold and escaped with every barrel of joy I had carefully packed for that night.
Why am I cold, I'm uncomfortable too. I rolled over one way, another way, up and then down. Checked the zips and drawcords. After a good deal of faffing about it occurred to me to check the mat, and it was indeed flat, Stupid bugger, I must have left the valve loose. I blew it up (always have the valve where you can get to it from inside your bag), feeling the comfort return beneath me. I tightened the valve properly this time and relaxed back in near darkness.
No, my arse is frozen, what the hell is going on with this thing. I blew it up again, now sans iPod, tttsssssssspppppprrrrrrsssssttttttt… No, no, I switched on my lamp, slid over and peeled the mat back to see the water on the lower skin being bubbled by air escaping through the tear made by the rock I'd moved on top of and had been using as a saw with every body movement. I wasn't fixing this in the wet, but I was getting cold, and this would make me colder. I was already damp, the hot ascent in humid air had seen me sweaty indeed, the Montane Meteor DT had done its best but I had layered dry clothing onto damp baselayers and lying in my bag hadn't seen the sweat fly out through all the technical fabrics, everything had just gotten damp now. In fact, the inside face of the bivi bag was wringing and the Quantum fabric of the Rab Neutrino bag was doing just as you'd expect, it was licking condensation off the bivi and chucking it straight into the down. I zipped up my Primaloft pull-on, pulled down my hat and thought warm thoughts. Warm and dry thoughts.
I did sleep, several times in fact. When I looked at my watch I was always surprised by the time, so I was slipping away from time to time. I saw the sun rise as point of red under the rain in the distance and I saw the coire bathed in soft golden light through thinning cloud. When I decided to put the stove on after 7, it was a little greyer, but still dry. Outside.
Everything was wringing inside, the top of the bivi was like a wash basin, the hood of the bag was transparent with moisture, rivulets of condensation ran around looking for something to soak into as I shifted around.

I filled the howff with steam from myself and the pot on the stove and thought about it, maybe less clothes would have kept the moisture down, but the mat had the insulative qualities of wallpaper in that state and I was trying to stay warm. maybe it was all just my breath? If I'd had enough room to put the mat inside the bivi maybe the whole thing could have been avoided? Who knows. It was a bunch of new kit on it's first trip, something was bound to go a little sideways.
My feet and the socks on them were dry, praise be. I slipped them into my mids, strapped on my mini gaiters and stood up for the first time in ages. A few spits of rain.
I took a few shots and packed up. My sleeping bag gurgled as I compressed it into its stuffsack. That's wet.
My best pals just now are those Klean Kanteen bottles, they are just so nice to use, big lids, the wide mouth is great to drink from, and I can see that yellow one in the dark. I swigged from it and stowed it in my side pocket as I left.
I contoured around the way I came last night, checking out the other options I'd looked at for diggs, I think I got the best deal. I looked back at the little crack I'd slept in, the context it lay in; high in a mountain landscape the measure of any in Scotland.
What the hell was I moaning about, a damp sleeping bag? Eejit, just learn from it, sleeping in the howff was a great experience. Especially so, as I was looking for somewhere against the clock and found something that was pretty much ideal.
The wander down was a joy, I felt light of foot and of heart. The hills were clearing and the sun was spilling through in ever bigger patches. Summits be damned, wander the corries, they don't have to be passageways or somewhere we look down into and think "Ooh, that's nice". Go and see it up close.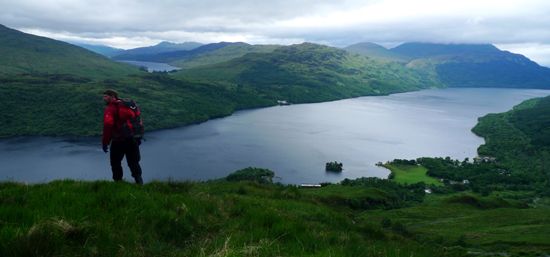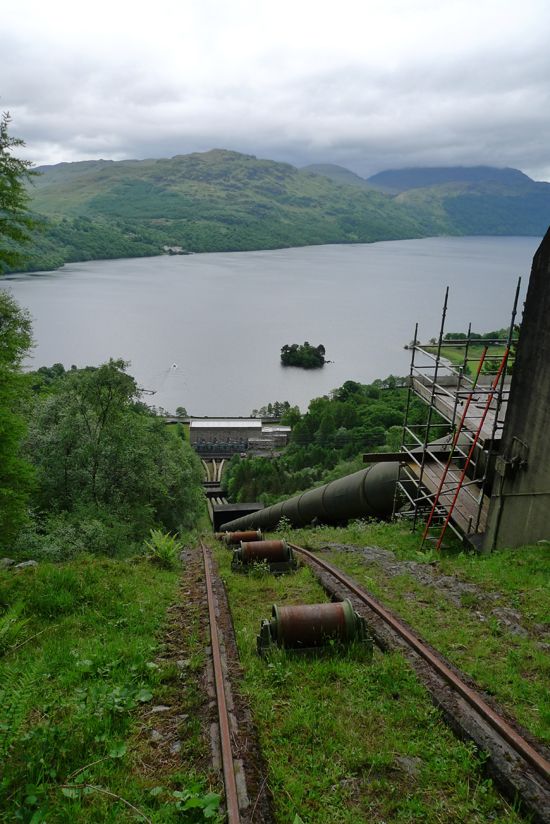 The Sloy pipes are a familiar sight from the road and elsewhere, and I decided to make a detour and visit the other end on my way back. The top station is built like a wartime bunker, well that's late 40's utilitarianism for you, and it's awfy steep looking down those pipes from the side of it. It's fascinating though, the water comes from Loch Sloy in two huge underground tunnels which er, externalise themselves here from the hillside and go into the building to be channeled into the pipes. It's interesting stuff, and the whole place is a mix of well maintained and new, and the hasn't-been-touched-since -1949. Must take a kicking from the weather up there.
The hydro road down was even better than the day before, less rain, better views and the last bit with the little shortcut next to the gorge is lovely.
The visitor centre was open, there was cuppas, rolls on bacon, banter with the girls and tourists milling about looking for refuge from the midges. Nae chance.