It all started back on Monday on that camp, I had my cuppa and my tooth went mental, a tooth with a history too. On Tuesday I kept on having to adopt a foetal position to stop passing out/crying, and this was at meetings with clients, a cuppa with Bobinson and in the studio, but 8 ibuprofen and 8 paracetomol a day kept me upright until my appopintment first thing on Friday. Tooth's gubbed, patched up with a mix of antibiotics, domestos and steroids until the infection is vanquished enough for me to get a root treatment next week. So, this weekends trip was cancelled without a second thought.
It's always dental work with me, bloody useless teeth. Still, alternative fun was found.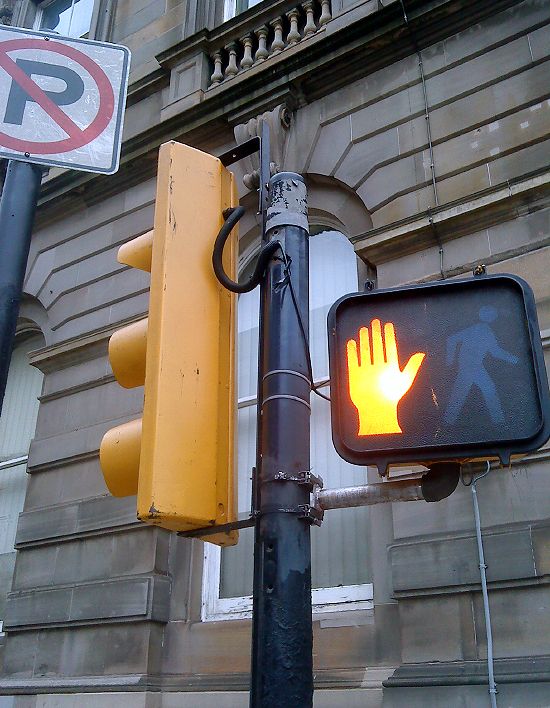 They're shooting World War Z, a zombie movie with Brad Pitt, in Glasgow just now. The city centre is done up to look like Philadelphia, signs, vehicles, street furniture, lots of subtle stuff as well as the obvioius things and it looks great. We had a film crew use our old workshops for a historical drama and it's amazing what these folks can do to make the unlikely look convincing.
Holly and I were having a little spin around the shops while Joycee was at her pals and we had a look around the sets where all the vehicles had been left in place after shooting had finished. Holly immediately got into the zone, the zombies were coming and we had to escape. I have no idea what she thinks a zombie is, but she's taking it seriously and the expressions say it all.
They've crashed a refuse truck (they'll say that anyway, I'd say bin lorry) through a bus. tearing the road up while they were at it, no doubt due to zombies chewing on the driver. There are smashed American cars all up and down the streets and it looks so strange, I'm usually looking for a parking space here and now there's US firetrucks, paramedics and army Humvees in the way.
No doubt some folk are too cool to enjoy this stuff, screw those guys, it's a lot of fun and it's great to see the city being the centre of something exciting and positive, hell something with zombies, that's got to be an instant Win.
We got home and got settled, via the chippy and Granny's, and Holly exclaimed "Dad, oh my goodness, look at the beautiful sky!" She wasn't wrong either, it would have looked stunning from the porch of the tent, today it looked better from where I was sitting.