The morning went well with bolts being removed from flanges and inspection doors with speed and enthusiasm. This meant I left they guys a bit early without feeling guilty, but as the security guard was off on his rounds and the front gate was locked, when they left twenty minutes later I was just round the corner still waiting to get out of the factory. Ah what the hell, the sun was shining, I had Canned Heat on the stereo and I was reading the free local paper that had been delivered from the outside of the locked gate while I was waiting.
The gate was opened, the boys timing was spot on, and we were away. By the time I got home it was into the afternoon, the girls were almost ready to go so a quick change of clothes, a couple of water bottles filled up and we were away.
The A82 was a lot busier that it had been at 8am that morning. Motors filling up the side of Loch Lomond like they were gravel chips being emptied from a dump truck. We swung east away from it, it was the A9 again.
The journey went okay, only a couple of slow-moving frustrations which Holly slept through, and we we arrived at Pitlochry around 1600. A quick diversion to the Co-op for some picnic additions and we were pulling into the tiny hidden car park in nearby Moulin. Holly had been looking forward to this for ages, she was psyched, kitted-up and ready to go, "Dad, are we going to climb a big mountain?"
We were going to give it a go.
It was nice climbing through the forest, just a little warm maybe. As it got steeper the littlest legs in our party got a little slower and Joycee and I took turns carrying Holly on our shoulders. She liked this of course, but was keen to back onto the track under her own power when we cleared the forest and were onto a smoother section through the heather. Were came up to some picnic benches where we had stop, not just because it was a lovely spot, but because we were all starving. 
I couldn't help but look a bit further ahead with a little worry, the now visible Ben Vrackie looked further away than the map suggested, it also seemed bigger than I expected. But Holly was bouncing with excitement, Joycee was positive about our chances so I sat and had my picnic as I looked at the view, the smooth rolling hills of the Perthshire countryside. Lovely.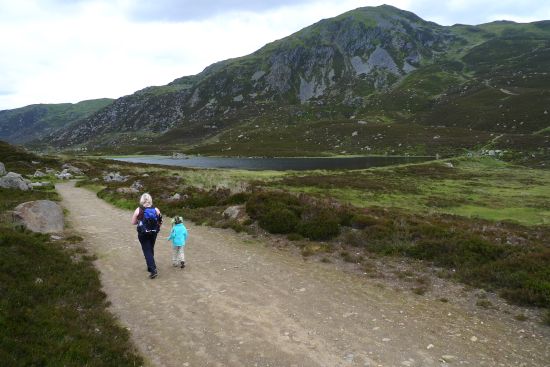 Holly made good time on the next bit to the little loch, even running in places. It was suddenly all mountainous as well, crags, and scree broke up the heather blanket which was flowering quietly in purple and white.
On the far side of the loch it's suddenly steep, but the path is good, many stones securely placed to take the beating from so many feet on this popular hill. Holly went on my shoulders from here, she wanted to walk and we did do a few little sections with mum or dad helping but it was too rough and steep for little legs on their first mountain.
The blue sky had faded and high cloud covered the sky with a slight breeze now moving around us. It was this change in circumstances that saved the day. Sweat ran off my face as I climbed, balancing the swinging and singing little figure on my shoulders with every high-stepping footfall. 
I had a sit-down big-breathing rest half way up where we had some juice and a wee snack. Holly spied some sheepies near the summit and was suddenly supercharged, we had to race the sheepies to the top.
So we did.
We got above them and had to whisper so they didn't see us and win the race. A good job too, dad was needing another sit down very soon, I don't think a sprint was looking likely.
As we turned onto the summit ridge it got cold. We hid behind a big rock and got some more kit on, the dash for the top was on.
I didn't expect this to be emotional, but it was. She was running for the trig point and pulling me along with her as Joycee giggled behind us taking the photies. I was misty eyed because Holly was having fun and enjoying herself, we hadn't dragged her up there. That's the way it should be.
She ran around, touching everything, claiming the viewpoint and trig point as her own by sitting on and hugging both, collecting stones and wanting photies of us all and the camera off of us to take her own.
Even with cold cheeks and runny nose we had to drag her away, the base of the cloud swam over the top in ribbons as we left and Holly thought she was in smoke, that she was really in the clouds was just too strange.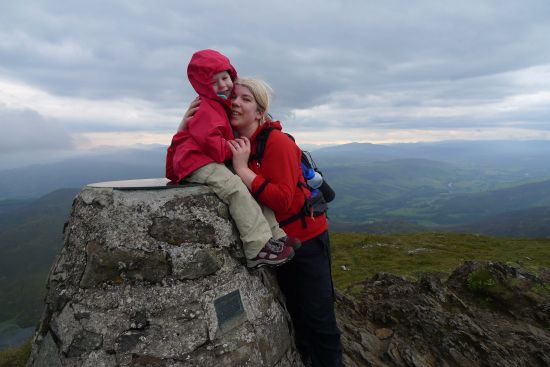 The views were hazy, but the outlines of familiar tops lay to the south and west, beyond nearby Blair Atholl Beinn a'Ghlo rolls lazily to Munro height and looks awfy inviting. But my eyes were soon back on the track and keeping me and my passenger vertical on the steep descent.
Joycee took over just in time as we got lower down, I feared disco-leg was approaching, and the wee yin was soon under her own power again as we got to the lochside. We heard and the saw little birdies at the water's edge but soon I had a little cold nose warming up on my left ear as a tired head leaned ever further forward from the deluxe seat on the lid of my rucksack.
We had stories about who might live in the caves in the mountain and who lived in the spooky forest as we got nearer the motor. I'll be using this on all trips in the future, makes time pass very pleasantly.
The drive home was quick and on empty roads. There was a sunset of purple and orange with golden brown rows of cardboard cut-out mountains below it. We enjoyed it just fine through the gaps in the trees.
We were all tired, we all hit the sack with relief, with Holly refusing to be parted from her new base layer t-shirt
Rising early again the next morning for more unbolting wasn't my favourite, but when I came home there was a homemade card waiting for me, with mountains and clouds and water on it. Apparently, "I climbed a big mountain" had been the saying of the day.