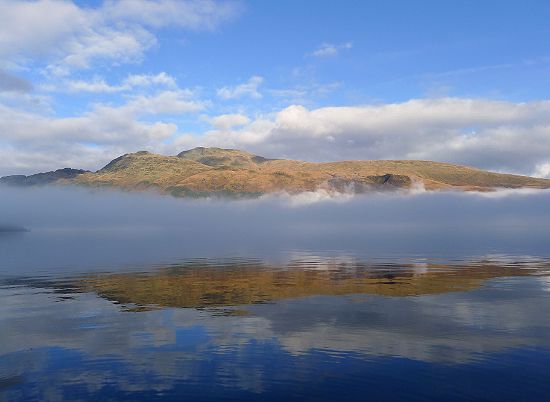 It wasn't meant to be winter when Holly went camping for the first time, but it's been that sort of a year. So, what the hell, a family sized tent arrived, all three of us were shrugging off the lurgy, the forecast was looking good so we packed and got the hell out of Dodge.
It was a fine drive up, the road-crawling scenery-gawping mindless hordes of day tripping damnation had largely stayed in Jenners at Lomond Shores to point at pre-Christmas bargains. Half way up Loch Lomond the fog was breaking up with the Ben sitting over it all in glorious sunshine. The colours were just as ordered, deep blue above and autumn golden brown all around. Music loud and grins wide we rolled north.
A visit to the Green Welly for cuppas and a cat puppet called Hamish brought us no tattie scone for the next day's breakfast, neither Welly, the garage or the proper shop across the bridge had any. Our trip was in jeopardy, its success trapped in a box of matches in the pocket of a tweed jacket hanging from a shaky peg in a busy cloakroom. That translates to a predicted success quotient of 17%.
I had to stop at the Black Mount, it was a perfect vision in the late afternoon light. We were in no hurry and I felt no pressure at all, nothing to do but see what happened. I've missed that.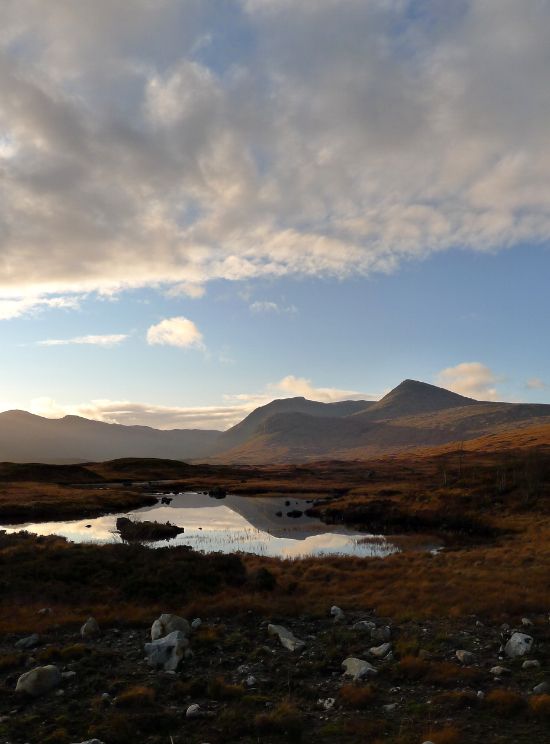 The Glen Coe garage had no tattie scones, but the Glen Coe shop did. Big fat independant bakery versions, the day was saved. Their cash machine was jammed though, but the Invercoe camp site folk said we looked trustworthy despite our penniless nature and aging vehicle so we picked a spot right at the lochside and I got to the task of unpacking and pitching a huge and unfamiliar tent while the girls played croquet (which I apparently had in the motor), visited the beach and the playground.
It was getting dark by the time I'd finished and we had great fun seting up the sleeping bags, mats, lights, colouring books and pens, teddyies and kitchen. Aye, a whole kitchen, multiple doors let you do that.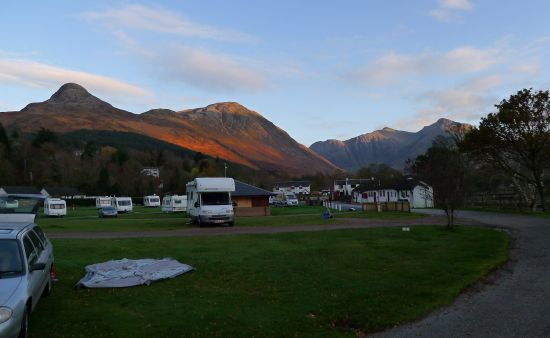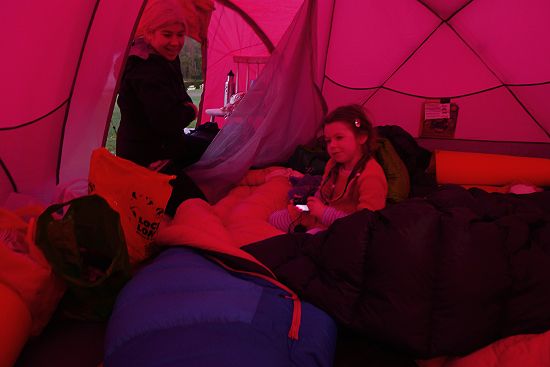 Dinner time was announced, "Emm, I think the Mountain McDonalds" asserted Holly. Again. We needed a cash machine, so what the hell. Part of the reason for going north was to miss the fireworks on the 5th. Holly hates them with a passion, they terrify her, and when I saw a couple of rockets go up when we sat under the golden arches of doom in Ft Bill I feared the worst, but they were dulled by the double glazing and we got away with it. Holly was too worried by the Tin Tin figure that came in her happy meal anyway. A pirate, a bit like Captain Hook but hookless. I don't know the world of Tin Tin.
Morrisons brought some minor shopping and a battle with the robot checkout which thought we were trying to steal a pillow. Stupid bastard. However, we were now fed, equipped with superfluous supplies and pennies to pay for camping, we jumped in the motor and headed back.
There were bonfires all around, fireworks too, but all silent and quickly passed. Poor Joycee wanted to see, but the girl in the back was calling the shots.
At camp we had those flying lanterns as a token flamey item, a silent alternative which Holly was convinced was going to explode at any minute anyway. It took a couple of launches before she trusted the concept by which time I was setting them on fire and sending them tumbling into the loch as Joycee berated me for having a new camera which didn't work right and the other campers watched events from gaps in their camper van curtains. Memories are made of this.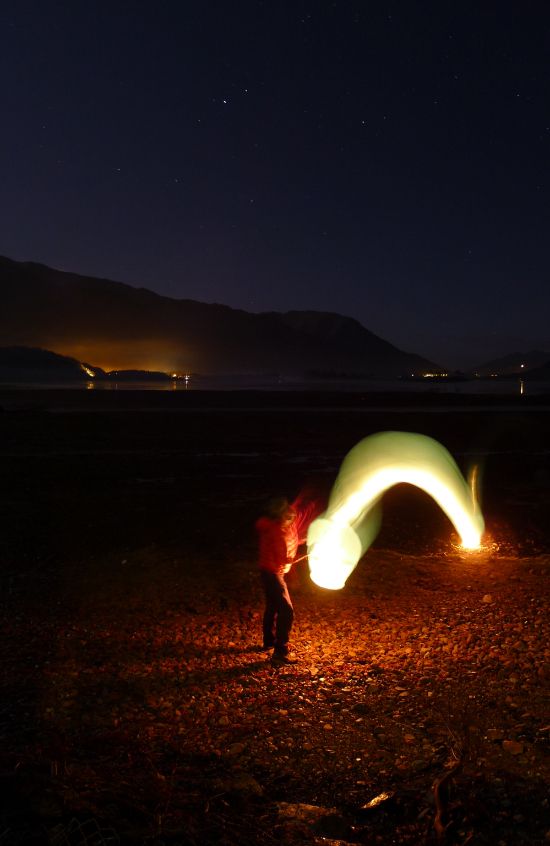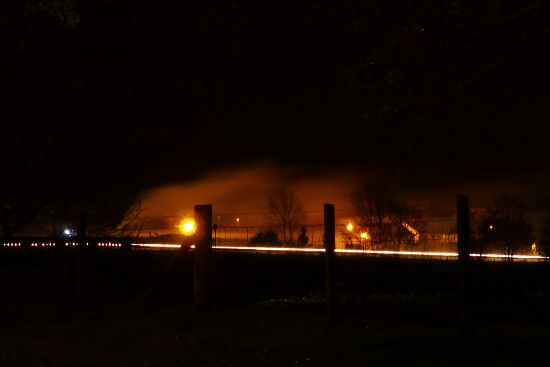 Mist and smoke mingled and softened the lights dotted down the loch while distant and silent fireworks sparkled and shimmered. We were all tired and got snuggled up indoors. We had lightsabre battles, chases around the tent and then I got the stove on and we had cuppas and hot milk, cookies and bedtimes stories under a tiny light hanging from the roof.
It was cold, very cold, but the three of us were close and side by side, Holly in the middle buried under layers of down where she soon snored peacfully as Joycee and I chatted and read.
We started out doing this stuff you know, the first thing we ever did together was disappear into the Highlands with a tent for two weeks. The little figure in the middle added an element of surprise over those early days though, the flump on top of you in the night was Holly exploring her surroundings in her sleep. She settled back down every time and stayed warm though, and by morning she was the coziest and best rested of all of us. As soon as her eyes opened she was all about breakfast and going out to play while I groaned and croaked.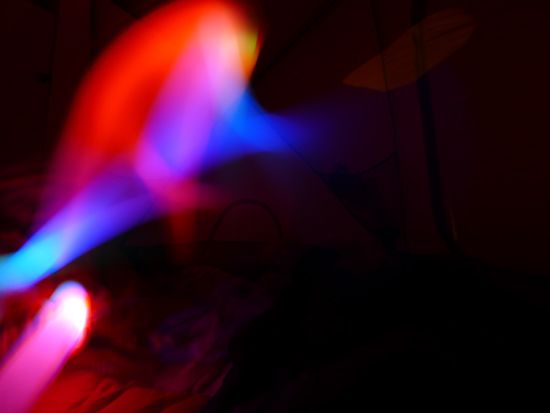 Frying tattie scones and eggs in the tent was just brilliant, I don't think I can go back to porridge bars and coffee after this. We all sat in our bags and ate our breakfast with hot cuppas before venturing out. Out was good though, the sun as glowing lightly and as it rose the frost melted to bring around a warm bright morning.
We played on the grass, we played on the beach, we ran around chasing bubbles or for no reason at all and it was late in the morning before we started to break camp. Holly now knows all about tent poles, that they're not light sabres, oh no.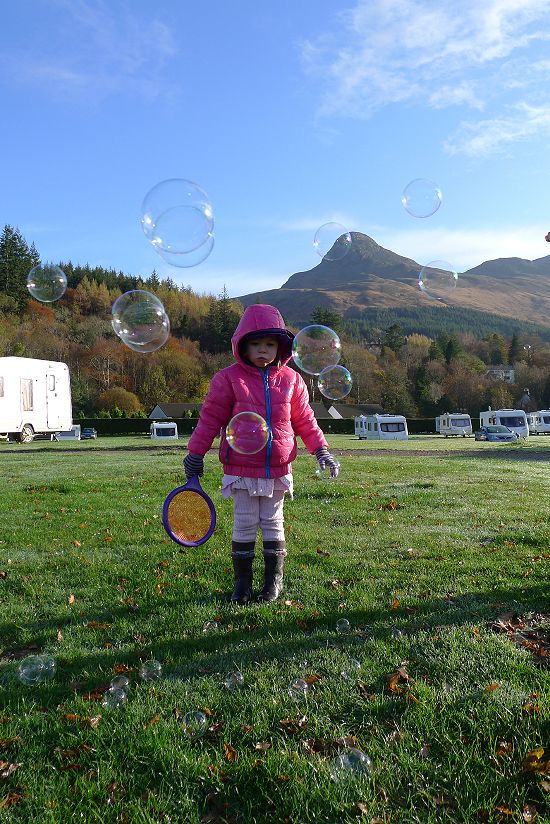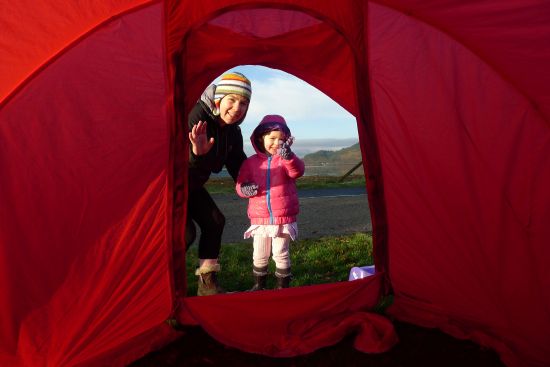 As promised next up was soft play at the Ice Factor in Kinlochleven as mum and dad sat and watched with a cuppa. The girl was like a missile around the brightly coloured course, aye, she'd had a good nights sleep.
We still had all day, so we weren't turning straight back. After fueling up at Onich we took the coast road towards Oban. It's a lovely route and the fine weather made the drive a joy. Holly napped and missed the whirlpools at Connel that she was looking forward too and we had to wake her up when we got to Kilchurn Castle.
She went into Disney Princess mode and even a locked front door didn't dent her enthusisam. We ran around the perimeter and back to the motor, all of us hungry with an inevitability that we'd end up back at Tyndrum. We did, it was a tasty and filling vists and we were now close to home.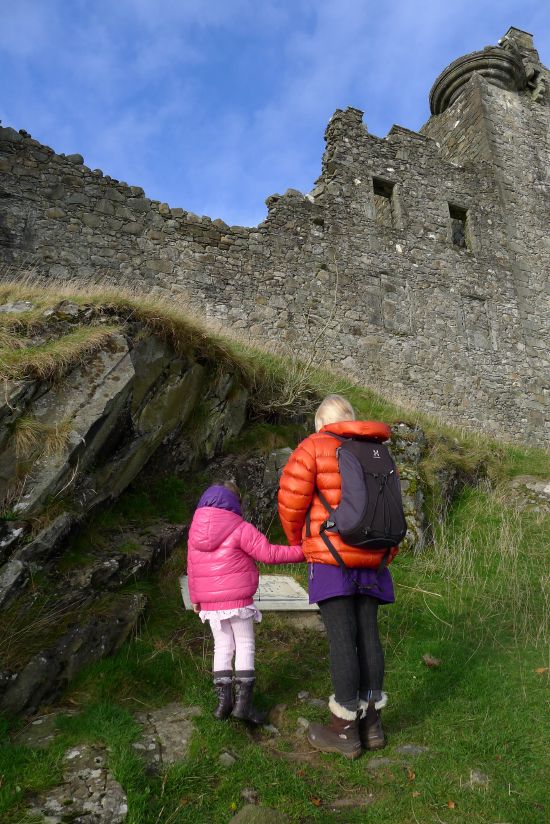 Even closer to home brought us back under the cloud, the fog had sat there for two days. "On you go" said Joycee, she knew what I was thinking. I turned up to Overtoun and skipped up the slopes of the Kilpatricks as the sun dipped out of sight. You don't have to travel to find golden moments, it's weather, mood amd company that make them.
My folks were two minutes down the road and so was their kettle. Holly was like a freshly fired pinball full of stories, Joycee and I were burst. But, it was brilliant, we had great fun and the Holly is a natural born camper. Which is lucky as it was her birthday weekend, I looked at the clock and counted the hours until she was four. Oh, this has come round awfy quick.