I've been a champion of Kahtoola for years, and it's been fun watching the naysayers come round and so many folk finding their winter enjoyment increased and scope broadened by packing KTS's or Microspikes, that's exactly what lightweight's all about.
But, the models aren't perfect, there are niggles, and because Kahtoola has had the market to themselves there's been no development of the models to address the issues. Well, with Hillsound there's now competition, and that has to be good for all of us. Is it the start of a lightweight winter-traction arms race?
I've got here an exclusive UK first look at Hillsound crampons, so lets see…
First we've got the Trail Crampon, carbon-steel spikes linked by chains to an elastomer ring. Flexible, light and packable (there's a stuffsack included).
I know you're thinking "Oh, Microspikes", but there's several differences. The spikes are on a mini crampon-style frame, which as it it well be less flexible is hinged so you can still wear them with lightweight footwear.
The spikes are quite aggressive and have a good length, essentially it's a mini ten-point crampon, and I can see these being quite usable on the hill, even getting onto rougher or steeper ground.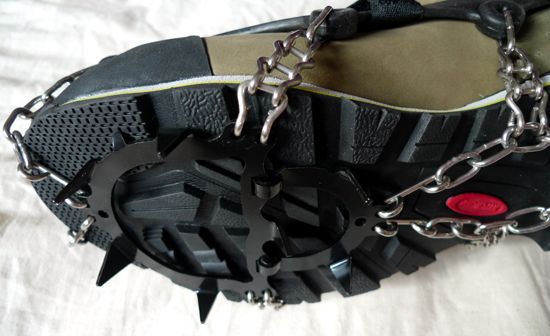 The upper "cage" has a removable velcro strap which as well as adding security, adjusts the tension of the crampon, simple but it looks to be effective.
The heel had a big tab, so pulling these on and and off is easy, even with gloves on. The cage is also marked all over with direction arrows, so there's even less change of getting the fitting wrong.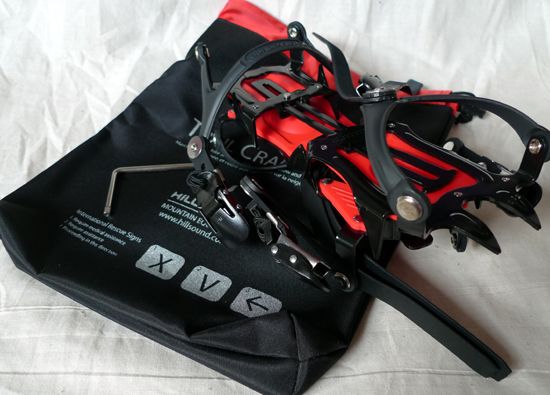 Stepping up the performance a little we have the Trail Crampon Pro. Above is the whole package, crampons, tough carrying bag and allen key for length adjustment.
Although with the key, adjustment is simple and quick and the key is big enough not to lose if the lid of your pack!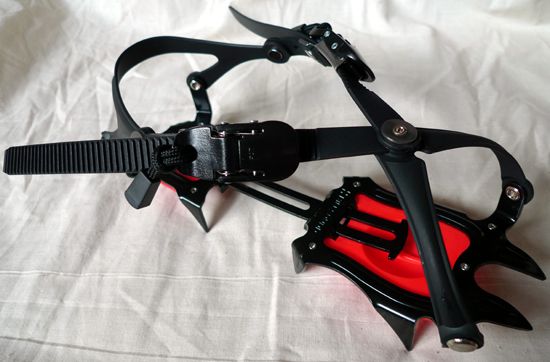 They're pressed from carbon steel with some relief moulding for strength. The connecting bar has a little flex, but these are obviously intended more as a boot crampon than a trail shoe one, the wider toe fits with that too.
The strap arrangement is a joy to use. You know the load straps you see on big trucks, where they ratchet the strap through a lever mechanism until its tight? That's what we've got here and it's it's simple to use, faff-free, easy with gloves and even has no dangling strap ends to deal with. You can't over-tighten it either, so no crushed feet.
They come prefitted with ant–ball plates too.
There's enough snow still here for me to get some useful testing of these, and I hope they perform as well as I hope. I'll be back with some news of that.
There's a couple of distributors looking at bringing these into the UK this coming winter too, so hopefully the joy of choice will be ours.