We love alpacas and llamas. who knew that we could add vicunas to that wee list? It was one the surprises on our trip to the Highland Wildlife Park.
With broken truck suspension courtesy of the A82 and the lure of Ben Cruachan, we left for the A9 in Granny's wee VW. I will say it has a better stereo, but that's as far as I'll go.
We got to Kingussie early but the park was already busy, we were straight into the overflow car park. Scotland used to shut in the autumn, these signs of life were unexpected. I soon learned it was polar cub related, but whatever the novelty, it's nice to see stuff open and being visited.
We needed food more than anything else and the track from where we parked the motor went straight past the monkeys to the in-house cafe. This was disappointing though, it's a – remove from the packet, heat and serve – affair. Friendly enough but just, well, rubbish.
If we'd walked just a little further we'd have seen the snack van with home made stovies in the main car park and went there instead.
Dammit.
Still, we were at the park long enough to need refueled and went to the van later and had chips at a picnic bench in the passing swish of sunshine. But there was a lot of other stuff before that…
When the tigers run you can feel the vibrations through the ground, but the paw prints smeared down the glass kinda confirmed that this isn't a static exhibit, for all their vulnerability in the wider view, these beautiful creatures are missiles of muscle and teeth wrapped in a fur coat.
It's quite a place this, on the fringes of the Cairngorms on a hillside which has views to inspire and crags within it big enough for the snow leopards to climb, play and hide if they want to.
Here's a thing, you might not see what you came for, the animals aren't poked and prodded into view, my lack of good photies of the inhabitants is evidence of that.
We were lucky and had feeding time at the Snow Leopard, but it was made into a problem solving exercise rather than just throwing them a bone. Fast and smooth, they leapt from ground the treetop and away again before I could point and click as I was still oohing and aahing.
Those big tails too. Beautiful.
The big draw is the polar bear cub. The birth was a special event, it doesn't happen too much and any doubts I had that it was going to be a circus style sideshow slipped away when we saw the mum and cub at play in the water. Magical, mesmerising and muddy. You can't fake fun like that.
The video shows an unannounced snack break and those voices aren't ours.
I wonder what the future holds for these wonderful cuddly monsters.
Concentrate, you're in the bear's den… Close your eyes, hear the bear, feel the bear, be the bear….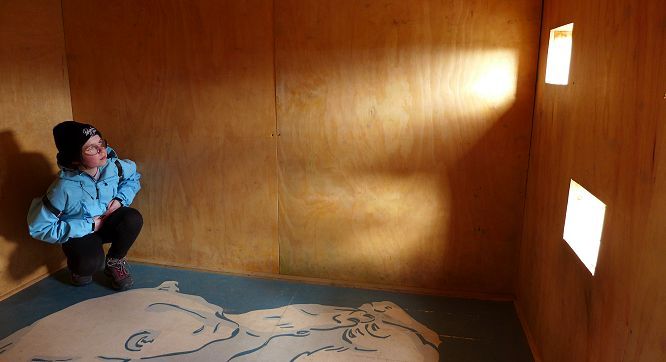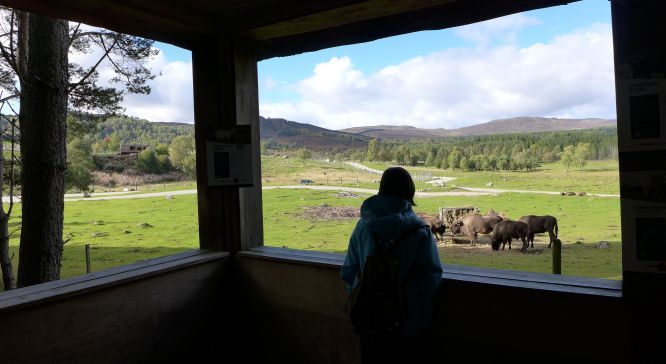 The the residents all seem suited to the terrain and climate here, I suppose the clue is in the name of the place. I wonder how the horrific summer was for them, I wonder how the winter before it was? Got to come back in winter.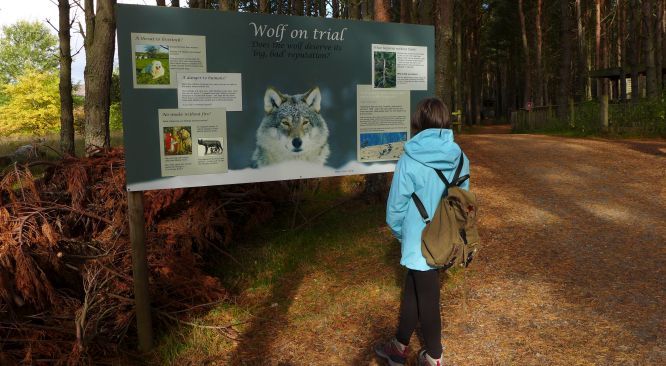 We love wolves and Holly's never seen one. She was so excited going into the forest and when she got to see them it was kind of an emotional moment for both of us.
It's fairy tales come to life, it's a legend walking into reality on four carefully placed and silent paws.
The pups played, hiding the bones the grown ups were chewing when they got the chance to steal them. They were calm and lazy in the autumn sunshine, but those skinny bodies with the plush looking fur have weightlifter shoulders and necks with a face full of long sharp teeth. But here's the thing, the eyes of a poet and dreamer too?
Magnificent creatures.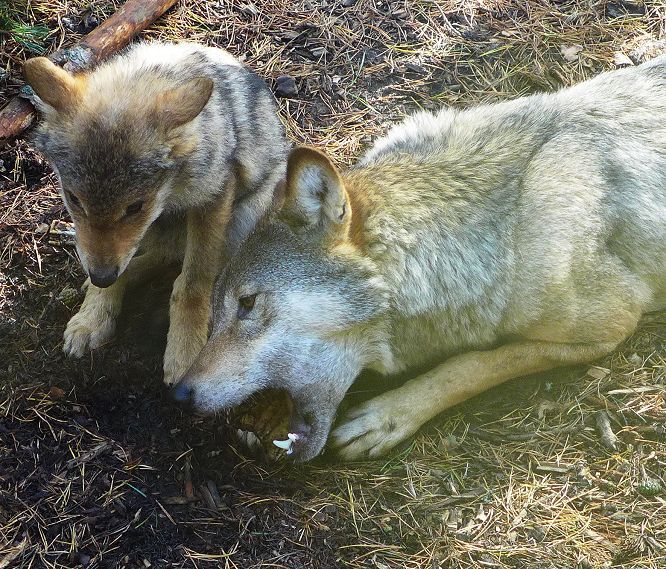 They have a wood to hide in so you might not see them. the viewing platform is raised out of their eyeline which is clever, they can be close to you but you're not intruding too much.
I think it's all about balance. My memories of animals and zoos from the 70's is the cliche of them being knee deep in their own shite in a tiny enclosure. We are a world away from that now and I hope we never go too far and give into those who would ban animal captivity altogether.
As much as all these wonderful beast should be free, if we are to connect to them as living beings rather than seeing just a cute face attached to a television appeal I think we have to really see them, be near them, we have to know that they are real, living beings that we have to help and protect.
Me and Holly were inspired by being so close, it reaches right into the heart and soul. I really think that contact makes the difference between disposable pity and enduring empathy when you see another telly story about shrinking ice caps or bulldozed habitat.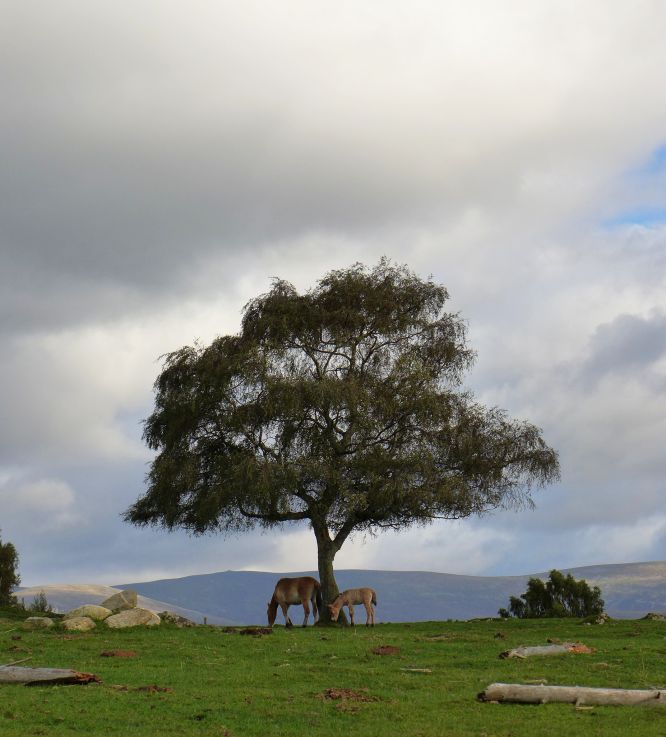 We were the last round the safari drive part. We had to run to catch it before they shut the gate. the ranger was never far away, I think those brushes were to shoo us if we got too slow.
All day we spent here, so many wonderful burds and beasts. Loved it.
Yes, of course we went to the gift shop. Have you seen our plush polar bear cub?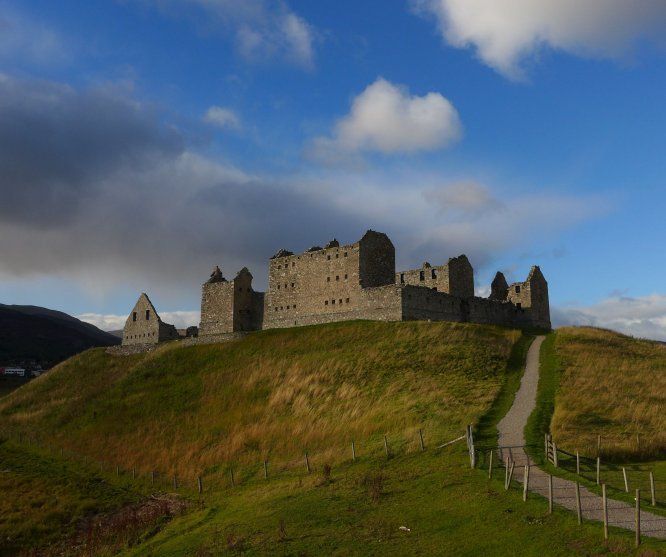 It would have been rude not to visit Ruthven Barracks on the way back. Holly had never been and it's been years since I'd last been.
So exposed here and still in such good nick.
We ran around reenacting an instantly made up story. The poor sod below had no idea he'd been cast as a plague victim and was about to be crushed by a loose stone from the parapet above. Well, if we'd have got up there in time.
Freezing though, winter is coming in 5… 4… 3…