I caught the DHL man by pure luck today, and a good thing too. I'd missed meeting up with Hi-Tec at the KORS show, but we caught up after and the result is the rather pleasant surprise of a real cross section of their outdoor footwear coming in for test.
Above we have the Multiterra Targa's. They're a summer mesh panelled shoe, but with a thick aggressive outsole. Like all the shoes here they've got the Ion Mask treatment, so it should help stop them absorbing too much water when you're crossing burns and the like. There's a bungee lacing arrangement, reinforced toe bumper and good heel cup, so these are proper trail wear, not just casual outdoorsy-looking gear.
Below are the V-Lite Trail Eruption. They've got a nice looking Vibram outsole, plenty mesh on the upper for draining and drying, some comfort padding on the inside and a stiffer toe bumper than the Targa's above.
They feel like a trail walker more than a trail runner, the weight feels good and hopefully the Ion Mask treatment will cut down on water absorption making me a happy boy in the tent.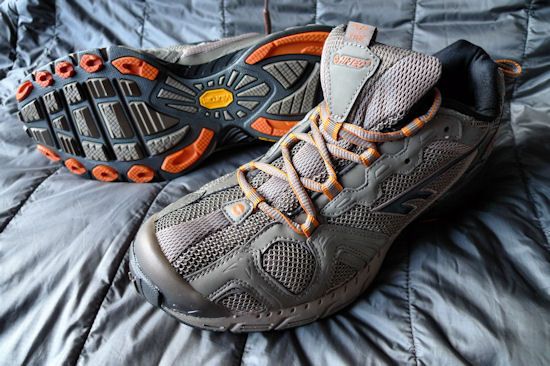 Boots! Those mean looking types below are the Cascadia eVent's. There's a lot of technology in these which I'll cover when I review them later, but the important thing for now is that they're another bit of kit that'll keep me out of proper winter boots when the snow arrives. They have an eVent liner and Ion Mask treatment, and thinking about it, that's pretty clever. The Ion Mask will increase the DWR on the fabric, allowing the waterproof liner to work better. The sole is a rugged Vibram unit, and the weight feels okay.
An interesting bunch for sure. More later (you knew I was going to say that).